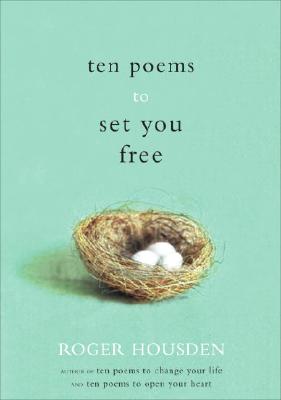 Ten Poems to Set You Free
Hardcover

* Individual store prices may vary.
Description
Ten Poems to Set You Free inspires you to claim the life that is truly yours. In today's world it is deceptively easy to lose sight of our direction and the things that matter and give us joy. How quickly the days can slip by, the years all gone, and we, at the end of our lives, mourning the life we dreamed of but never lived. These ten poems, and Roger Housden's reflections on them, urge us to stand once and for all, and now, in the heart of our own life.

This volume brings together the voices of Thomas Merton, David Whyte, the Basque poet Miguel de Unamuno, Anna Swir from Poland, Stanley Kunitz, the Greek poet C. P. Cavafy, and Jane Hirshfield, as well as three of Housden's favorites, Rumi, Mary Oliver, and Naomi Shihab Nye. His luminous essays on the poems show us how to integrate the poets' truth into our own lives.

Roger Housden's love of poetry and life leaps from every page—so much so that his readers feel they have found a guide and mentor through the extraordinary Ten Poems series. He has opened the eyes and hearts of many, not just to the power of poetry, but to the truth and beauty of the life of the soul. What more can one ask?
Harmony, 9781400051120, 144pp.
Publication Date: December 30, 2003
About the Author
ROGER HOUSDEN, a native of Bath, England, emigrated to the United States in 1998. He is the author of several works of nonfiction, including Ten Poems to Change Your Life and Ten Poems to Open Your Heart, and also the novella Chasing Rumi, and is the editor of Risking Everything: 110 Poems of Love and Revelation. He gives a small number of individual coaching sessions by phone on the transformational power of poetry and the life themes covered in the Ten Poems series. You can email him at tenpoems@juno.com.