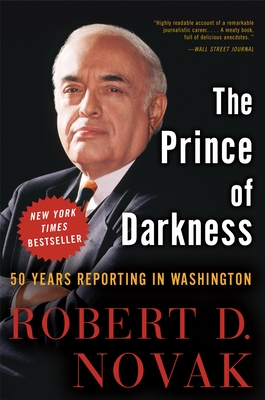 The Prince of Darkness: 50 Years Reporting in Washington (Paperback)
50 Years Reporting in Washington
Three Rivers Press (CA), 9781400052004, 662pp.
Publication Date: September 9, 2008
* Individual store prices may vary.
or
Not Currently Available for Direct Purchase
Description
New York Times Bestseller
A landmark achievement
The Prince of Darkness is not simply the stunningly candid memoir of one of the country's most influential reporters but also a riveting history of the past half century in American politics.
About the Author
ROBERT D. NOVAK writes Inside Report, one of the longest-running syndicated columns in the nation, and the Evans-Novak Political Report, which he began in the 1960s with the late Rowland Evans. Now a Fox News contributor, Novak spent twenty-five years as a political commentator for CNN."
Praise For The Prince of Darkness: 50 Years Reporting in Washington…
"The controversial conservative columnist bares all...Novak's memoir offers a rich self-assessment of his work. Sure to be popular reading inside the Beltway, and worthy of an audience far beyond it as well."
—Kirkus (starred review)

"Novak's insider-perspective, vitriolic pen and damn-the-torpedoes frankness make it a lively and eye-opening account of big-foot journalism."
—Publisher's Weekly

"Every now and then a book comes along that everyone interested in politics should read. The new memoir by veteran journalist Robert D. Novak, I think, is one of those books...For the story it tells about American politics, as well as its candor, Novak's book covering his five decades as a print and TV journalist, immediately becomes the indispensable guide to what you really need to know about the messy intersection of the media and politics in Washington."
—Deal W. Hudson, former publisher of Crisis magazine

"Anyone interested in politics, journalism, and the course of public events over the last 50 years who does not buy and read The Prince of Darkness is denying himself one of the pleasures that life on this earth very seldom offers."
—Michael Barone, The Weekly Standard

"An extraordinary inside look at life in Washington over the last 50 years."
—Tim Russert

"Highly readable account of a remarkable journalistic career...A meaty book, full of delicious anecdotes."
—Wall Street Journal

"Novak should be celebrated for his brutal honesty."
—Christian Science Monitor

"Arguably the best journalist in Washington in the last half century...Both a brutally candid and important book, as well as a riveting read."
—Pat Buchanan, syndicated columnist

"This is history as it happened, without spin or an agenda...While older people with much experience in life may be better able to appreciate this outstanding book, it should be especially valuable to the young in presenting a realistic and three-dimensional picture of the world. They can get a lot of enlightenment from a prince of darkness."
—Thomas Sowell, syndicated columnist

"A book that anyone interested in politics or journalism ought to read...This is a book to savor."
—Human Events

"A lot of fun...It really is just a great slice of political history and Americana."
—Jonah Goldberg, National Review Online

"[Novak is] a Washington institution who paints himself, convincingly, as churlish, brave, resilient, petty, and indefatigable. I got it as soon as it came out and found it entertaining,...human, and frank."
—Peggy Noonan, Wall Street Journal

"Characteristic bluntness reigns throughout as he recalls 50 years of political reporting...He is frank and unapologetic about his work, his viewpoints, and his personal shortcomings."
—Booklist

"Fascinating . . . an enlightening field guide to the politicians and journalists."  
—New York Times Book Review

"You won't be able to put this book down."
—The American Spectator

"Page-turning . . . So informative is the book, and so rich its story of Washington, D.C., over the past half ­century, that many readers no doubt will long for more."
—Washington Times
Advertisement