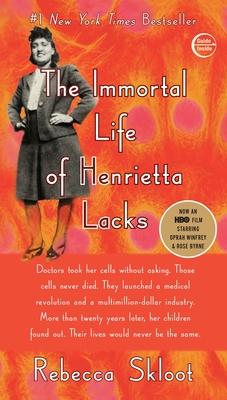 The Immortal Life of Henrietta Lacks
Paperback

* Individual store prices may vary.
Other Editions of This Title:
Hardcover (2/2/2010)
Paperback, Large Print (3/8/2011)
Prebound (3/8/2011)
Paperback, Chinese (4/1/2011)
Hardcover, Large Print (7/21/2010)
CD-Audio (11/10/2015)
Compact Disc (2/2/2010)
Summer '11 Reading Group List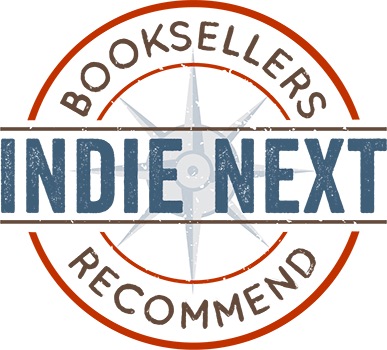 "HeLa cells have been the source of profound advancements in medical, biological and genetic research, but up until now the story of Henrietta Lacks and her legacy has never been heard. Her story served as the spur for reform movements in medical ethics and patient privacy, and Skloot shares the details with both candor and sensitivity."
— John Clukey, Sam Weller's Books, Salt Lake City, UT
View the List
Description
#1 NEW YORK TIMES BESTSELLER • "The story of modern medicine and bioethics—and, indeed, race relations—is refracted beautifully, and movingly."—Entertainment Weekly

NOW A MAJOR MOTION PICTURE FROM HBO® STARRING OPRAH WINFREY AND ROSE BYRNE • ONE OF THE "MOST INFLUENTIAL" (CNN), "DEFINING" (LITHUB), AND "BEST" (THE PHILADELPHIA INQUIRER) BOOKS OF THE DECADE • ONE OF ESSENCE'S 50 MOST IMPACTFUL BLACK BOOKS OF THE PAST 50 YEARS • WINNER OF THE CHICAGO TRIBUNE HEARTLAND PRIZE FOR NONFICTION

NAMED ONE OF THE BEST BOOKS OF THE YEAR BY The New York Times Book Review • Entertainment Weekly • O: The Oprah Magazine • NPR • Financial Times • New York • Independent (U.K.) • Times (U.K.) • Publishers Weekly • Library Journal • Kirkus Reviews • Booklist • Globe and Mail

Her name was Henrietta Lacks, but scientists know her as HeLa. She was a poor Southern tobacco farmer who worked the same land as her slave ancestors, yet her cells—taken without her knowledge—became one of the most important tools in medicine: The first "immortal" human cells grown in culture, which are still alive today, though she has been dead for more than sixty years. HeLa cells were vital for developing the polio vaccine; uncovered secrets of cancer, viruses, and the atom bomb's effects; helped lead to important advances like in vitro fertilization, cloning, and gene mapping; and have been bought and sold by the billions. 

Yet Henrietta Lacks remains virtually unknown, buried in an unmarked grave.

Henrietta's family did not learn of her "immortality" until more than twenty years after her death, when scientists investigating HeLa began using her husband and children in research without informed consent. And though the cells had launched a multimillion-dollar industry that sells human biological materials, her family never saw any of the profits. As Rebecca Skloot so brilliantly shows, the story of the Lacks family—past and present—is inextricably connected to the dark history of experimentation on African Americans, the birth of bioethics, and the legal battles over whether we control the stuff we are made of. 

Over the decade it took to uncover this story, Rebecca became enmeshed in the lives of the Lacks family—especially Henrietta's daughter Deborah. Deborah was consumed with questions: Had scientists cloned her mother? Had they killed her to harvest her cells? And if her mother was so important to medicine, why couldn't her children afford health insurance? 

Intimate in feeling, astonishing in scope, and impossible to put down, The Immortal Life of Henrietta Lacks captures the beauty and drama of scientific discovery, as well as its human consequences.
Praise For The Immortal Life of Henrietta Lacks…
"One of the most graceful and moving nonfiction books I've read in a very long time . . . The Immortal Life of Henrietta Lacks . . . floods over you like a narrative dam break, as if someone had managed to distill and purify the more addictive qualities of Erin Brockovich, Midnight in the Garden of Good and Evil and The Andromeda Strain. . . . It feels like the book Ms. Skloot was born to write. It signals the arrival of a raw but quite real talent."—Dwight Garner, The New York Times

"Skloot's vivid account begins with the life of Henrietta Lacks, who comes fully alive on the page. . . . Immortal Life reads like a novel."—Eric Roston, The Washington Post

"Gripping . . . by turns heartbreaking, funny and unsettling . . . raises troubling questions about the way Mrs. Lacks and her family were treated by researchers and about whether patients should control or have financial claims on tissue removed from their bodies."—Denise Grady, The New York Times

"The Immortal Life of Henrietta Lacks is a fascinating read and a ringing success. It is a well-written, carefully-researched, complex saga of medical research, bioethics, and race in America. Above all it is a human story of redemption for a family, torn by loss, and for a writer with a vision that would not let go."—Douglas Whynott, The Boston Globe

"Riveting . . . raises important questions about medical ethics . . . It's an amazing story. . . . Deeply chilling . . . Whether those uncountable HeLa cells are a miracle or a violation, Skloot tells their fascinating story at last with skill, insight and compassion."—Colette Bancroft, St. Petersburg Times

"The history of HeLa is a rare and powerful combination of race, class, gender, medicine, bioethics, and intellectual property; far more rare is the writer than can so clearly fuse those disparate threads into a personal story so rich and compelling. Rebecca Skloot has crafted a unique piece of science journalism that is impossible to put down—or to forget."—Seed magazine

"No one can say exactly where Henrietta Lacks is buried: during the many years Rebecca Skloot spent working on this book, even Lacks's hometown of Clover, Virginia, disappeared. But that did not stop Skloot in her quest to exhume, and resurrect, the story of her heroine and her family. What this important, invigorating book lays bare is how easily science can do wrong, especially to the poor. The issues evoked here are giant: who owns our bodies, the use and misuse of medical authority, the unhealed wounds of slavery ... and Skloot, with clarity and compassion, helps us take the long view. This is exactly the sort of story that books were made to tell—thorough, detailed, quietly passionate, and full of revelation."—TED CONOVER, author of Newjack and The Routes of Man

"It's extremely rare when a reporter's passion finds its match in a story. Rarer still when the people in that story courageously join that reporter in the search for what we most need to know about ourselves. When this occurs with a moral journalist who is also a true writer, a human being with a heart capable of holding all of life's damage and joy, the stars have aligned. This is an extraordinary gift of a book, beautiful and devastating—a work of outstanding literary reportage. Read it! It's the best you will find in many many years."—ADRIAN NICOLE LEBLANC, author of Random Family
  
 "The Immortal Life of Henrietta Lacks brings to mind the work of Philip K. Dick and Edgar Allan Poe. But this tale is true. Rebecca Skloot explores the racism and greed, the idealism and faith in science that helped to save thousands of lives but nearly destroyed a family. This is an extraordinary book, haunting and beautifully told."—ERIC SCHLOSSER, author of Fast Food Nation 
 
"Skloot's book is wonderful -- deeply felt, gracefully written, sharply reported. It is a story about science but, much more, about life."—SUSAN ORLEAN, author of The Orchid Thief
  
"This is a science biography like the world has never seen. What if one of the great American women of modern science and medicine--whose contribution underlay historic discoveries in genetics, the treatment and prevention of disease, reproduction, and the unraveling of the human genome--was a self-effacing African-American tobacco farmer from the Deep South? A devoted mother of five who was escorted briskly to the Jim Crow section of Johns Hopkins for her cancer treatments? What if the untold millions of scientists, doctors, and patients enriched and healed by her gift never, to this day, knew her name? What if her contribution was made without her knowledge or permission? Ladies and gentlemen, meet Henrietta Lacks. Chances are, at the level of your DNA, your inoculations, your physical health and microscopic well-being, you've already been introduced."—Melissa Fay Greene, author of Praying for Sheetrock and There Is No Me Without You
  
"Heartbreaking and powerful, unsettling yet compelling, The Immortal Life of Henrietta Lacks is a richly textured story of the hidden costs of scientific progress. Deftly weaving together history, journalism and biography, Rebecca Skloot?s sensitive account tells of the enduring, deeply personal sacrifice of this African American woman and her family and, at long last, restores a human face to the cell line that propelled 20th century biomedicine. A stunning illustration of how race, gender and disease intersect to produce a unique form of social vulnerability, this is a poignant, necessary and brilliant book."—Alondra Nelson, Columbia University; editor of Technicolor: Race, Technology and Everyday Life
  
"Rebecca Skloot has written a marvelous book so original that it defies easy description. She traces the surreal journey that a tiny patch of cells belonging to Henrietta Lacks's body took to the forefront of science. At the same time, she tells the story of Lacks and her family—wrestling the storms of the late twentieth century in America—with rich detail, wit, and humanity. The more we read, the more we realize that these are not two separate stories, but one tapestry. It's part The Wire, part The Lives of the Cell, and all fascinating."—Carl Zimmer, author of Microcosm
  
"If virtues could be cultured like cells, Rebecca Skloot's would be a fine place to start¾a rare combination of compassion, courage, wisdom, and intelligence. This book is extraordinary. As a writer and a human being, Skloot stands way, way out there ahead of the pack."—MARY ROACH, author of Stiff and Bonk
  
"The Immortal Life of Henrietta Lacks takes the reader on a remarkable journey—compassionate, troubling, funny, smart—and irresistible. Along the way, Rebecca Skloot will change the way you see medical science and lead you to wonder who we should value more—the researcher or the research subject? Ethically fascinating and completely engaging—I couldn't recommend it more."—DEBORAH BLUM, author of The Poisoner's Handbook and The Monkey Wars and the Helen Firstbrook Franklin professor of journalism at the University of Wisconsin-Madison
 
 "This remarkable story of how the cervical cells of the late Henrietta Lacks, a poor black woman, enabled subsequent discoveries from the polio vaccine to in vitro fertilization is extraordinary in itself; the added portrayal of Lacks's full life makes the story come alive with her humanity and the palpable relationship between race, science, and exploitation.—PAULA J. GIDDINGS, author of Ida, A Sword Among Lions; Elizabeth A. Woodson 1922 Professor, Afro-American Studies, Smith College
  
"Rebecca Skloot's steadfast commitment to illuminating the life and contribution of Henrietta Lacks, one of the many vulnerable subjects used for scientific advancement, and the subsequent impact on her family is a testament to the power of solid investigative journalism. Her deeply compelling account of one family's long and troubled relationship with America's vast medical-industrial complex is sure to become a cherished classic."—ALLEN M. HORNBLUM, author of Acres of Skin and Sentenced to Science
 
"Writing with a novelist's artistry, a biologist's expertise, and the zeal of an investigative reporter, Skloot tells a truly astonishing story of racism and poverty, science and conscience, spirituality and family driven by a galvanizing inquiry into the sanctity of the body and the very nature of the life force."—Booklist (starred review)
 
"Science journalist Skloot makes a remarkable debut with this multilayered story about 'faith, science, journalism, and grace.'…Recalls Adrian Nicole LeBlanc's Random Family…A rich, resonant tale of modern science, the wonders it can perform and how easily it can exploit society's most vulnerable people."—Publishers Weekly (starred review)
Crown, 9781400052189, 400pp.
Publication Date: March 8, 2011
About the Author
REBECCA SKLOOT is an award-winning science writer whose work has appeared in The New York Times Magazine; O, The Oprah Magazine; Discover; and many others. She is coeditor of The Best American Science Writing 2011 and has worked as a correspondent for NPR's Radiolab and PBS's Nova ScienceNOW. She was named one of five surprising leaders of 2010 by the Washington Post. Skloot's debut book, The Immortal Life of Henrietta Lacks, took more than a decade to research and write, and instantly became a New York Times bestseller. It was chosen as a best book of 2010 by more than sixty media outlets, including Entertainment Weekly, People, and the New York Times. It is being translated into more than twenty-five languages, adapted into a young reader edition, and being made into an HBO film produced by Oprah Winfrey and Alan Ball. Skloot is the founder and president of The Henrietta Lacks Foundation. She has a B.S. in biological sciences and an MFA in creative nonfiction. She has taught creative writing and science journalism at the University of Memphis, the University of Pittsburgh, and New York University. She lives in Chicago. For more information, visit her website at RebeccaSkloot.com, where you'll find links to follow her on Twitter and Facebook. 
1. On page xiii, Rebecca Skloot states, "This is a work of nonfiction. No names have been changed, no characters invented, no events fabricated." Consider the process Skloot went through to verify dialogue, re-create scenes, and establish facts. Imagine trying to re-create scenes such as when Henrietta discovered her tumor (page 15). What does Skloot say on pages xiii–xiv and in the notes section (page 346) about how she did this?
2. One of Henrietta's relatives said to Skloot, "If you pretty up how people spoke and change the things they said, that's dishonest" (page xiii). Throughout, Skloot is true to the dialect in which people spoke to her: The Lackses speak in a heavy Southern accent, and Lengauer and Hsu speak as nonnative English speakers. What impact did the decision to maintain speech authenticity have on the story?
3. As much as this book is about Henrietta Lacks, it is also about Deborah learning of the mother she barely knew, while also finding out the truth about her sister, Elsie. Imagine discovering similar information about one of your family members. How would you react? What questions would you ask?
4. In a review for the New York Times, Dwight Garner writes, "Ms. Skloot is a memorable character herself. She never intrudes on the narrative, but she takes us along with her on her reporting." How would the story have been different if she had not been a part of it? What do you think would have happened to scenes like the faith healing on page 289? Are there other scenes you can think of where her presence made a difference? Why do you think she decided to include herself in the story?
5. Deborah shares her mother's medical records with Skloot but is adamant that she not copy everything. On page 284 Deborah says, "Everybody in the world got her cells, only thing we got of our mother is just them records and her Bible." Discuss the deeper meaning behind this statement. Think not only of her words, but also of the physical reaction she was having to delving into her mother's and sister's medical histories. If you were in Deborah's situation, how would you react to someone wanting to look into your mother's medical records?
6. This is a story with many layers. Though it's not told chronologically, it is divided into three sections. Discuss the significance of the titles given to each part: Life, Death, and Immortality. How would the story have been different if it were told chronologically?
7. As a journalist, Skloot is careful to present the encounter between the Lacks family and the world of medicine without taking sides. Since readers bring their own experiences and opinions to the text, some may feel she took the scientists' side, while others may feel she took the family's side.What are your feelings about this? Does your opinion fall on one side or the other, or somewhere in the middle, and why?
8. Henrietta signed a consent form that said, "I hereby give consent to the staff of The Johns Hopkins Hospital to perform any operative procedures and under any anaesthetic either local or general that they may deem necessary in the proper surgical care and treatment of: ________" (page 31). Based on this statement, do you believe TeLinde and Gey had the right to obtain a sample from her cervix to use in their research? What information would they have had to give her for Henrietta to have given informed consent? Do you think Henrietta would have given explicit consent to have a tissue sample used in medical research if she had been given all the information? Do you always thoroughly read consent forms before signing them?
9. In 1976, when Mike Rogers' Rolling Stone article was printed, many viewed it as a story about race (see page 197 for reference). How do you think public interpretation might have been different if the piece had been published at the time of Henrietta's death in 1951? How is this different from the way her story is being interpreted today? How do you think Henrietta's experiences with the medical system would have been different had she been a white woman? What about Elsie's fate?
10. Consider Deborah's comment on page 276: "Like I'm always telling my brothers, if you gonna go into history, you can't do it with a hate attitude. You got to remember, times was different." Is it possible to approach history from an objective point of view? If so, how and why is this important, especially in the context of Henrietta's story?
11. Deborah says, "But I always have thought it was strange, if our mother cells done so much for medicine, how come her family can't afford to see no doctors? Don't make no sense" (page 9). Should the family be financially compensated for the HeLa cells? If so, who do you believe that money should come from? Do you feel the Lackses deserve health insurance even though they can't afford it? How would you respond if you were in their situation?
12. Dr. McKusick directed Susan Hsu to contact Henrietta's children for blood samples to further HeLa research; neither McKusick nor Hsu tried to get informed consent for this research. Discuss whether or not you feel this request was ethical. Further, think about John Moore and the patent that had been filed without his consent on his cells called "Mo" (page 201). How do you feel about the Supreme Court of California ruling that states when tissues are removed from your body, with or without your consent, any claim you might have had to owning them vanishes?
13. Religious faith and scientific understanding, while often at odds with each other, play important roles in the lives of the Lacks family. How does religious faith help frame the Lackses' response to and interpretation of the scientific information they receive about HeLa? How does Skloot's attitude toward religious faith and science evolve as a result of her relationship with the Lackses?
14. On page 261, Deborah and Zakariyya visit Lengauer's lab and see the cells for the first time. How is their interaction with Lengauer different from the previous interactions the family had with representatives of Johns Hopkins? Why do you think it is so different? What does the way Deborah and Zakariyya interact with their mother's cells tell you about their feelings for her?
15. Reflect upon Henrietta's life: What challenges did she and her family face? What do you think their greatest strengths were? Consider the progression of Henrietta's cancer in the last eight months between her diagnosis and death. How did she face death? What do you think that says about the type of person she was?
Coverage from NPR