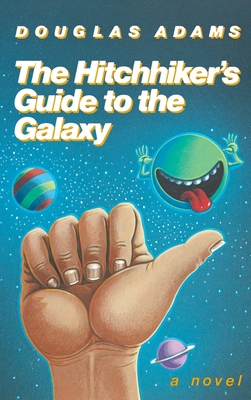 The Hitchhiker's Guide to the Galaxy 25th Anniversary Edition (Hardcover)
A Novel
Crown, 9781400052929, 224pp.
Publication Date: August 3, 2004
* Individual store prices may vary.
Description
NEW YORK TIMES BESTSELLER • "Extremely funny . . . inspired lunacy . . . [and] over much too soon."—The Washington Post Book World

SOON TO BE A HULU SERIES • Now celebrating the pivotal 42nd anniversary of the original radio show on which the book was based.

Nominated as one of America's best-loved novels by PBS's The Great American Read

Seconds before Earth is demolished to make way for a galactic freeway, Arthur Dent is plucked off the planet by his friend Ford Prefect, a researcher for the revised edition of The Hitchhiker's Guide to the Galaxy who, for the last fifteen years, has been posing as an out-of-work actor.

Together, this dynamic pair began a journey through space aided by a galaxyful of fellow travelers: Zaphod Beeblebrox—the two-headed, three-armed ex-hippie and totally out-to-lunch president of the galaxy; Trillian (formerly Tricia McMillan), Zaphod's girlfriend, whom Arthur tried to pick up at a cocktail party once upon a time zone; Marvin, a paranoid, brilliant, and chronically depressed robot; and Veet Voojagig, a former graduate student obsessed with the disappearance of all the ballpoint pens he's bought over the years.

Where are these pens? Why are we born? Why do we die? For all the answers, stick your thumb to the stars!

Praise for The Hitchhiker's Guide to the Galaxy

"A whimsical oddyssey . . . Characters frolic through the galaxy with infectious joy."—Publishers Weekly

"Irresistable!"—The Boston Globe
About the Author
Douglas Adams was born in 1952 and educated at Cambridge. He was the author of five books in the Hitchhiker's Trilogy, including The Hitchhiker's Guide to the Galaxy; The Restaurant at the End of the Universe; Life, the Universe and Everything; So Long, and Thanks for All the Fish; and Mostly Harmless. His other works include Dirk Gently's Holistic Detective Agency; The Long Dark Tea-Time of the Soul; The Meaning of Liff and The Deeper Meaning of Liff (with John Lloyd); and Last Chance to See (with Mark Carwardine). His last book was the bestselling collection The Salmon of Doubt, published posthumously in May 2002.