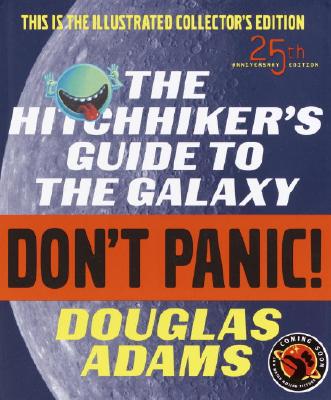 The Hitchhiker's Guide to the Galaxy Deluxe 25th Anniversary Edition
Hardcover

* Individual store prices may vary.
Other Editions of This Title:
Digital Audiobook (4/4/2005)
Mass Market (9/27/1995)
Paperback (6/23/1997)
Prebound (9/1/1995)
Prebound (9/1/1995)
Compact Disc (10/1/2007)
CD-Audio (1/14/2014)
Compact Disc (11/13/2008)
Compact Disc (11/1/2008)
Mass Market Paperback (1/1/1990)
Hardcover, Chinese (2/3/2016)
Hardcover (5/1/2012)
Compact Disc (10/1/2005)
Compact Disc (1/1/2009)
Compact Disc (5/1/2005)
Mass Market Paperback (3/1/1983)
Mass Market Paperback (3/1/1984)
Compact Disc (3/29/2005)
Description
Packed with an Astounding Amount of New and Never-Before-Collected Material.

Why are people born? Why do they die? Why do they want to spend so much of the intervening time wearing digital watches?

No one but Douglas Adams could have pared life's meaning down to these three questions, and they remain as inspired and head-scratchingly clever today as they did twenty-five years ago when they appeared in the first edition of The Hitchhiker's Guide to the Galaxy. Showcasing his quick wit, comic genius, and wide-ranging intelligence, Hitchhiker's has become nothing less than a cult classic and cultural phenomenon.

To celebrate its quarter century and the extraordinary legacy of Adams, this gorgeously designed, mostly harmless deluxe edition gathers never-before-collected photographs, original artwork, memorabilia (from the strange to the sublime), and wisdom gleaned from a first read or first encounter as Douglas's friends remember how the galaxy was forever changed a mere twenty-five years ago (not to mention the original text of the novel) into a one-of-a-kind Guide as stunning as two suns setting over Magrathea.

Whether you are well versed in the antics of Arthur Dent, a mild-mannered Earthman plucked from his planet seconds before it's demolished to make way for a galactic freeway, and Ford Prefect, a researcher for the revised edition of The Hitchhiker's Guide to the Galaxy posing as an out-of-work actor, or are hitching a ride for the first time, this is the book that has everything you'll nee to know about anything.So please do not be alarmed. Definitely don't panic. Just be sure to grab a towel.
Crown, 9781400052936, 272pp.
Publication Date: October 19, 2004
About the Author
Douglas Adams died in May 2001 at the age of 49. He was the author of five books in the Hitchhiker's Trilogy, including "The Hitchhiker's Guide to the Galaxy; The Restaurant at the End of the Universe; Life, the Universe and Everything; So Long, and Thanks for All the Fish; "and" Mostly Harmless." His other works include "Dirk Gently's Holistic Detective Agency"; "The Long Dark Tea-Time of the Soul"; "The Meaning of Liff "and" The Deeper Meaning of Liff" (with John Lloyd); and "Last Chance to See" (with Mark Carwardine). His last book was the bestselling collection, "The Salmon of Doubt," published posthumously in May 2002.
or
Not Currently Available for Direct Purchase