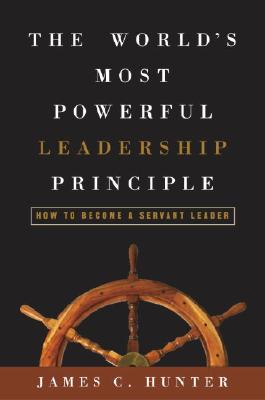 The World's Most Powerful Leadership Principle: How to Become a Servant Leader (Hardcover)
How to Become a Servant Leader
Crown Business, 9781400053346, 224pp.
Publication Date: June 22, 2004
* Individual store prices may vary.
or
Not Currently Available for Direct Purchase
Description
To lead is not to be "the boss," the "head honcho," or "the brass." To lead is to serve. Although serving may imply weakness to some, conjuring up a picture of the CEO waiting on the workforce hand and foot, servant leadership is actually a robust, revolutionary idea that can have significant impact on an organization's performance. Jim Hunter champions this hard/soft approach to leadership, which turns bosses and managers into coaches and mentors. By "hard," Hunter means that servant leaders can be hard-nosed, even autocratic, when it comes to the basics of running the business: determining the mission (where the company is headed) and values (what the rules are that govern the journey) and setting standards and accountability. Servant leaders don't commission a poll or take a vote when it comes to these critical fundamentals. After all, that's what a leader's job is, and people look to the leader to set the course and establish standards. But once that direction is provided, servant leaders turn the organizational structure upside down. They focus on giving employees everything they need to win, be it resources, time, guidance, or inspiration. Servant leaders know that providing for people and engaging hearts and minds foster a workforce that understands the benefits of striving for the greater good. The emphasis is on building authority, not power; on exerting influence, not intimidation. While many believe that servant leadership is a wonderful, inspiring idea, what's been missing is the how-to, the specifics of implementation. Jim Hunter shows how to do the right thing for the people you lead. A servant leader or a self-serving leader: Which one are you? With Jim Hunter's guidance, everyone has the potential to develop into a leader with character who leads with authority.
About the Author
JAMES C. HUNTER is head of J. D. Hunter Associates, LLC, a leadership training and development firm. His internationally bestselling book, The Servant: A Simple Story About the True Essence of Leadership, has been translated into nine languages and has sold more than 250,000 copies to date. Jim is a sought-after public speaker whose clients include some of the world's most admired organizations, including American Express, Nestle, ServiceMaster, Procter & Gamble, Southern Company, and the U.S. Air Force. Jim resides in Michigan with his wife and daughter and can be reached online at www.jameshunter.com.
Advertisement