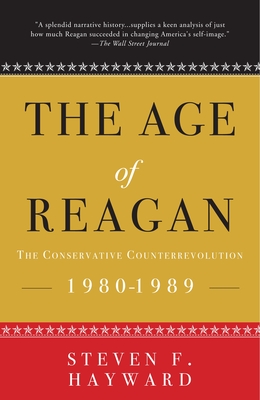 The Age of Reagan: The Conservative Counterrevolution: 1980-1989 (Paperback)
The Conservative Counterrevolution: 1980-1989
Crown Forum, 9781400053582, 768pp.
Publication Date: November 2, 2010
* Individual store prices may vary.
or
Not Currently Available for Direct Purchase
Description
"Those who say that we're in a time when there are no heroes, they just don't know where to look."
-President Ronald Reagan, January 20, 1981
Hero. It was a word most Americans weren't using much in 1980. As they waited on gas and unemployment lines, as their enemies abroad grew ever more aggressive, and as one after another their leaders failed them, Americans began to believe the country's greatness was fading.
Yet within two years the recession and gas shortage were over. Before the decade was out, the Cold War was won, the Berlin Wall came crashing down, and America was once more at the height of prosperity. And the nation had a new hero: Ronald Wilson Reagan.
Reagan's greatness is today widely acknowledged, but his legacy is still misunderstood. Democrats accept the effectiveness of his foreign policy but ignore the success of his domestic programs; Republicans cheer his victories over liberalism while ignoring his bitter battles with his own party's establishment; historians speak of his eloquence and charisma but gloss over his brilliance in policy and clarity of vision.
From Steven F. Hayward, the critically acclaimed author of
The Age of Reagan: The Fall of the Old Liberal Order
, comes the first complete, true story of this misunderstood, controversial, and deeply consequential presidency. Hayward pierces the myths and media narratives, masterfully documenting exactly what transpired behind the scenes during Reagan's landmark presidency and revealing his real legacy.
What emerges is a compelling portrait of a man who arrived in office after thirty years of practical schooling in the ways of politics and power, possessing a clear vision of where he wanted to take the nation and a willingness to take firm charge of his own administration. His relentless drive to shrink government and lift the burdens of high taxation was born of a deep appreciation for the grander blessings of liberty. And it was this same outlook, extended to the world's politically and economically enslaved nations, that shaped his foreign policy and lent his statecraft its great unifying power.
Over a decade in the making, and filled with fresh revelations, surprising insights, and an unerring eye for the telling detail, this provocative and authoritative book recalls a time when true leadership inspired a fallen nation to pick itself up, hold its head high, and take up the cause of freedom once again.
From the Hardcover edition.
About the Author
STEVEN F. HAYWARD is the author of The Age of Reagan: The Fall of the Old Liberal Order, 1964--1980, the first of two volumes on Ronald Reagan and his political legacy. He has also written Greatness: Reagan, Churchill, and the Making of Extraordinary Leaders; The Real Jimmy Carter; and Churchill on Leadership. He is an F. K. Weyerhaeuser fellow at the American Enterprise Institute and a senior fellow at the Pacific Research Institute. He divides his time between Washington, D.C., and California. From the Hardcover edition.
Praise For The Age of Reagan: The Conservative Counterrevolution: 1980-1989…
Praise for Steven F. Hayward's The Age of Reagan: The Fall of the Old Liberal Order, 1964—1980


"Grand and fascinating history . . . The Age of Reagan goes far towards making the definitive historical case for Reagan's greatness."
—National Review

"Reads at times like a grand historical drama, a kind of War and Peace of the American century, complete with romance and adventure and tragic characters, a thrilling survey of what we might have thought to be familiar history but which appears here quite transformed."
—Times Literary Supplement

"A massive achievement . . . It is hard to imagine anyone doing better. . . . Mr. Hayward leaves us awed by his achievement and looking forward hungrily to Volume II."
—Washington Times

"Excellent . . . [Hayward] acknowledges Mr. Reagan's sunny personality and ease in public, but he dismisses these as significant factors in his election. What mattered was Mr. Reagan's unflinching conservatism and strong character, coupled with liberalism's failures. Mr. Hayward is persuasive on this point."
—Wall Street Journal

"A big, bold, ambitious book by one of the rising stars of the conservative intellectual movement, Steven F. Hayward . . . The best historical biography yet written about our fortieth president."
—World and I

"An invaluable contribution to the small but growing body of serious work that finally gives Reagan his due. Readers not only will profit immensely from reading this first volume, but will long for the publication of the next."
—Weekly Standard

"A magnificent new history of our times. It is a big book in every way and yet it reads quickly and delightfully. . . . The Age of Reagan is the best single-volume account of Reagan's rise and liberalism's fall. This superb book deserves and undoubtedly will get a wide readership."
—Claremont Review of Books
Advertisement