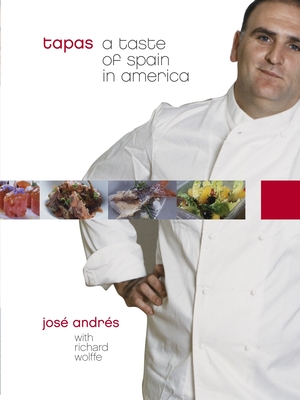 Tapas: A Taste of Spain in America (Hardcover)
A Taste of Spain in America
Clarkson Potter Publishers, 9781400053599, 256pp.
Publication Date: November 8, 2005
Description
The first major Spanish cookbook in two decades, from Jose Andres, recently named America's Chef of the Year by
Bon Appetit
.
Tapas are Spain's gift to the world of great cooking: a fresh and fun way to eat with friends and family and easy to make at home. Using simple Mediterranean ingredients, a tapas feast is a perfect combination of little dishes packed with big flavors. Tapas by Jose Andres is the first major book in a generation to celebrate this world-renowned way of eating, from a man who is the best possible authority: an award-winning Spanish chef in America, with seven highly acclaimed restaurants to his name. Recently named Bon Appetit's Chef of the Year, Jose is a new star in American cooking, as well as the nation's leading expert on Spanish cuisine. Having worked as a chef in the United States for two decades, he's also a thoroughly American cook who draws on American ingredients for his inspiration, and is a master at translating his native Spanish cooking for this country's kitchens. His simple and delicious recipes include:
Fish such as American Red Snapper Baked in Salt; Monkfish with Romesco Sauce; and Basque-Style Stuffed Maryland Blue Crabs
Chicken including Catalan-Style Chicken Stew; Chicken Sauteed with Garlic; and Chicken with Lobster
Pork such as Chorizo Stewed in Hard Cider; Figs with Spanish Ham; and Roasted Pork Tenderloin with Apples
Rice dishes including Lobster Paella; Black Rice with Squid and Shrimp; and Traditional Rice with Clams
All these recipes are full of tremendous flavor and creativity, as well as in-depth ingredient notes and a rich atmosphere that will transport you to the lush countryside, hip cafes, and sun-drenched coasts of Spain and back again to dinner at home.
This is a breakthrough cookbook from an extraordinary chef.
About the Author
Jose Andres, protege of Ferran Adria of El Bulli in Spain, is the chef-owner of seven restaurants in the Washington, D.C., area: Jaleo; Jaleo Bethesda; Jaleo Crystal City; Cafe Atlantico; minibar; Oyamel; and Zaytinya, which was named one of the best new restaurants in the world by Conde Nast Traveler. He was named Best Chef in the Mid-Atlantic region in 2003 by the James Beard Foundation, and has been profiled in Gourmet, Saveur, Bon Appetit, Food & Wine, Wine Spectator, the Washington Post, the New York Times, USA Today, and other publications. Jose travels widely as a guest chef, teacher, and fundraiser at charity events, and is the host of a television cooking show that airs in Spain. He grew up in the Asturias region of Spain, and now lives in Washington, D.C., with his wife, Tichi, and their three daughters. This is his first book. Richard Wolffe is Senior White House Correspondent for Newsweek magazine. In his spare time, he eats Jose's food and cowrites his food magazine stories. He lives close to Jose in Washington, D.C., with his wife, Paula, and their three children. His first book was The Victim's Fortune (HarperCollins, 2002); this is his first cookbook."
Praise For Tapas: A Taste of Spain in America…
"Hero of the Spanish Revolution . . . José Andrés helped create the Spanish food boom in America." —Food & Wine

"José Andrés represents the broad spectrum of Spanish (and Hispanic) cooking . . . better than anybody else in America today." —Colman Andrews, Saveur

"The boy wonder of culinary Washington. . . a phenomenal success." —R. W. Apple, Jr., New York Times

"José Andrés is Big Daddy for all things Spanish in America—and Tapas is the mother lode for anyone interested in 'tiny bite' cuisine or the exciting and the rapidly expanding Iberian influences that are changing the world of cooking. The future is Spain—and this book will prepare you for it." —Anthony Bourdain

"José Andrés has done an admirable job of bringing the authentic taste of Spain—especially Spanish tapas and the tapas style of eating—to the American restaurant scene. Now he brings his knowledge and enthusiasm for the extraordinary cooking of his homeland to our homes with this handsome volume." —Penelope Casas

"Small plates are the only way to fully experience a great chef's style and flavors. Thank you, José, for sharing your creations with us." —Jean-Georges Vongerichten

"I'm certain that for many this book will change their view of Spanish cooking. It goes without saying that José is already one of the world's best chefs and has a bright future before him." —Ferrán Adriá
Advertisement