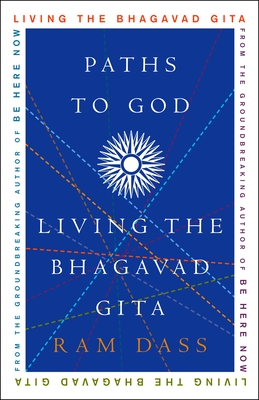 Paths to God: Living the Bhagavad Gita (Paperback)
Living the Bhagavad Gita
Three Rivers Press (CA), 9781400054039, 326pp.
Publication Date: October 25, 2005
Description
World-renowned philosopher and spiritual teacher Ram Dass--author of the groundbreaking classic Be Here Now--presents the contemporary Western audience with a lively, accessible guide to the teachings of the Bhagavad Gita, the classic Hindu text that has been called the ultimate instruction manual for living a spiritual life.
About the Author
Ram Dass has served on the faculty at Stanford and Harvard Universities. In the 1960s, he traveled to India, where he met his guru. Since then, he has pursued a variety of spiritual practices, including guru kripa, devotional yoga, karma yoga, many forms of meditation, and Sufi and Jewish studies. Many of his books, including Be Here Now, are international bestsellers and classics of their kind.
Praise For Paths to God: Living the Bhagavad Gita…
"Blessed brilliance and luminous heart wisdom—Ram Dass at his best. These lectures were joyous to attend and exquisite to read." —Jack Kornfield, author of A Path with Heart

"With wisdom, humor, and great compassion, Paths to God illuminates the liberating power of the Gita—a rare gift in these unsettled times." —Joseph Goldstein, author of One Dharma: The Emerging Western Buddhism

"Through offering a wide variety of approaches to spiritual happiness, Paths to God is one of the most inclusive and inviting books available to us." —Sharon Salzberg, author of Faith: Trusting Your Own Deepest Experience
Advertisement