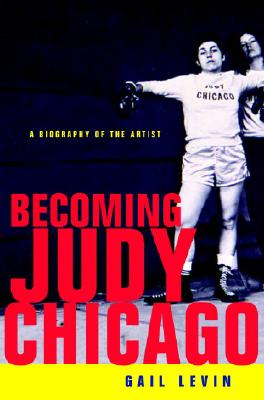 Becoming Judy Chicago: A Biography of the Artist (Hardcover)
A Biography of the Artist
Crown, 9781400054121, 496pp.
Publication Date: February 27, 2007
* Individual store prices may vary.
or
Not Currently Available for Direct Purchase
Description
Born to Jewish radical parents in Chicago in 1939, Judy Cohen grew up to be Judy Chicago — one of the most daring and controversial artists of her generation. Her works, once disparaged and misunderstood by the critics, have become icons of the feminist movement, earning her a place among the most influential artists of her time. Early to reject the modernist move away from content in art, Chicago first mastered and then transcended modernism's formalist austerity, before blazing a trail to the new esthetic now known as postmodern.

In Becoming Judy Chicago, Gail Levin gives us a biography of uncommon intimacy and depth, revealing the artist as a person and a woman of extraordinary energy and purpose. Drawing upon Chicago's personal letters and diaries, her published and unpublished writings, and more than 250 new interviews with her friends, family, admirers, and critics, Becoming Judy Chicago is a richly detailed and moving chronicle of the artist's unique journey from obscurity to fame, including the story of how she found her audience outside the art establishment.

From her early training as a gifted child at the School of the Art Institute of Chicago to the groundbreaking Feminist Art Program she created at Fresno State College in 1970–1971, Chicago has never feared to challenge the status quo. At a time when art history textbooks still omitted work by all women, she led her students on a remarkable journey during which they began to examine the meaning of being a woman, to explore women's traditional crafts, and to compile a history of women artists. For Chicago, no topic has been taboo—from menstruation, pregnancy, and childbirth to men's abuse of power and the Holocaust.

Chicago has revolutionized the way we view art made by and for women. She has fundamentally changed our understanding of women's contributions to art and to society. Influential and bold, The Dinner Party has become a cultural monument. Becoming Judy Chicago tells the story of a great artist, a leader of the women's movement, a tireless crusader for equal rights, and a complicated, vital woman who dared to express her own sexuality in her art and demand recognition from a male-dominated culture.
Praise For Becoming Judy Chicago: A Biography of the Artist…
"The factual, insightful but also miraculous story of a woman who is not only an individual but an energy field; an artist who is not only a creator but an organizer of communal creation. Without downplaying the pain and censure that comes with enlarging history by refusing to fit into it, Levin shows us the joy and permanence of Chicago's inclusive art that opens eyes, minds and hearts."
–Gloria Steinem

"A landmark work…. painstakingly detailed, psychologically sophisticated, and constitutes a fair-minded–and therefore explosive--guide to the Art World, including the relationship between wealth, patronage, and artistic success and viability.  Levin's Chicago is a quintessentially American artist: Bold, ambitious, hungry for success, hugely innovative, both loved and envied (especially by other feminist women),  and mocked by male artists. She is also a profoundly Jewish-American artist. Levin's rich anecdotes and careful research allowed me to visit with many treasured friends, some still living, some dead, and to revisit the Second Wave feminist art movement that I knew and still treasure.
–Phyllis Chesler, Ph.D, author of Women and Madness

"A vivid and compelling biography of Judy Chicago, as well as a colorful narrative of the artist's struggles to create a feminist art and to transform the lives of woman artists in an art world hostile to their endeavors. It is a balanced and sympathetic account, richly documented, of the personal and professional obstacles Chicago had to deal with and overcome, as well as a superb critical study of Judy Chicago's art."
–Arthur C. Danto, Art Critic, The Nation

"Levin's compelling biography illuminates the life of a feminist icon whose art reflected and shaped the tumultuous era of which she was a part. Gracefully written and prodigiously researched, this is a fascinating and important contribution."
–Joyce Antler, author of The Journey Home: How Jewish Women Shaped Modern America

"A fascinating confluence of biography and cultural history inspired by personal aspiration, radical politics, avant-garde art, and the Women's Movement. Rich in new research and insights, Levin's work  is a valued and much overdue addition to the literature on Judy Chicago."
--Susan Fisher Sterling, Ph.D., Deputy Director and Chief Curator, National Museum of Women in the Arts
Advertisement