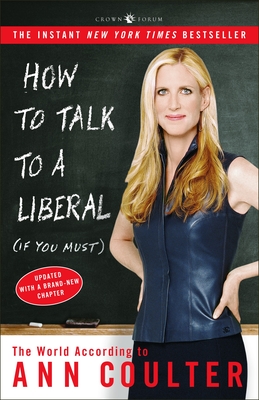 How to Talk to a Liberal (If You Must): The World According to Ann Coulter (Paperback)
The World According to Ann Coulter
Three Rivers Press (CA), 9781400054190, 474pp.
Publication Date: September 27, 2005
Description
CAUTION: You're about to enter the world of Ann Coulter
How to Talk to a Liberal (If You Must), the instant New York Times bestseller, shows why Ann Coulter has become the most recognized--and controversial--conservative intellectual in years. Coulter ranges far and wide in this powerful and entertaining book, which draws on her weekly columns. No subject is off-limits, no comment left unsaid. She even includes a special chapter featuring the pieces that squeamish editors refused to publish---what you could have read if you lived in a free country.-
In How to Talk to a Liberal (If You Must)--which features a brand-new chapter special to the paperback edition--Coulter offers her unvarnished take on:
- The essence of being a liberal: -The absolute conviction that there is one set of rules for you, and another, completely different set of rules for everyone else.-
- Her 9/11 comments: -I am often asked if I still think we should invade their countries, kill their leaders, and convert them to Christianity. The answer is: Now more than ever -
- The state of the Democratic Party: -Teddy Kennedy crawls out of Boston Harbor with a quart of Scotch in one pocket and a pair of pantyhose in the other, and Democrats hail him as their party's spiritual leader.-
- The -Treason Lobby- -Want to make liberals angry? Defend the United States.-
- How far the Left has sunk: -Liberals have been completely intellectually vanquished. Actually, they lost the war of ideas long ago. It's just that now their defeat is so obvious, even they've noticed.-
- And much more.
About the Author
Ann Coulter is the author of three other New York Times bestsellers: Treason, Slander, and High Crimes and Misdemeanors. She is the legal correspondent for Human Events and a syndicated columnist for Universal Press Syndicate. You can read her weekly column on her website, www.anncoulter.com.
Praise For How to Talk to a Liberal (If You Must): The World According to Ann Coulter…
"No one on the right is so iconic. . . . The officialdom of punditry, so full of phonies and dullards, would suffer without her humor and fire." —Time magazine, in a cover story
Advertisement