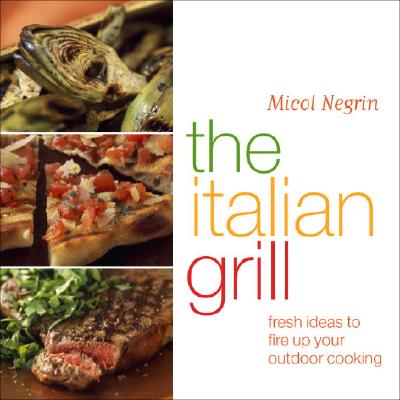 The Italian Grill: Fresh Ideas to Fire Up Your Outdoor Cooking (Hardcover)
Fresh Ideas to Fire Up Your Outdoor Cooking
Clarkson Potter, 9781400054220, 192pp.
Publication Date: May 10, 2005
* Individual store prices may vary.
or
Not Currently Available for Direct Purchase
Description
Bored with the same old hamburgers or hot dogs?

How about spicy brine-salted chicken, garlic-studded pork loin, or rosemary-rubbed rib-eye steak? In The Italian Grill, you'll learn how to grill Italian style, with simple ingredients, no-fuss techniques, and fresh, satisfying flavors. From appetizers through desserts, you'll see how easy it is to put together an unforgettable weeknight meal or a crowd-pleasing weekend cookout.

• Antipasti and breads such as Grilled Pizza with Fresh Diced Tomatoes, Oregano, and Shaved Pecorino; Bruschetta with Chopped Tomatoes, Tuna, and Capers; and Thinly Sliced Seared Salmon with White Truffle Olive Oil, Three
Peppercorns, and Chives

• Main courses like Herbed Shrimp Threaded on Rosemary Skewers; Chicken Stuffed with Fennel and Prosciutto; and Herb-Marinated Pork Chops over Grilled Pepper Salad

• Side dishes like Sausage-Stuffed Onions and Frying Peppers; Seared Asparagus with Lemon Zest and Chives; and Herb-Basted Portobello Mushrooms Caps

• Desserts including Caramelized Blood Oranges over Creamy Ricotta Mousse; Honeyed Bruschetta with Gorgonzola; and Pears Glazed with Barolo Wine

With the clear, reliable recipes that Micol Negrin is known for, The Italian Grill captures the warmth of Italian entertaining at its casual best. Cooking outdoors will never be the same.
About the Author
Micol Negrin is the author of" Rustico: Regional Italian Country Cooking," which was nominated for a James Beard Award in 2002. She is the former editor of and chief writer for "The Magazine of La Cucina Italiana" and "Italian Cooking & Living." She is the founder and owner of Rustico Cooking Studio in New York City. She also teaches regularly in New York at the Institute of Culinary Education (formerly known as Peter Kump's) and Grace's Marketplace, leads cooking tours to Italy, and has taught at the Culinary Institute of America, Johnson & Wales University, and the James Beard Foundation. Visit her at www.rusticocooking.com.
Praise For The Italian Grill: Fresh Ideas to Fire Up Your Outdoor Cooking…
"There is something new under the Italian sun—and it's Micol Negrin's new book. The recipes are "on fire" with flavor, classy in their restraint, bursting with the goodness of the best possible ingredients. . . . You won't believe what you can cook up on a grill!" —Rozanne Gold, chef and author of Little Meals, Cooking 1-2-3, and Low Carb 1-2-3

"Grilling over wood coals is an integral part of the Italian culinary heritage. Micol Negrin's fine book brings that full-flavored tradition to American homes." —Cheryl and Bill Jamison, James Beard Award-winning authors of Smoke & Spice and Chicken on the Grill

"Micol, "la bella apassionata," does it again. This book shows her love and understanding of the simple beauty of Italian food." —Nick Stellino,author of Nick Stellino's Family Kitchen

"Who says there is nothing new to learn about Italian food? The Italian Grill gives us quick and refreshing ways to serve old and new favorites, and Micol Negrin does it with authenticity and fun. Fire up the grill!" —Mary Ann Esposito, host of PBS's Ciao Italia and author of Ciao Italia—Bringing Italy Home
Advertisement