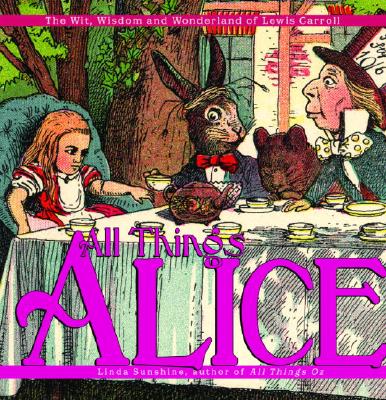 All Things Alice: The Wit, Wisdom, and Wonderland of Lewis Carroll (Hardcover)
The Wit, Wisdom, and Wonderland of Lewis Carroll
Potter Style, 9781400054411, 352pp.
Publication Date: October 19, 2004
* Individual store prices may vary.
or
Not Currently Available for Direct Purchase
Description
Welcome to Wonderland and the topsy-turvy world of Lewis Carroll, where nothing means quite what it seems and nobody might pass you on the street Journey down the rabbit hole and through the looking-glass and enter into the mythical, magical imagination of Lewis Carroll and his beloved heroine, Alice.
Editor Linda Sunshine, in her follow-up to the bestselling All Things Oz, has gathered together an incredible collection of artwork, quotations, letters, recipes, puzzles and games inspired by the works of Lewis Carroll. She has traveled the world for the most extraordinary examples of art from hundreds of editions of Carroll's works, including versions from the United States, England, Italy, France, Japan and Russia. Complementing Sir John Tenniel's classic drawings are works by such renowned illustrators as Arthur Rackham, Gwynedd Hudson, Charles Folkard, Blanche McManus, Gertrude Kay, Mabel Lucie Attwell and Milo Winter.
Also among the treasures in this collection is a short story Carroll penned for a young friend, -Isa's Adventures in Oxford, - which has gone unpublished since 1900. Excerpts from Carroll's letters, most of which have been seen only in scholarly texts, reveal his passion for wordplay and his unique wit. Even rare excerpts from the magazines Carroll created as a child for members of his family are featured here, alongside images of his most famous characters.
Open this book and begin a curiouser and curiouser journey with Alice and her friends: the Caterpillar, the Cheshire Cat, the Mad Hatter, the Queen of Hearts, Humpty Dumpty, and, of course, the White Rabbit.
About the Author
Linda Sunshine, a former editorial director at Stewart, Tabori & Chang, is the author of more than fifty books, including many film novelizations. Most recently, she has worked on The Family Dinner, The Family Dog, and All Things Oz, which was published by Clarkson Potter in 2003, and two books about the making of Cold Mountain and Van Helsing. She lives in Los Angeles and New York.
Advertisement