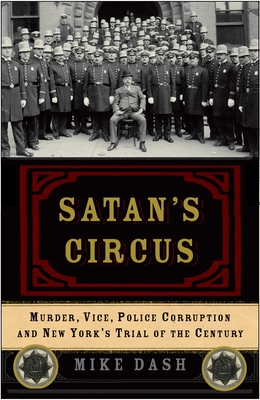 Satan's Circus (Paperback)
Murder, Vice, Police Corruption, and New York's Trial of the Century
Broadway Books, 9781400054725, 464pp.
Publication Date: August 26, 2008
Other Editions of This Title:
Digital Audiobook (6/11/2007)
Digital Audiobook (6/11/2007)
Hardcover (6/12/2007)
* Individual store prices may vary.
Description
They called it Satan's Circus—a square mile of Midtown Manhattan where vice ruled, sin flourished, and depravity danced in every doorway. At the turn of the twentieth century, it was a place where everyone from the chorus girls to the beat cops was on the take and where bad boys became wicked men; a place where an upstanding young policeman such as Charley Becker could become the crookedest cop who ever stood behind a shield.

Murder was so common in the vice district that few people were surprised when the loudmouthed owner of a shabby casino was gunned down on the steps of its best hotel. But when, two weeks later, an ambitious district attorney charged Becker with ordering the murder, even the denizens of Satan's Circus were surprised. The handsome lieutenant was a decorated hero, the renowned leader of New York's vice-busting Special Squad. Was he a bad cop leading a double life, or a pawn felled by the sinister rogues who ran Manhattan's underworld?

With appearances by the legendary and the notorious—including Big Tim Sullivan, the election-rigging vice lord of Tammany Hall; future president Theodore Roosevelt; beloved gangster Jack Zelig; and the newly famous author Stephen Crane—Satan's Circus brings to life an almost-forgotten Gotham. Chronicling Charley Becker's rise and fall, the book tells of the raucous, gaudy, and utterly corrupt city that made him, and recounts not one but two sensational murder trials that landed him in the electric chair.


From the Hardcover edition.
About the Author
Mike Dash is the New York Times bestselling author of Tulipomania and Batavia's Graveyard. He read history at the University of Cambridge and worked for some years as a magazine publisher before becoming a full-time writer. Dash lives with his wife and daughter in London, where he researches in the British Library and writes regularly for the English national press


From the Hardcover edition.
Praise For Satan's Circus: Murder, Vice, Police Corruption, and New York's Trial of the Century…
"Satan's Circus is the intriguing, tragic story of New York's most notorious- and most misunderstood- crime scandals. Mike Dash has provided a terrific, lively narrative of one of the city's most colorful eras."
-Kevin Baker, bestselling author of Strivers Row

"High-level corruption, betrayals, political shenanigans, a spectacular murder case, a gruesome execution, and a voyage through one of New York's most exotic demimonde cycles. These are just some of the ingredients Dash injects into an engrossing tale that still reverberates today."
-Selwyn Raab, New York Times bestselling author of Five Families

"Combining history and entertainment, Satan's Circus is a fascinating read. Mike Dash artfully describes a grimy Gotham from a century ago with its swarming bars, corrupt pols, and one-of-a-kind underworld forces that sent police lieutenant Charley Becker to the electric chair. Be forewarned, once you pick up Satan's Circus you won't be able to put it down."
—Thomas Kelly, author of Empire Rising and The Rackets


From the Hardcover edition.
or
Not Currently Available for Direct Purchase