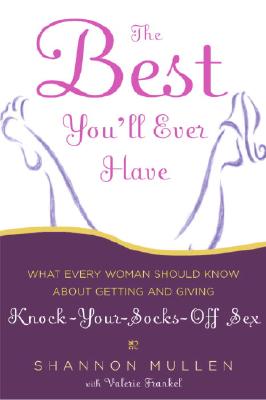 The Best You'll Ever Have: What Every Woman Should Know About Getting and Giving Knock-Your-Socks-Off Sex (Hardcover)
What Every Woman Should Know About Getting and Giving Knock-Your-Socks-Off Sex
Harmony, 9781400054824, 160pp.
Publication Date: November 16, 2004
* Individual store prices may vary.
or
Not Currently Available for Direct Purchase
Description
Do you know how to find the elusive G-spot (with foolproof directions)?

Do you have any idea how to stimulate his P-spot? (He might not even know he has one!)

Would you like to have a better lust life?

Then The Best You'll Ever Have is must-have bed-side reading. Shannon Mullen has spent years learning about every last nerve in the female body—and every sex toy under the sun. She interviewed sex educators, doctors, and therapists. Then, armed with her favorite sex toys, or Sexories, she started talking to groups of women who gathered in living rooms all over the country. In these intimate Sex-Ed Salons, she shared the fruits of her extensive research with women, who opened up to her with their biggest questions, misconceptions, and fears (and revealed some fun and dirty stories along the way!).

In The Best You'll Ever Have, you'll find a deliciously confessional, frank, and funny guide that will help you learn:

• How to feel sexually stimulated from head to toe

• How to incorporate Sexories into a sensational sex life

• How to tell your partner exactly what turns you on in bed

• How to achieve knock-your-socks-off orgasms whenever you want them

• How to spice things up with your partner so he can have knock-your-socks-off sex, too!

Full of practical advice, illuminating tidbits of knowledge about our bodies, inspiration for anyone who has ever been confused about sex, and honest talk from real women who are all searching for a fabulous time in bed, The Best You'll Ever Have will help anyone turn on their lust life!
About the Author
Shannon Mullen, a former advertising executive, has an M.A. in cultural anthropology. She founded Safina in 2002, which was designed to present sexual education in the casual environment of a living room, where women also learn how to use an extensive variety of carefully chosen sex toys. Visit www.safina.com.

Valerie Frankel is the author of eight novels, most recently "The Not-So-Perfect Man," "The Accidental Virgin," and "Smart vs. Pretty." A longtime editor and former sex columnist for "Mademoiselle," Valerie has written extensively for major publications, including "Allure," "Cosmopolitan," "Self," "Glamour," "Ladies Home Journal," "O," and" Parenting."
Advertisement