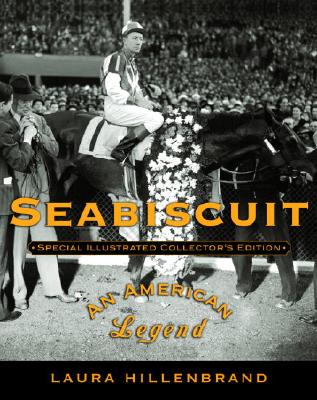 Seabiscuit
Special Illustrated Collector's Edition: An American Legend
Hardcover

* Individual store prices may vary.
Other Editions of This Title:
Digital Audiobook (7/3/2000)
Digital Audiobook (11/15/2010)
Paperback (3/26/2002)
Description
A deluxe illustrated edition of one of the most beloved books of our time, with nearly 150 historic photographs personally selected by the author

The spellbinding true story of how three men and a great racehorse captivated a nation, Laura Hillenbrand's Seabiscuit: An American Legend became an immediate number one bestseller and cultural phenomenon upon its publication in 2001. Named one of the best books of the year by more than twenty publications—including The New York Times, The Washington Post, Time, People, USA Today, and The Economist—Seabiscuit was also honored as the BookSense Nonfiction Book of the Year and the William Hill Sports Book of the Year, and was a finalist for several other major prizes, including the National Book Critics Circle Award and the Los Angeles Times Book Prize.

For this lavishly illustrated special edition, author Laura Hillenbrand has written a new Introduction and selected nearly 150 rare photographs from historic archives and private collections. Seabiscuit tells the story of three remarkable men: Charles Howard, a bicycle repairman who made a fortune by introducing the automobile to the American West; Red Pollard, a failed prizefighter and failing jockey who was abandoned as a boy at a makeshift racetrack; and Tom Smith, an enigmatic mustang breaker who came from the vanishing frontier, bearing generations of lost wisdom about the secrets of horses.

In the sultry summer of 1936, the lives of these men converged around a bad-legged, floundering racehorse named Seabiscuit. Forming an improbable partnership, they transformed the horse into one of the most extraordinary competitors in sports history. In four tumultuous years, the rags-to-riches horse overcame a phenomenal run of misfortune to emerge as an American cultural icon, drawing an immense following, prompting an avalanche of merchandising, and establishing himself as the single biggest newsmaker of 1938—receiving more coverage than FDR, Hitler, or any other public figure.

Seabiscuit is an inspiring tale of unlikely heroes, a classic story of three embattled individuals and a remarkable racehorse overcoming the odds in the Great Depression.
Praise For Seabiscuit: Special Illustrated Collector's Edition: An American Legend…
Praise for Seabiscut

"A captivating story . . . with the detail of good history, the blistering pace of Biscuit himself and the charm of grand legend."
—The New York Times Book Review

"Remarkable . . . memorable . . . just as compelling today as it was in 1938."
—The Washington Post

"Dazzling . . . [Seabiscuit] does for the world of horse racing what Into Thin Air did for mountain climbing. . . . In daredevil prose that sprints along at a breakneck pace, Hillenbrand tells the incredible tale of Seabiscuit. . . . Like a brilliant jockey, Hillenbrand suspensefully manages her champion of a story. In the final stretch, it hurtles towards its climax."
—Maureen Corrigan, Fresh Air, NPR

"It's a terrific story, but it's more than just a horse's tale, because the humans who owned, trained and rode Seabiscuit are equally fascinating. . . . Even if your interest in horses goes no further than hansom cabs, you'll find this book engrossing."
—Sports Illustrated

"Terrific . . . Illuminating a forgotten piece of American history, Seabiscuit brings alive the drama, the beauty, the louche charm and the brutality of horse racing."
—USA Today

"Good sports books are few and far between, good books on racing even more so. So it is hugely refreshing when one as fine as this one comes along. The research is meticulous, the writing elegant and concise, so that every page transports you back to the period. . . . This is a remarkable tale well told by a writer who deftly blends history and sport. Seabiscuit should capture a new generation of readers beyond the world of horse racing."
—The Economist
Random House, 9781400060986, 400pp.
Publication Date: June 3, 2003
About the Author
Laura Hillenbrand has been writing about Thoroughbred racing since 1988 and has been a contributing writer/editor to EQUUS magazine since 1989. Her work has also appeared in "The New York Times, The New Yorker, American Heritage, The Washington Post, " and many other publications. She is a two-time winner of the Eclipse Award, the highest journalistic honor in Thoroughbred racing. She served as a consultant on the Universal Pictures movie based on this book as well as a PBS documentary on Seabiscuit's life. Born in Fairfax, Virginia, Hillenbrand attended Kenyon College and currently lives in Washington, D.C. She can be reached via the Internet at www.seabiscuitonline.com.
or
Not Currently Available for Direct Purchase