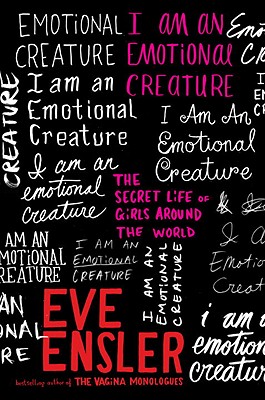 I Am an Emotional Creature
The Secret Life of Girls Around the World
Hardcover

* Individual store prices may vary.
Other Editions of This Title:
Paperback (1/25/2011)
Description
In this daring, provocative, and insightful book, bestselling author and internationally acclaimed playwright Eve Ensler writes fictional monologues and stories inspired by girls around the globe. Moving through a world of topics and emotions, these voices are fierce, alive, tender, complicated, imaginative, and smart. Girls today often find themselves in a struggle between remaining strong and true to themselves and conforming to society's expectations in an attempt to please. They are taught not to be too intense, too passionate, too smart, too caring, too open. They are encouraged to shut down their instincts, their outrage, their desires and their dreams, to be polite, to obey the rules. I Am an Emotional Creature is a celebration of the authentic voice inside every girl and an inspiring call to action for girls everywhere to speak up, follow their dreams, and become the women they were always meant to be.

Among the girls Ensler creates are an American who struggles with peer pressure in a suburban high school; an anorexic blogging as she eats less and less; a Masai girl from Kenya unwilling to endure female genital mutilation; a Bulgarian sex slave, no more than fifteen, a Chinese factory worker making Barbies; an Iranian student who is tricked into a nose job; a pregnant girl trying to decide if she should keep her baby.

Through rants, poetry, questions, and facts, we come to understand the universality of girls everywhere: their resiliency, their wildness, their pain, their fears, their secrets, and their triumphs. I Am an Emotional Creature is a call, a reckoning, an education, an act of empowerment for girls, and an illumination for parents and for us all.
Praise For I Am an Emotional Creature: The Secret Life of Girls Around the World…
"When I encounter 'teenage girl' stories, whether in novel, play, or film form, I tend to change the channel. Participating in pop culture's clichéd teen experience is like recalling "simpler times." It is remembering a past we can never get back, because it never existed. I can't think of a time when my life was less defined—popularity was a murky concept, rules were rubber, and perfection was always just out of reach.

Leave it to Eve Ensler to get it right. Her new book, I Am an Emotional Creature, made me want to vomit from its emotional power. Ensler does not coddle the reader; instead she forces us to realize that teenage girls possess the largest untapped energy source in the world. Written in a similar format as her groundbreaking 1996 feminist theatrical work, The Vagina Monologues, I Am an Emotional Creature is a disjointed roller coaster of poems, fictional monologues, and scenes inspired by real girls around the world. Much like a quilt, the seams—the disparity between each piece—draw them closer together, even when the girls the stories describe live on opposite sides of the globe.  
Ensler's world is a place where one high-school girl is tortured for her Ugg boots and another is mutilated for having a vagina, and she manages to tell both sides with equal degrees of honesty, courage, and heartache. Ultimately about all girls, this is a tale about dreams, nightmares, realities, boyfriends, fathers, body image, sports, friendship, popularity, mothers, piercings, and poetry. It's the God's honest truth, as my mother would say".—Bust Magazine

  "A searing look at the inner lives of young females today in entries that explore sex, violence, love, body image, materialism, identity, family, friends, and the future…A potent call to girls to honor their emotions and to readers of all ages to uphold human rights at every level, from the boardroom to the bedroom"—Booklist
 
"These are sorrowful voices, and the waste is everywhere: waste of beauty, talent, grace. Sometimes their powerful exuberance rises up and you believe they have a shot at happiness."—Los Angeles Times
 
"I Am an Emotional Creature" is thoughtful and provocative. Its unbiased acceptance of girls of all types is comforting and inspiring...Parents often lament about the drama and stress of raising a daughter. If they read Ensler's book, it might open up a discussion of the realities of generation Y."—The Associated Press
 
Villard, 9781400061044, 176pp.
Publication Date: February 9, 2010
About the Author
Eve Ensler is an internationally bestselling author and an acclaimed playwright whose works for the stage include" The Vagina Monologues, Necessary Targets," and "The Good Body." She is the author of "Insecure at Last," a political memoir. Ensler is the founder of V-Day, the global movement to end violence against women and girls. In the last decade, V-Day has raised more than $70 million for grassroots groups that work to end violence against women and girls around the world. Eve Ensler lives in Paris and New York City.
or
Not Currently Available for Direct Purchase