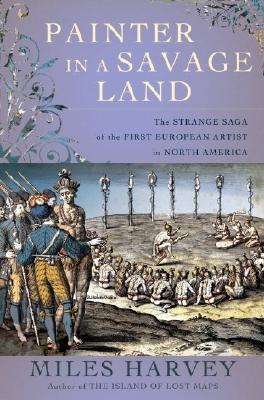 Painter in a Savage Land
The Strange Saga of the First European Artist in North America
Hardcover

* Individual store prices may vary.
Other Editions of This Title:
Paperback (1/1/2010)
Description
In this vibrantly told, meticulously researched book, Miles Harvey reveals one of the most fascinating and overlooked lives in American history. Like The Island of Lost Maps, his bestselling book about a legendary map thief, Painter in a Savage Land is a compelling search into the mysteries of the past. This is the thrilling story of Jacques Le Moyne de Morgues, the first European artist to journey to what is now the continental United States with the express purpose of recording its wonders in pencil and paint. Le Moynes images, which survive today in a series of spectacular engravings, provide a rare glimpse of Native American life at the pivotal time of first contact with the Europeansmost of whom arrived with the preconceived notion that the New World was an almost mythical place in which anything was possible.

In 1564 Le Moyne and three hundred other French Protestants landed off the coast of Florida, hoping to establish the first permanent European settlement in the sprawling territory that would become the United States. Their quest ended in gruesome violence, but Le Moyne was one of the few colonists to escape, returning across the Atlantic to create dozens of illustrations of the local Native Americansworks of lasting importance to scholars. Today, he is also recognized as an influential early painter of flowers and plants.
A Zelig-like persona, Le Moyne worked for some of the most prominent figures of his time, including Sir Walter Raleigh. Harveys research, moreover, suggests a fascinating link to the notorious Mary Queen of Scots. Largely forgotten until the twentieth century, Le Moynes pieces have become increasingly sought after in the art worldat a 2005 auction, a previously unknown book of his botanical drawings sold for a million dollars.


In re-creating the life and legacy of Jacques Le Moyne de Morgues, Miles Harvey weaves a tale of both intellectual intrigue and swashbuckling drama. Replete with shipwrecks, mutinies, religious wars, pirate raids, and Indian attacks, Painter in a Savage Land is truly a tour de force of narrative nonfiction.
Random House, 9781400061204, 368pp.
Publication Date: June 24, 2008
or
Not Currently Available for Direct Purchase