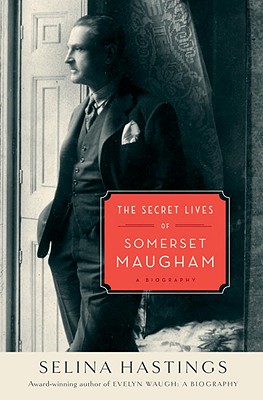 The Secret Lives of Somerset Maugham
A Biography
Hardcover

* Individual store prices may vary.
Other Editions of This Title:
Paperback (7/1/2012)
Description
He was a brilliant teller of tales, one of the most widely read authors of the twentieth century, and at one time the most famous writer in the world, yet W. Somerset Maugham's own true story has never been fully told. At last, the fascinating truth is revealed in a landmark biography by the award-winning writer Selina Hastings. Granted unprecedented access to Maugham's personal correspondence and to newly uncovered interviews with his only child, Hastings portrays the secret loves, betrayals, integrity, and passion that inspired Maugham to create such classics as The Razor's Edge and Of Human Bondage.

Hastings vividly presents Maugham's lonely childhood spent with unloving relatives after the death of his parents, a trauma that resulted in shyness, a stammer, and for the rest of his life an urgent need for physical tenderness. Here, too, are his adult triumphs on the stage and page, works that allowed him a glittering social life in which he befriended and sometimes fell out with such luminaries as Dorothy Parker, Charlie Chaplin, D. H. Lawrence, and Winston Churchill.

The Secret Lives of Somerset Maugham portrays in full for the first time Maugham's disastrous marriage to Syrie Wellcome, a manipulative society woman of dubious morality who trapped Maugham with a pregnancy and an attempted suicide. Hastings also explores Maugham's many affairs with men, including his great love, Gerald Haxton, an alcoholic charmer and a cad. Maugham's courageous work in secret intelligence during two world wars is described in fascinating detail—experiences that provided the inspiration for the groundbreaking Ashenden stories. From the West End to Broadway, from China to the South Pacific, Maugham's restless and remarkably productive life is thrillingly recounted as Hastings uncovers the real stories behind such classics as "Rain," The Painted Veil, Cakes & Ale, and other well-known tales.

An epic biography of a hugely talented and hugely conflicted man, The Secret Lives of Somerset Maugham is the definitive account of Maugham's extraordinary life.
Praise For The Secret Lives of Somerset Maugham: A Biography…
"[Hastings] provides a searing emotional history…so powerfully written, in places so shocking, as to give a series of physical jolts to the reader. Hasting's book cannot be bettered." –Sunday Telegraph

"Brilliant…Every so often, a biography appears of such authority and such power that it is more than a chronicle of a human life, it is a work of art…Such is Selina Hastings' skill that this horrible story is richly enjoyable."—A. N. Wilson, Reader's Digest

"A sensitive and sympathetic biography."—Sunday Times

"Pitch-perfect: supple, confident and written with something of the same beady detachment (and enjoyable signature streak of malice) as the great tale-teller himself." –Nicholas Shakespeare, Daily Telegraph

"The places and people she describes are portrayed with such graphic clarity and assurance. She sets a scene or establishes a personality with great economy and intensity."—Observer

"An impressively perceptive and often moving account of an extraordinarily interesting man."—Literary Review

"Excellent…wholly convincing and always interesting…an outstanding biography."—Scotsman

"Engrossing…a brilliant evocation." –Financial Times


"The more we know about Somerset Maugham, the more admirable he becomes—the more, in short, he seems the witty, cynical, eminently sensible fellow that comes across in his writing. And here, at last, Maugham has gotten the magnificent biography he deserves. Marshaling all the known evidence, Selena Hastings shows us the man in the round: she is generous but shrewd in her assessment of Maugham's work, and resolutely unshocked by the 'scandalous' details of his private life. Indeed, much of Hastings' book reads like an almost incredible success story, were it not for the rather crucial fact that Maugham attached himself, haplessly, to worthless characters who didn't love him. The ramifications are everywhere (but subtly) present in these pages, and lead inexorably to the final tragedy. Count no man happy until he dies." —Blake Bailey, author of Cheever: A Life


"A fascinating narrative … full of public incident and accomplishment, shadowed by privately known and whispered secrets…The sordid details, fully disclosed for the first time, reveal the tragic ending to a life that had produced great wealth, exotic travel, and public acclaim…Hastings is a stylish and sensitive writer who addresses her subject's double life with insight and compassion."—Publishers Weekly, starred review



"Monumentally engaging… All of the drama, intrigue, heartbreak and joy that marked Maugham's life is reconstructed by the author in enthralling, novelistic prose. A powerful, revealing and authoritative depiction of one the 20th century's most notorious literary figures." —Kirkus
Random House, 9781400061419, 626pp.
Publication Date: May 25, 2010
About the Author
Selina Hastings worked at the "Daily Telegraph" before becoming the literary editor for" Harpers & Queen." She is the author of "Nancy Mitford: A Biography, Rosamond Lehmann," and "Evelyn Waugh: A Biography," which won the Marsh Biography Award. A Fellow of the Royal Society of Literature, she has been a judge of the Booker, Whitbread, British Academy, Ondaatje, and Duff Cooper prizes, and of the UK Biographers' Award.