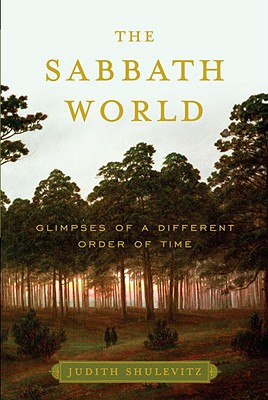 The Sabbath World
Glimpses of a Different Order of Time
Hardcover

* Individual store prices may vary.
Other Editions of This Title:
Paperback (4/5/2011)
Description
"Everyone curls up inside a Sabbath at some point or other. Religion need not be involved."

The Sabbath is not just the holy day of rest. It's also a utopian idea about a less pressured, more sociable, purer world. Where did this notion come from? Is there value in withdrawing from the world one day in seven, despite its obvious inconvenience in an age of convenience? And what will be lost if the Sabbath goes away?

In this erudite, elegantly written book, critic Judith Shulevitz weaves together histories of the Jewish and Christian sabbaths, speculations on the nature of time, and a rueful account of her personal struggle with the day. Shulevitz has found insights into the Sabbath in both cultural and contemporary sources—the Torah, the Gospels, the Talmud, and the writings of the Apostolic Fathers, as well as in the poetry of William Wordsworth, the life of Sigmund Freud, and the science of neuropsychology. She tells stories of martyrdom by Jews who died en masse rather than fight on the Sabbath and describes the feverish Sabbatarianism of the American Puritans. And she counterposes the tyranny of religious law with the equally oppressive tyranny of the clock. Can we really flourish under the yoke of communal discipline, as preachers and rabbis like to tell us? What about being free to live as we please? Can we preserve what the Sabbath gives us—a time outside time—without following its rules?

Whatever our faith or lack thereof, this rich and resonant meditation on the day of rest will remind us of the danger of letting time drive us heedlessly forward without ever stopping to reflect.
Praise For The Sabbath World: Glimpses of a Different Order of Time…
"Shulevitz has achieved something nearly impossible. She has written a book about the Sabbath that is truly singular."—Moment magazine
 
"This book will make you think differently about time, religion and your job. Read it on a Saturday or a Sunday or a weekday, but do read it."—AJ Jacobs, author of The Year of Living Biblically

"The Sabbath World is not merely riveting, wise and at times breathtakingly beautiful, it just might change your life." —Jonathan Safran Foer

"One of the many wonders of this beautiful and necessary book is that it manages to explore the meaning of the Sabbath with clarity and erudition, and simultaneously to awaken in the reader a deep longing for something that lives beyond words. What a pleasure to find a book written with the head and the heart."—Jonathan Rosen, author of The Talmud and the Internet

"Many times while reading this book, I wished I had written it myself. It is enlightening and comforting to see that someone else has struggled with the Sabbath as I have—with the impossibility of removing oneself from the current of modern life, and with the equal impossibility of being forever caught in that current. Shulevitz's history of the Sabbath in Jewish and Christian traditions is thorough and honest, recalling the social and moral force that underlies our understanding of time, no matter how secular we consider ourselves to be. This is a story of impossibilities—and of why, in our hyper productive world, the impossible is exactly what we need."—Dara Horn, author of All Other Nights

"Someone once told me that Judith Shulevitz is the smartest writer in New York today.  The Sabbath World contains all her formidable intelligence: It's learned, thoughtful, and elegant.  But it's also much, much more.  The writing is compassionate, revealing, and deeply personal.  The Sabbath World is destined to become a modern-day classic."—
Bruce Feiler, author of Walking the Bible and America's Prophet 

"This is a book that speaks to us all as we struggle to secure time in a frantic world. Melding history, religion, and culture with illuminating personal insights, Judith Shulevitz provides a path to a more balanced and fulfilling type of life."—Jerome Groopman, M.D., Recanati Professor, Harvard Medical School, author of Anatomy of Hope and How Doctors Think

"What a brilliant idea. In The Sabbath World, culture critic Judith Shulevitz (Slate, the New York Times) addresses the philosophical idea of the Sabbath from both a personal and a collective point of view. Part history, part meditation, the book delves into the Sabbath in Judaism and Christianity while invoking a wealth of nonreligious sources, from William Wordsworth to Sigmund Freud. Ultimately, The Sabbath World suggests, the Sabbath offers a way to live outside of time, even for a day a week—an act not just of renewal but of resistance in an obsessively over-scheduled and over-networked world."—Los Angeles Times
Random House (NY), 9781400062003, 246pp.
Publication Date: March 23, 2010
About the Author
Judith Shulevitz is a literary critic and a former columnist for "The New York Times" and "Slate." Her work has also appeared in "The New Republic" and "The New Yorker." She lives in New York City with her husband, Nicholas Lemann, and children.
Coverage from NPR
or
Not Currently Available for Direct Purchase