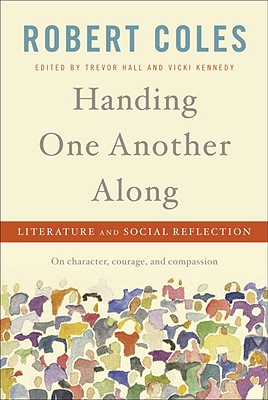 Handing One Another Along (Hardcover)
Literature and Social Reflection
Random House, 9781400062034, 304pp.
Publication Date: August 31, 2010
* Individual store prices may vary.
Description
In this book on shaping a meaningful and ethical life, the renowned, Pulitzer Prize–winning author explores how character, courage, and human and moral understanding can be fostered by reflecting on the lives of others, through stories. Based on Robert Coles' legendary course at Harvard, this provocative book addresses such questions as, "Who are we? Where do we come from? Where are we going?" It calls on us to become stronger and more aware, by reflecting on ourselves and others with the help of great literature and art.

Dr. Coles shows how the work of writers, artists, and thinkers of the past two centuries can inspire our own reflections on the daily lives we lead. He offers a compelling call to venture outside of our own selves and lives and to listen, attentively and with growing humanity, to the way others get through life. Coles encourages us to examine our own character, kindness, and complexity by looking carefully at our perceptions of others, and by studying the wisdom of authors from Charles Dickens to Flannery O'Connor, from James Agee to George Orwell, and many others. In this influential conversation about empathy and engagement, Coles inspires us to seek out deeper meaning in our lives, and guides us toward achieving greater clarity, strength, and richness of understanding, amid the moral, psychological, and social complexities of the modern world.
About the Author
Robert Coles is a professor of psychiatry and medical humanities at the Harvard Medical School and a research psychiatrist for the Harvard University Health Services. His many books include the Pulitzer Prize-winning five-volume Children of Crisis and the bestselling The Moral Intelligence of Children and The Spiritual Intelligence of Children. He is also the James Agee Professor of Social Ethics at Harvard. He lives in Massachusetts.
Praise For Handing One Another Along: Literature and Social Reflection…
"Robert Coles asked generations of students to think about the ultimate question—how to live a life of  purpose and meaning? In this book , he helps us all  find the answers."—Caroline Kennedy

"Dr. Robert Coles's The Literature of Social Reflection has long been a legendary course at Harvard for good reason: through a lifetime of passionate attachment to, and deeply humanistic understanding of, as he puts it, the "call of stories", Dr. Coles has opened for generations of students a uniquely inspiring window into the moral and spiritual life of our times."—John Burnham Schwartz, author of The Commoner and Reservation Road

or
Not Currently Available for Direct Purchase