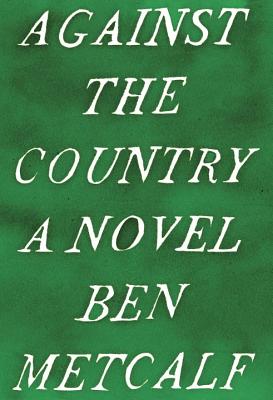 Against the Country
Hardcover

* Individual store prices may vary.
Other Editions of This Title:
Digital Audiobook (2/5/2015)
Paperback (8/21/2018)
Description
NAMED ONE OF THE TEN BEST BOOKS OF THE YEAR BY VULTURE AND ONE OF THE BEST BOOKS OF THE YEAR BY NPR - Against the Country is a gift for fans of Southern Gothic and metafiction alike. Set in the Virginia pines, and overrun with failed parents, racist sex offenders, cast-off priests, and suicidal chickens, this novel challenges literary convention even as it attacks our national myth--that the rural naturally engenders good, while the urban breeds an inevitable sin. In a voice both perfectly American and utterly new, Ben Metcalf introduces the reader to Goochland County, Virginia--a land of stubborn soil, voracious insects, lackluster farms, and horrifying trees--and details one family's pitiful struggle to survive there. Eventually it becomes clear that Goochland is not merely the author's setting; it is a growing, throbbing menace that warps and scars every one of his characters' lives. Equal parts fiery criticism and icy farce, Against the Country is the most hilarious sermon one is likely to hear on the subject of our native soil, and the starkest celebration of the language our land produced. The result is a literary tour de force that raises the question: Was there ever a narrator, in all our literature, so precise, so far-reaching, so eloquently misanthropic, as the one encountered here? Praise for Against the Country "Iconoclastic . . . Against the Country has obvious affinities to Southern Gothic, both in its voice and in the delight it takes in rural ignorance and grotesqueries. . . . A] country cousin of David Foster Wallace."--The New York Times Book Review "Exceptional in its verbal brilliance and conscientiousness, Against the Country involves us in a family's anguished and hilarious struggle against the strange dooms that seem peculiar to white rural America. This is a savage and gladdening novel."--Joseph O'Neill, author of Netherland and The Dog "Metcalf's unnamed narrator dazzles with his Puritan deadpan and capacious intellect, not to mention his double-barreled blasts of dark humor and wicked satire. . . . There are so many brilliant turns of phrase in Against the Country that it's hard to choose favorites, but Metcalf is at his sharpest and most seductive when his antihero does more than blast and blame, when he steps outside his sermons to say something real. . . . Every note in every solo is sounded with exquisite perfection."--Slate "Faulknerian . . . eccentric, magnificent Southern Gothic metafiction."--Vanity Fair

"Ben Metcalf is a brilliant writer, and Against the Country is an ingenious and hilarious novel, a glittering, bitter celebration of how the lousiness of life can be redeemed in the hands (and mouth) of a top-shelf teller of life's stories."--Sam Lipsyte, author of The Ask and The Fun Parts "A daring conglomeration of every trick, swindle and gimmick possible using only ink and paper, a pulpwood imagination machine so finely and expertly wrought that it can take on Jefferson, Thoreau, the church, patriotism, race relations, sexual identity, J. D. Salinger, the myth of America and a thousand other targets . . . Against the Country] is absolutely and completely worth all investment of time and effort, because it is an undeniably beautiful object, sharp as a new razor."--NPR "One of the more necessary--and most eloquent--expressions of a distinctly American, provincial rage in some years."--Flavorwire
Random House, 9781400062690, 336pp.
Publication Date: January 6, 2015
About the Author
Ben Metcalf (1966-?) was born in Illinois and raised in that state and later in rural Virginia. He was for many years the literary editor of Harper's Magazine. He has since taught at Columbia University's School of the Arts and joined the Lapham's Quarterly editorial board. His writing has appeared in The Baffler, Harper's Magazine, The Best American Essays, and elsewhere.
or
Not Currently Available for Direct Purchase