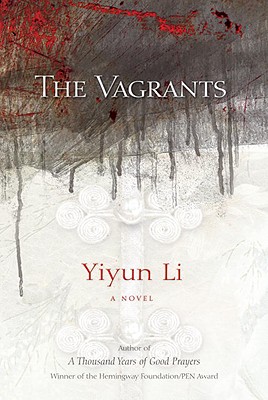 The Vagrants
Hardcover

* Individual store prices may vary.
Other Editions of This Title:
Digital Audiobook (1/14/2010)
Paperback (2/16/2010)
Description
Brilliant and illuminating, this astonishing debut novel by the award-winning writer Yiyun Li is set in China in the late 1970s, when Beijing was rocked by the Democratic Wall Movement, an anti-Communist groundswell designed to move China beyond the dark shadow of the Cultural Revolution toward a more enlightened and open society. In this powerful and beautiful story, we follow a group of people in a small town during this dramatic and harrowing time, the era that was a forebear of the Tiananmen Square uprising.

Morning dawns on the provincial city of Muddy River. A young woman, Gu Shan, a bold spirit and a follower of Chairman Mao, has renounced her faith in Communism. Now a political prisoner, she is to be executed for her dissent. Her distraught mother, determined to follow the custom of burning her only child's clothing to ease her journey into the next world, is about to make another bold decision. Shan's father, Teacher Gu, who has already, in his heart and mind, buried his rebellious daughter, begins to retreat into memories. Neither of them imagines that their daughter's death will have profound and far-reaching effects, in Muddy River and beyond.

In luminous prose, Yiyun Li weaves together the lives of these and other unforgettable characters, including a serious seven-year-old boy, Tong; a
crippled girl named Nini; the sinister idler Bashi; and Kai, a beautiful radio news announcer who is married to a man from a powerful family. Life in a world of oppression and pain is portrayed through stories of resilience, sacrifice, perversion, courage, and belief. We read of delicate moments and acts of violence by mothers, sons, husbands, neighbors, wives, lovers, and more, as Gu Shan's execution spurs a brutal government reaction.

Writing with profound emotion, and in the superb tradition of fiction by such writers as Orhan Pamuk and J. M. Coetzee, Yiyun Li gives us a stunning novel that is at once a picture of life in a special part of the world during a historic period, a universal portrait of human frailty and courage, and a mesmerizing work of art.
Praise For The Vagrants…
"Yiyun Li has written a book that is as important politically as it is artistically. The Vagrants is an enormous achievement."—Ann Patchett, author of Run

"Ezra Pound said that literature is news that stays news. Nothing could be a more apt description of Yiyun Li's extraordinary new novel, The Vagrants. It is a book about a street, but a street that turns the corner into another street, then turns into a town, and soon becomes a whole country. Li finds the music in the smaller lives and makes them symphonic. This is history and memory at its most raw and brilliant, reminiscent of Saramago, Aciman, and Coetzee. The Vagrants is a novel to be savored and discussed."—Colum McCann, author of Zoli

"Every once in a while a voice and a subject are so perfectly matched that it seems as if this writer must have been born to write this book. The China that Yiyun Li shows us is one most Americans haven't seen, but her tender and devastating vision of the ways human beings love and betray one another would be recognizable to a citizen of any nation on earth." —Nell Freudenberger, author of The Dissident

"This is a book of loss and pain and fear that manages to include such unexpected tenderness and grace notes that, just as one can bear it no longer, one cannot put it down. This is not an easy read, only a necessary and deeply moving one."—Amy Bloom, author of Away

"A starkly moving portrayal of China in the wake of the Cultural Revolution, this book weaves together the stories of a vivid group of characters all struggling to find a home in their own country. Yiyun Li writes with a quiet, steady force, at once stoic and heartbreaking."—Peter Ho Davies, author of The Welsh Girl

"There is a magnetic small-town universality toThe Vagrants…but this is small-town universality with a difference. That difference is Communist China. The town isn't small; it only feels that way, as a provincial city where everyone seems to know his neighbor's business."—Janet Maslin, The New York Times

"Yiyun Li's extraordinary debut novel…beautifully paced, exquisitely detailed…an amazing technical achievement….Li's genius lies in her ability to blend fact with an endlessly imaginative sense of the interplay of forces that powered the massive shift in the social order that led to Tiananmen Square…In this most amazing first novel, Yiyun Li has found a way to combine the jeweled precision of her short-story-writer's gaze with a spellbinding vision of the power of the human spirit." —Chicago Tribune

"She bridges our world to the Chinese world with a mind that is incredibly supple and subtle."—W Magazine

"A Balzacian look at one community's suppressed loves and betrayals."—Vogue

"A sweeping novel of struggle, survival, and love in the time of oppression. . . . [an] illuminating, morally complex, and symphonic novel."—O Magazine

"Magnificent." –Publishers Weekly, starred review

"[A] rich, expansive novel, which captures the anxieties and brutality of life during the last days of Maoism. . . . Li's story has an empathetic, uncannily graceful tone."—Kirkus Reviews

"Li has poured her prodigious talent into The Vagrants. . . . Familiarity with Chinese history isn't at all necessary to relate to the grief, pain, confusion, fear, loyalty, suspicion, and love portrayed by the characters in this deeply affecting story. . . . The Vagrants has a confident, democratic style that gives a distinct voice to every character. 'Growing up in China, you learn you can never trust one person's words,' Li says. 'People's stories don't always match.' But one thing is clear: Li's stories matter."—Elle
Random House, 9781400063130, 352pp.
Publication Date: February 3, 2009
or
Not Currently Available for Direct Purchase