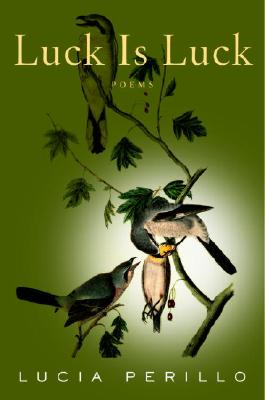 Luck Is Luck (Hardcover)
Poems
Random House, 9781400063239, 112pp.
Publication Date: March 22, 2005
* Individual store prices may vary.
Description
From the snowy egret to a woman's floating rib, nudism in America to Holy Communion, Simone de Beauvoir to Nathan's hot dogs–the subjects in Lucia Perillo's fourth collection of poetry lift off from surprising places and touch down on new ground. Hers is a vision like no other. In "To My Big Nose," she muses: "hard to imagine what the world would have looked like / if not seen through your pink shadow. / You who are built from random parts / like a mythical creature–a gryphon or sphinx–."

Fearless, focused, ironic, irreverent, truly and deeply felt, the poems in Luck Is Luck draw upon the circumstances of being a woman, the harsh realities of nature, the comfort of familiar things, and universally recognizable anxieties about faith and grief, love and desire. In "Languedoc," she writes, "Long ago / I might have been attracted by your tights and pantaloons / but now they just look silly, ditto for your instrument / that looks like a gourd with strings attached / (the problem is always the strings attached)."

Perillo's versions of nature are always unflinching: "Most days back then I would walk by the shrike tree, / a dead hawthorn at the base of a hill. / The shrike had pinned smaller birds on the tree's black thorns / and the sun had stripped them of their feathers. / . . . well, hard luck is luck, nonetheless. / With a chunk of sky in each eye socket. / And the pierced heart strung up like a pearl."

Down-to-earth, full of playful twists of language, and woven from grand themes in an accessible, appealing way, these poems pierce the heart and delight the mind. Not one word is wasted.
About the Author
LUCIA PERILLO, a 2000 MacArthur Fellow, has published three previous collections: "The Oldest Map with the Name America, The Body Mutinies, " for which she won the PEN/Revson Foundation Poetry Fellowship and several other awards, and "Dangerous Life," which received the Norma Farber First Book Award from the Poetry Society of America. Her poems have appeared in such magazines as "The New Yorker," the "Atlantic," and "The Kenyon Review." They also have been included in the Pushcart and Best American Poetry anthologies.
Praise For Luck Is Luck: Poems…
"I have two words for anyone who wants to know why people turn to poetry in times of need: Lucia Perillo. She's the funniest poet writing today, which is saying a lot, since she's also the poet most concerned with the treachery practiced on us daily by our best friends and worst enemies, our bodies. . . . [Luck Is Luck offers] one exquisitely wrought poem after another."
-- David Kirby, The New York Times Book Review

"Luck Is Luck contains Lucia Perillo's most adventurous poems on subjects as various as original sin and life with an oversize nose. It is a delight to wander with her into strange imaginative territories. Always, I read her poems with surprise and (write it!) jealousy."
–Billy Collins

"Lucia Perillo's poems are dazzling tragicomedies of everyday life, buoyant with wit, feeling, and delight in language. She can make a 1950s housecoat seem as exotic as a farthingale, and a rain-soaked paperback swell till it contains the world. It's hard to imagine the reader who can resist the playful energies and serious charm of Luck Is Luck."
–Katha Pollitt

"The energy, decisiveness, and humane wisdom of Lucia Perillo's work are tonic. She is an exhilarating poet."
–Jonathan Galassi


Praise for the poetry of Lucia Perillo

"Breathtaking and bold in its range of reference and feeling . . . full of energy yet with an eye for the holy and serene."
–Lorrie Moore

"Engaging and elegant . . . [Perillo's] ironies are carefully honed. . . . [Her] directness is distinctly refreshing."
–Los Angeles Times (The Best Poetry of 1999)

"[Perillo] is a genuinely expert teller of anecdotes, with a slightly dizzying ability to weave narrative and self-expression, and wonderful powers of description."
–Chicago Tribune

"No subject, it seems is too mundane or too exotic for Perillo's engaging poems."
–The New Yorker
or
Not Currently Available for Direct Purchase