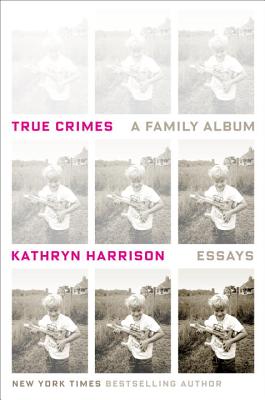 True Crimes
A Family Album
Hardcover

* Individual store prices may vary.
Description
From acclaimed literary talent and New York Times bestselling author Kathryn Harrison comes a collection of provocative and illuminating essays. In True Crimes, conventional ideas of love, loss, forgiveness, and memory are transformed--complicated, upended, and reimagined by one of the foremost memoirists of our time. In essays written over the course of more than a decade, Kathryn Harrison has created a beautifully detailed and rigorously honest family album. With tenderness and wisdom, compassion and humor, Harrison writes about the things we don't always discuss, casting light on what lurks beneath the surface of everyday life, sifting through the artifacts of memory to find what haunts and endures. Both serious and surprising, these essays capture the moments and impulses that shape a family. In "Keeping Vigil," Harrison reflects on the loss of her beloved father-in-law, and how he managed to repair something her own father had broken. In "Holiday Lies," she describes the uneasy but necessary task of lying to her children about Santa Claus and the Tooth Fairy, withholding certain truths to protect their innocence. In "Mini-Me," she writes about how the birth of her youngest daughter--who used to pry open a sleeping Harrison's eyes--finally allowed her to understand her own mother's complicated attitudes about parenting. And in "True Crime," Harrison writes for the first time in the almost two decades since the publication of The Kiss about her affair with her father, and how she has reckoned with the girl she once was. With gorgeous prose and unflinching self-examination, True Crimes is a powerful and unforgettable literary tour de force. Praise for True Crimes

"I found myself mesmerized by Harrison's nervy confessions: odd and idiosyncratic, as original as any personal disclosures I've read and yet not obviously calculated for inflammatory effect. . . . Here, as in all of Harrison's nonfiction, there's a magnetic and almost mystical weirdness roiling beneath a seemingly placid -surface."--The New York Times Book Review "It's hard to think of other memoirists who match not just Harrison's unsparing clarity of vision, but her empathy for both her loved ones and her tormentors. . . . Harrison is doubly gifted: She is able both to see her world with painful clarity, and to share this clarity with us."--New Republic "Revelatory in its honesty about everything from her scorching childhood to the push and pull of marriage."--More "A beautifully written and wonderful book about almost everything that means anything in life: love, family, loss and betrayal, death, joy. It is heartbreaking, funny, direct, elliptical, and somehow pulls a provocative healing thread of meaning from generation to generation, from husband to wife, and from life to death to life again."--Kay Redfield Jamison, Ph.D. "In these essays, Harrison approaches her own past as a mystery--at once elusive and unshakable--and excavates its nuances with tender rigor. Her memories emerge less like artifacts and more like luminous veins of quicksilver, constantly diverging and reconnecting."--Leslie Jamison "With its sharp, haunting portraits, this gorgeous and unsettling book is like the most honest family album ever. Harrison is not afraid to plumb the darkness of family life, to look at the rage, panic, and resentments entangled with love: Her reminiscences are vivid and unforgettable."--Katie Roiphe
Random House, 9781400063482, 240pp.
Publication Date: April 5, 2016
About the Author
Kathryn Harrison has written the novels Thicker Than Water, Exposure, Poison, The Binding Chair, The Seal Wife, Envy, and Enchantments. Her autobiographical work includes The Kiss, Seeking Rapture, The Road to Santiago, The Mother Knot, and True Crimes. She has written two biographies, Saint Therese of Lisieux and Joan of Arc, and a book of true crime, While They Slept: An Inquiry into the Murder of a Family. She lives in Brooklyn with her husband, the novelist Colin Harrison.
Coverage from NPR
or
Not Currently Available for Direct Purchase