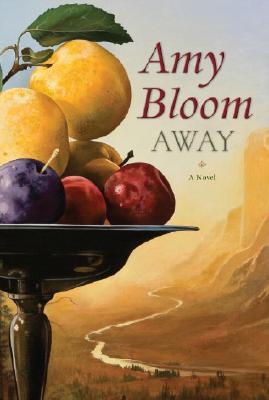 Away (Hardcover)
Random House, 9781400063567, 256pp.
Publication Date: August 21, 2007
Other Editions of This Title:
Digital Audiobook (10/31/2009)
CD-Audio (11/1/2009)
Paperback (6/24/2008)
CD-Audio (8/21/2007)
Hardcover, Large Print, Large Print (12/1/2007)
Pre-Recorded Audio Player (10/1/2007)
* Individual store prices may vary.
Description
Panoramic in scope, Away is the epic and intimate story of young Lillian Leyb, a dangerous innocent, an accidental heroine. When her family is destroyed in a Russian pogrom, Lillian comes to America alone, determined to make her way in a new land. When word comes that her daughter, Sophie, might still be alive, Lillian embarks on an odyssey that takes her from the world of the Yiddish theater on New York's Lower East Side, to Seattle's Jazz District, and up to Alaska, along the fabled Telegraph Trail toward Siberia. All of the qualities readers love in Amy Bloom's work–her humor and wit, her elegant and irreverent language, her unflinching understanding of passion and the human heart–come together in the embrace of this brilliant novel, which is at once heartbreaking, romantic, and completely unforgettable.
Praise For Away…
Praise for Away
PRAISE FOR AWAY

"AWAY is a modest name for a book as gloriously transporting as Amy Bloom's new novel. Alive with incident and unforgettable characters, it sparkles and illuminates as brilliantly as it entertains… AWAY is a literary triumph, a book-club must and a popular novel destined for wide readership. It is accessible to the point of pure enthrallment without compromising its eloquence or thematic strength. Yet it is also a classic page-turner, one that delivers a relentlessly good read."
–NEW YORK TIMES

"Amy Bloom knows the urgency of love. As a practicing psychotherapist, she must have heard that urgency in her patients' stories, and in 1993 when she broke onto the literary scene with Come To Me, we heard it in hers. She has never strayed from that theme…Bloom writes with extraordinary care about people caught in emotional and physical crosswinds: desires they can't satisfy, illnesses they can't survive, and–always–love that exceeds the boundaries of this world…this whole novel reads like dry wood bursting into flame: desperate and impassioned, erotic and moving–absolutely hypnotic."
–COVER OF WASHINGTON POST BOOK WORLD

"With her sly sense of humor and flair for precise, elegant language, acclaimed author Bloom fashions a spellbinding story of courage and unwavering optimism in the face of daunting odds."
–PEOPLE

"Her execution is exquisite, and exquisite execution is rare–not only in books but (alas) in almost any undertaking…The pleasures of AWAY are the ordinary pleasures of extraordinary novels: finely wrought prose, vivid characters, delectable details. There's a soft-smile, along-the-way humor…A practicing psychotherapist, this author combines eloquence with insight."
–COVER OF THE LOS ANGELES TIMES BOOK WORLD

"By the end of this memorable, panoramic novel, Bloom transforms the musts in Lillian's life into a Scheherazade-like procession of cans that encapsulate all the cultural richness that newcomers contributed to this nation of immigrants in the early part of the 20th century. Grade: A"
–ENTERTAINMENT WEEKLY

"Far and away one of the best books of the year… Once in a great while, a work of art–a poem, a painting, a book–will register in the chest cavity, producing an ache of recognition and pleasure. AWAY by Amy Bloom is such a book… a surprising, tough and incandescent book."
–CLEVELAND PLAIN DEALER

"Amy Bloom is blessed with a generous heart and a brilliant imagination, which is evident once again in her fifth and best book so far, AWAY…The vividness and tenderness with which Bloom tells this story is stunning. Bloom, who teaches writing at Yale University and is also a practicing psychotherapist, has an innate understanding of the complexity of the human heart and in Lillian, she has created her most compelling character yet."
–HARTFORD COURANT

"So vivid and engaging, so delicious in tone, that a reader experiences an immediate thrill, the all-too-rare one that signals: I am in excellent hands here… The language that Bloom employs to tell Lillian's story is immediate, colorful, and unafraid to be plain…It's not easy to be lyrical, funny, and brilliant all at once, and Bloom is."
–BOSTON GLOBE

"Rousing, utterly absorbing… a compact epic, an adventure story, a survival tale and an incredible journey wrapped up in a historical novel cloaked in a love story… exquisitely unsentimental novel about exile, hope and love in its various incarnations — maternal, romantic, sexual, platonic, inconvenient, unruly, unreasonable, abiding."
–SAN FRANCISCO CHRONICLE

"A powerful new novel of loss and love, of hope and struggle…amazing…AWAY is a short novel, but it feels packed to the rafters with fully-realized character, with America, with all the things that don't fit inside the vessel we've taken to calling the American Dream…unforgettable."
–LOUISVILLE COURIER JOURNAL

"Blom executes Lillian's tale with the same fresh eye with which a master cinematographer captures a familiar landscape…In just 248 pages of astonishing prose, Bloom covers vast emotional (and geographic) terrain, giving a familiar story epic proportions."
–NEW YORK DAILY NEWS

"Fascinating…a tough, engaging book."
–PITTSBURGH POST-GAZETTE

"Outstanding…A sweeping saga of endurance and rebirth. Encompassing prison, prostitution and poetry, Yiddish humor and Yukon settings, Bloom's tale offers linguistic twists, startling imagery, sharp wit and a compelling vision of the past. Bloom has created an extraordinary range of characters, settings and emotions. Absolutely stunning."
–PUBLISHERS WEEKLY, STARRED REVIEW

"Summary doesn't do justice to this compact epic's richness of episode and characterization, nor to the exemplary skill with which Bloom increases her story's resonance through dramatic foreshadowing of what lies ahead for her grifters and whores and romantic visionaries and stubborn, hard-bitten adventurers. Echoes of Ragtime, Cold Mountain and Irving Howe's World of Our Fathers, in an amazingly dense, impressively original novel."
– KIRKUS REVIEWS, STARRED REVIEW

"A masterly second novel…the writing is spare and tender, with revelatory doses of irony….A novel this gorgeous doesn't need humor, but what's better than laughing off a good cry? AWAY is a story to sink your heart into."
–Elle Magazine

"Bloom attempts a sweeping historical epic and succeeds…Haunting."
–More Magazine

"A novel laced with heartache, but also a strong thread of hope."
–O Magazine

"This beautiful, effulgent book sped me forward word by word, out of the room I was in and into Amy Bloom's world. This is a wonderful novel, a cosmos that transcends its time period and grabs us without compromise. Lillian's astonishing journey, driven by a mother's love, will be with me for a long, long time."
–Ron Carlson, author of The Speed of Light

"I haven't read a novel in a long time that I genuinely wanted to get back to, just to sit down and read for the pure joy of it. Away is a book full of tender wisdom, brawling insight, sharp-edged humor and–if it's possible–a lovely, wayward precision. Amy Bloom has created an unforgettable cast of characters. Lillian, the heroine, or anti-heroine, somehow always manages to do what great journeys always do–continue. A marvelous book."
–Colum McCann, author of Zoli

"Raunchy, funny, and touching, Away is an elegant window into the perils of self-invention and reinvention in New York in the 1920s. Amy Bloom's heroine, Lillian, is an unforgettable young woman on a quest to make her life whole and to belong in an unstable, yet fascinating, new American world."
–Caryl Phillips, author of A Distant Shore

"Amy Bloom's work has always revolved around what love and desire can make us do. In Away, she paints filial love on an immense geographic and historical canvas. The result, a story of loss and survival, is gripping."
–Christopher Tilghman, author of Roads of the Heart
or
Not Currently Available for Direct Purchase