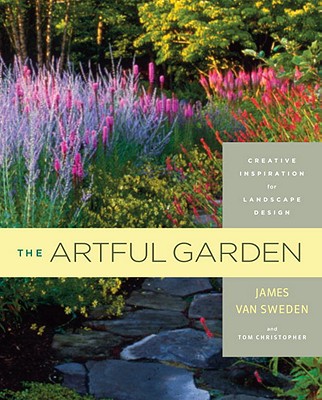 The Artful Garden (Hardcover)
Creative Inspiration for Landscape Design
Random House, 9781400063895, 224pp.
Publication Date: February 1, 2011
* Individual store prices may vary.
Description
"I want to put the mystery back into the heart of garden design, where it needs to be. It's what lures you in through the gate, keeps you moving through the landscape, and fills you with excitement along the way. The sense of mystery is what turns a mere display of plants, paths, and ornaments into an adventure."                          
—James van Sweden
 
Guided by world-renowned landscape architect James van Sweden and horticulture expert Tom Christopher, any gardener can learn the secrets of the gardener's art and absorb the essence of inspired garden design. In their gifted hands, creating your own perfect garden, with its own alluring mysteries, turns out to be not only easy but a delight.

Whether it's a ten-foot-square city terrace or a ten-acre expanse, the same principles apply: the intelligent use of positive and negative space, of form and scale, of light and shadow, of rough and smooth textures. Do you want a garden you can immerse yourself in? A garden you can smell and listen to as well as observe? An exuberant garden or a contemplative garden?

In this elegantly written and visually stunning book, van Sweden reveals the secrets of famous gardens around the world and encourages you to find inspiration in the arts—in painting (from America's classic regional artists to the abstract expressionists), music (from classical to jazz), sculpture, even dance. He introduces you to famous artists who share how their art has influenced the design of their own gardens, and teaches you to think not in terms of borders and beds or even paths and meadows but of a tapestry woven from sky, trees, rocks, vines, flowers, grasses, and space.

Richly illustrated throughout with magnificent photographs, The Artful Garden both tells and shows, sharing with beginning and experienced gardeners a wealth of inspiration and practical help. "What's my message?" van Sweden asks in conclusion. The wise answer: "Don't squander the potential for surprise and wonder." This beautiful book guarantees everyone who reads it a priceless store of gardening wisdom.
About the Author
Following training as an architect and landscape architect in the United States and the Netherlands, James van Sweden formed a partnership with landscape architect and horticulturist Wolfgang Oehme. A revolutionary garden style quickly emerged and continues to flourish today at their international firm, Oehme, van Sweden & Associates. Van Sweden's first book, Bold Romantic Gardens, co-authored with Mr. Oehme, is considered a classic in the field. James van Sweden is a Fellow of the American Society of Landscape Architects and the recipient of many awards, including the prestigious 2010 ASLA Design Medal. He lives in Washington, D.C.

Tom Christopher apprenticed for two years at the New York Botanical Garden. Subsequent to graduation from NYBG's School of Professional Horticulture, he spent a decade restoring the landscape of a historic Hudson River Valley estate. He has written articles for The New York Times and served as a columnist at House & Garden and Martha Stewart Living. The author of seven books, he currently gardens in the hills of western Massachusetts.
Praise For The Artful Garden: Creative Inspiration for Landscape Design…
"James van Sweden is internationally acclaimed as a landscape architect who, with his partner, Wolfgang Oehme, has evolved an entirely new concept in garden design. In the 1980s it was called 'the New American Garden,' but twenty years later and into the new century, not only has he shaped landscapes throughout the world but the Oehme/van Sweden look has fashioned the taste and opinions of a far wider audience, who admire his work, read his books, and follow his inspiration. In his contribution to both public and private garden design, from large-scale parks to intimate walled city gardens, his work has become a byword for excellence."—Penelope Hobhouse