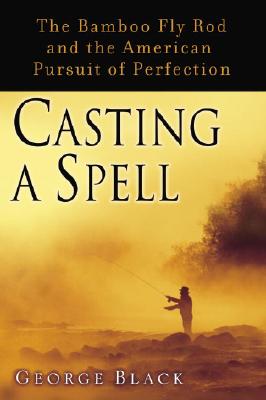 Casting a Spell (Hardcover)
The Bamboo Fly Rod and the American Pursuit of Perfection
Random House, 9781400063963, 272pp.
Publication Date: August 8, 2006
* Individual store prices may vary.
Description
Thirty-five million Americans–one in eight–like to go fishing. Fly fishers have always considered themselves the aristocracy of the sport, and a small number of those devotees, a few thousand at most, insist upon using one device in the pursuit of their obsession: a handcrafted split-bamboo fly rod. Meeting this demand for perfection are the inheritors of a splendid art, one that reveres tradition while flouting obvious economic sense and reaches back through time to touch the hands of such figures as Theodore Roosevelt and Henry David Thoreau.

In Casting a Spell, George Black introduces readers to rapt artisans and the ultimate talismans of their uncompromising fascination: handmade bamboo fly rods. But this narrative is more than a story of obscure objects of desire. It opens a new vista onto a century and a half of modern American cultural history. With bold strokes and deft touches, Black explains how the ingenuity of craftsmen created a singular implement of leisure–and how geopolitics, economics, technology, and outrageous twists of fortune have all come to focus on the exquisitely crafted bamboo rod. We discover that the pastime of fly-fishing intersects with a mind-boggling variety of cultural trends, including conspicuous consumption, environmentalism, industrialization, and even cold war diplomacy.

Black takes us around the world, from the hidden trout streams of western Maine to a remote valley in Guangdong Province, China, where grows the singular species of bamboo known as tea stick–the very stuff of a superior fly rod. He introduces us to the men who created the tools and techniques for crafting exceptional rods and those who continue to carry the torch in the pursuit of the sublime. Never far from the surface are such overarching themes as the tension between mass production and individual excellence, and the evolving ways American society has defined, experienced, and expressed its relationship to the land.

Fly-fishing may seem a rarefied pursuit, and making fly rods might be a quixotic occupation, but this rich, fascinating narrative exposes the soul of an authentic part of America, and the great significance of little things. George Black's latest expedition into a hidden corner of our culture is an utterly enchanting, illuminating, and enlightening experience.
About the Author
George Black did not pick up a fly rod till after his fortieth birthday-and he has seldom willingly put one down since. He was born in the small Scottish mining town of Cowdenbeath and was educated at Oxford University. Black is the author of four other books, including "The Trout Pool Paradox: The American Lives of Three Rivers." A journalist and editor for more than twenty-five years, he has written for "The New York Times," the "Los Angeles Times," "The Nation," "The New Statesman," "Mother Jones," "The National Law Journal," "Fly Fisherman," and many other publications. He lives in New York City with his wife, the author and playwright Anne Nelson, and their two children.
or
Not Currently Available for Direct Purchase