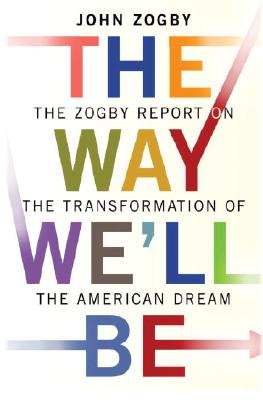 The Way We'll Be (Hardcover)
The Zogby Report on the Transformation of the American Dream
Random House, 9781400064502, 256pp.
Publication Date: August 12, 2008
Other Editions of This Title:
Digital Audiobook (8/28/2008)
Compact Disc (8/1/2008)
MP3 CD (8/1/2008)
Compact Disc (8/1/2008)
Pre-Recorded Audio Player (3/1/2009)
* Individual store prices may vary.
Description
According to super pollster John Zogby, whom The Washington Post calls "the maverick predictor," the conventional wisdom about the United States–that we're isolated from the world, politically fragmented, and inclined toward material pleasure–isn't just flawed; it may be 180 degrees from the truth. In this far-reaching and illuminating look at contemporary American life, Zogby reveals nothing less than The Way We'll Be. Drawing on thousands of in-depth surveys conducted especially for the book, Zogby points out where we're headed–politically, culturally, and spiritually.

The American dream is in transition; it is rapidly being redefined by four meta-movements: living with limits as consumers and citizens; embracing diversity of views and ways of life; looking inward to find spiritual comfort; and demanding authenticity from the media, our leaders, and leading institutions. Spearheaded by today's eighteen-to-twenty-nine-year-olds–the "First Global" generation–Americans are becoming more internationalist, consensus-oriented, and environmentally conscious and less willing to identify themselves by the things they do to earn or spend their money. But this is more than a youth tide. Americans of all ages are moving beyond old divides–red state/blue state, pro-life/pro-choice, beer drinker/wine connoisseur–to form a new national consensus that will shape the nation for decades to come.

Zogby's cogent analysis of the data yields an astonishing perspective on Americans' thoughts, feelings, and beliefs, now and in coming years. Understanding this emerging reality will be key for

• leaders in all fields who want to reach audiences that are more media-savvy, better informed, and more technologically enabled than ever before

• individuals in search of rewarding and fulfilling careers in tomorrow's growth fields

• politicians and CEOs looking to marry policies and practices to the rising demand for social responsibility

• anyone who wants to market to the emerging new American consensus

Beyond telling a fascinating story, the conclusions in this book are a must-read for everyone from Main Street to Madison Avenue to Capitol Hill. Filled with expert analysis and insight from one of today's most successful predictors and trend spotters, The Way We'll Be will redefine how we view America's future.
About the Author
John Zogby is the president and CEO of Zogby International, whose many media and business clients include Reuters, NBC News, MSNBC, the "New York Post," C-SPAN, Gannett News Service, IBM, MetLife, and Microsoft. He is a regular contributor to network television news broadcasts and has been a frequent guest on "Today," "Hardball with Chris Matthews," and "The Daily Show with Jon Stewart." His writing has appeared in many publications, including "The New York Times" and "The Wall Street Journal." A frequent lecturer and panelist, he is married to Kathleen Zogby, a retired special education teacher, and has three sons, Jonathan, Benjamin, and Jeremy. He lives in Utica, New York.
or
Not Currently Available for Direct Purchase