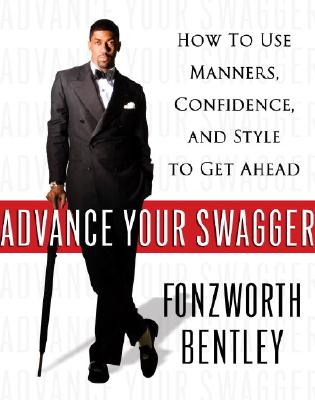 Advance Your Swagger (Hardcover)
How to Use Manners, Confidence, and Style to Get Ahead
Villard Books, 9781400064533, 113pp.
Publication Date: September 25, 2007
* Individual store prices may vary.
Description
My manners were the first ingredient that set me apart from my peers, notes the suave and stylish Fonzworth Bentley, Sean Diddy Combs's former personal assistant and a celebrity in his own right. Now, in this one-of-a-kind book, Bentley shares his surefire strategies for success.
Just how does a guy move from Atlanta to New York City without knowing a soul in the entertainment industry and become, in less than two years, the P.A. to one of the biggest moguls in hip-hop history? Bentley attributes his accomplishment to one key equation: Manners + Confidence + Style = Swagger. With this formula, Bentley transformed himself into an icon of unflappable grace, elegance, and good manners and now he's on a mission to help you step up your game, advance your swagger, get ahead, and live out your dreams.
Inside you ll learn everything you need to know about
manners and the magic of Please and Thank You
the art of eating well, from which glass to use to handling the napkin
the basics of fine dining, whether you re a host or a guest
the do's and oh no you di int's of cell phones, e-mail, and text messaging
projecting confidence through your body language
the power of introductions, even when you can t remember someone's name
what to do before, during, and after a job interview
body maintenance, from hair to toes to pearly whites
the principles of timeless fashion, so you never go out of style
15 things every man and 15 things every woman must have in his or her closet
Plus Bent Hints little things to keep in mind for any occasion
Though we seem to be in the midst of what Bentley calls the Golden Age of Disrespect, he demonstrates how we can add a touch of class and dignity to our lives. He's here to make sure your color schemes are fly and your stance is stage-ready.
Filled with photographs to illustrate his lessons, Advance Your Swagger" "is the lifestyle book of the year. He's taken care of his world now let Mr. Bentley whip yours into style.
About the Author
The First Gentleman of Hip Hop, Fonzworth Bentley, Derek Watkins, graduated from Atlanta s Morehouse College with a bachelor of science degree concentrating in biology, then attended New York s prestigious Fashion Institute of Technology. After becoming one of the most popular maitre d s in New York City, he raised his profile as Sean Diddy Combs s personal assistant. He later became the arbiter of good taste for Courvoisier and style and fashion correspondent for Access Hollywood, covering the Oscars, Golden Globes, and Grammys. He was also named one of People magazine s 50 Hottest Bachelors in 2004. He is the executive producer of an upcoming album with Kanye West featuring Andre 3000, Faith Evans, Esthero, and Pimp C, among others. Bentley has appeared on MTV s Making of the Band 2 and in music videos with OutKast, Kanye West, and Usher. He has also appeared in two feature films, Honey and Fat Albert. Fonzworth Bentley lives in Los Angeles.

For information about Bentley s tour, news, special events, and his Advance Your Swagger contest, visit him online at www.fonzworthbentley.net and www.myspace.com/therealbentley."
Praise For Advance Your Swagger: How to Use Manners, Confidence, and Style to Get Ahead…
Advance praise for Advance Your Swagger

"Can this be the dawning of a new Fonz? As hip hop's self-appointed Emily Post-in-embryo points out, manners not only count, they can open doors. For a culture groomed on celebrity, cell phones, and fast food, Master Fonzworth's words of advice are both timely and thoughtful. While a thoroughly entertaining read, taken seriously, Swagger could turn any sow's ear into a silk purse, any frog into a prince."
–Alan Flusser, author, president of Alan Flusser Designs

"Bentley is the most 'etiquatted' person I know. I always ask Bentley for style tips, now he's sharing his secrets with the world."
–Kanye West

"Of all the gentlemen that I have known, Fonzworth Bentley is the most refined of them all. His style flawless . . . his etiquette impeccable . . . and his swagger timeless."
–Cameron Diaz

"Very necessary!"
–André 3000

"The right book at the right time written by the right man."
–Russell Simons
or
Not Currently Available for Direct Purchase