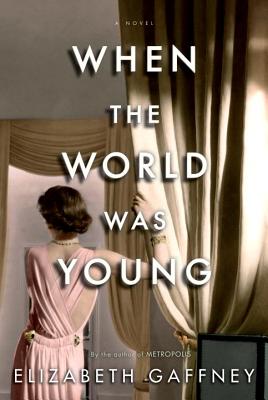 When the World Was Young (Hardcover)
Random House, 9781400064687, 298pp.
Publication Date: August 5, 2014
* Individual store prices may vary.
Description
Wally Baker is no ordinary girl. Living in her grandparents Brooklyn Heights brownstone, she doesn t like dresses, needlepoint, or manners. Her love of "Wonder Woman" comics and ants makes her feel like a misfit especially in the shadow of her dazzling but unstable mother, Stella.
Acclaimed author Elizabeth Gaffney's irresistible novel captures postwar Brooklyn through Wally's eyes, opening on V-J day, as she grows up with the rest of America. Reeling from her own unexpected wartime tragedy and navigating an increasingly fraught landscape, Wally is forced to confront painful truths about the world its sorrows, its prejudices, its conflicts, its limitations. But Wally also finds hope and strength in the unlikeliest places.
With an unforgettable cast of characters, including the increasingly distant and distracted Stella; Loretta, the family's black maid and Wally's second mother; Ham, Loretta's son, who shares Wally's enthusiasm for ants and exploration; Rudy, Wally's father, a naval officer, away serving in the Pacific; and Mr. Niederman, the family's boarder, who never seems to answer Wally's questions and who she suspects may have something to hide Elizabeth Gaffney crafts an immersive, beautifully realized novel about the truths that divide and the love that keeps us together.
Praise for "When the World Was Young"
Elizabeth Gaffney's wonderful, richly imagined novel "When the World Was Young" cheers the power and resilience of a society-bucking young woman. "Vanity Fair"
Gaffney's heroines are brave and flawed (in a good way). "Marie Claire"
A] smart, sensitive historical novel . . . driven by fast-paced storytelling. "O: The Oprah Magazine"
""
Devastating and compelling. "Elle"
""
Richly textured . . . Gaffney transports us. "Reader's Digest"
""
Lyrical. "New York Post"
""
Gaffney provides a lovingly told story of a time and a place and a house New Yorkers will recognize, if only in the mind's eye. New York "Daily News"
""
A riveting coming-of-age story . . . a mesmerizing tale. "Historical Novels Review"
""
A charming and incisive tale . . . profound. "Booklist"
""
A] layered, delicate novel. "Publishers Weekly"
""
A smart coming-of-age tale . . . lively . . . world-wise. "Kirkus Reviews"
""
This compelling family drama features an intriguing cast of characters who are well drawn and realistic, while also being emblematic of their time. Gaffney's writing is graceful and leisurely paced, flavored with nostalgia. "Library Journal"
In this beautifully written novel an honest and irresistible ride through post World War II America in all its glory and its shame Elizabeth Gaffney explores mothers and daughters, upstairs and downstairs, loveless marriages and passionate affairs, without ever losing her story or the fabulous characters that inhabit it. B. A. Shapiro, "New York Times "bestselling author of "The Art Forger.
About the Author
Elizabeth Gaffney is the author of "Metropolis." Her stories have appeared in literary magazines such as the "Virginia Quarterly Review" and the "North American Review," and she has been a resident artist at Yaddo, the MacDowell Colony, and the Blue Mountain Center. A former staff editor at "The Paris Review," Gaffney teaches fiction at The New School and serves as the editor-at-large of the literary magazine "A Public Space."
Praise For When the World Was Young…
Advance praise for When the World Was Young
 
"In this beautifully written novel—an honest and irresistible ride through post–World War II America in all its glory and its shame—Elizabeth Gaffney explores mothers and daughters, upstairs and downstairs, loveless marriages and passionate affairs, without ever losing her story or the fabulous characters that inhabit it."—B. A. Shapiro, New York Times bestselling author of The Art Forger
 
"When the World Was Young is an enormous achievement—fun, sad, beautiful, perhaps the best book about Brooklyn in the war years since the war years. Gaffney now stands in the company of E. L. Doctorow, Joyce Carol Oates, Ann Patchett, and I can't think of many others tall enough."—Darin Strauss, author of Chang and Eng and Half a Life
 
"Dignified and fierce, a work of complex and unconventional beauty . . . Through Wally and her glamorous doctor mother, Gaffney movingly explores wartime passions, the emotional sacrifices made by strong women on the home front, and the wounding power of secrets."—Sheri Holman, author of The Dress Lodger
 
"The genius of When the World Was Young is that, in re-creating a particularly gorgeous and promise-filled moment in American history, it also reminds us how constricting that moment could be for an adventurous soul caught living in it. Elizabeth Gaffney is in perfect control of her material, and captures all the complications of what we might like to remember as an uncomplicated time."—Jonathan Dee, author of A Thousand Pardons and The Privileges
 
"A powerhouse novel with a rich cast of unforgettable characters . . . At the heart of the quick-paced narrative is young Wally Baker, and her voice and her manner, her courage and her life-affirming decision during a time of crisis will long be remembered, as indeed this richly textured novel will be remembered."—Nicholas Rinaldi, author of Between Two Rivers
 
"Wally Baker, the protagonist of Elizabeth Gaffney's fine historical novel, is an undeniable, irrepressible, and thoroughly unforgettable heroine for any century."—Helen Schulman, author of This Beautiful Life
 
"When the World Was Young is haunted by love—love lost, stolen, nurtured, crushed, exultant, discarded, and full of grace. Elizabeth Gaffney brings her storytelling superpowers to bear on the nature of life in wartime and the fragile, incandescent times that follow. This is a wise and very beautiful novel."—Mary-Beth Hughes, author of Double Happiness
or
Not Currently Available for Direct Purchase