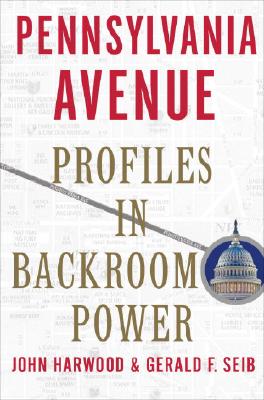 Pennsylvania Avenue
Profiles in Backroom Power
Hardcover

* Individual store prices may vary.
Other Editions of This Title:
Digital Audiobook (5/12/2008)
Paperback (4/28/2009)
Description
Prizewinning journalists John Harwood and Gerald F. Seib show how today's Washington power game really works, through stories of people who are making a difference on Pennsylvania Avenue, America's power street. These new power brokers, some of whom are rarely seen and are largley unknown, have figured out how to make their voices heard, and how to get things done, amid the complexities of today's gridlocked Washington. With unprecedented access to Washington insiders, and with deep insight into the unspoken rules of the road in the capital, Harwood and Seib explain why progress is so difficult and illuminate what it takes to succeed in the high stakes game of politics.

Pennsylvania Avenue, the 1.2-mile stretch between the White House and the Capitol, is where the influential and ambitious congregate. Through stories of party strategists, money men, policy-makers, fixers, socialites, lobbyists, spinners, deal-makers, and more, Harwood and Seib explore the great political transformations that have altered in a fundamental way the relationship between Americans and their government. A new class of politician and radically different ways of conducting business now exist in Washington. Harwood and Seib showcase such master players as Ken Duberstein (the Fixer), a onetime aide to President Ronald Reagan turned superlobbyist, whose contacts and insider knowledge help clients sidestep Avenue jam-ups; Carlyle Group co-founder David Rubenstein (the Businessman), a new breed of power broker who pioneered the age of "big money" in Washington; Rahm Emanuel
(the Democratic Strategist), whose aggressive fundraising and crisis-room campaign enabled the Democrats to retake Congress in 2006; Debbie Wasserman Schultz (the Rising Star), a first-term Democratic representative from Florida whose meteoric ascent in the House has earned her influential allies as well as critics; Hilary Rosen (the Advocate), a former entertainment industry lobbyist who skillfully reframed the debate about same-sex marriage; and more.

Inspiring and wonderfully written, Pennsylvania Avenue takes us inside America's center of influence to show how our government really functions, and the insiders who make things happen.

"Through a series of sharp vignettes and character sketches, the authors of "Pennsylvania Avenue," John Harwood and Gerald F. Seib, take the reader behind some of the more imposing facades along the refurbished road, introducing the famous and not-so-famous, and explaining how business gets done in the new Washington. Though they accept the common view that the old rules have changed, their analysis is fresh and stimulating."
--The New York Times
Praise For Pennsylvania Avenue: Profiles in Backroom Power…
"Essential reading for anyone interested in the inside workings of American politics." —Brian Williams, anchor, NBC Nightly News

"Fresh and stimulating . . . Harwood and Seib take readers behind Washington's facades, showing how business really gets done."—New York Times Book Review

"Among their peers, John Harwood and Gerald Seib are respected as the gold standard of deep and honest reporting. Some journalists pretend they know what is going on; Harwood and Seib really do, as they prove once again in this evocative and insightful book." —David Maraniss, Pulitzer Prize—winning author of First in His Class: A Biography of Bill Clinton

"Informative and timely . . . [Readers] will come away with a greater knowledge of how the Washington power game is played."—Washington Times

Random House, 9781400065547, 272pp.
Publication Date: May 13, 2008
or
Not Currently Available for Direct Purchase