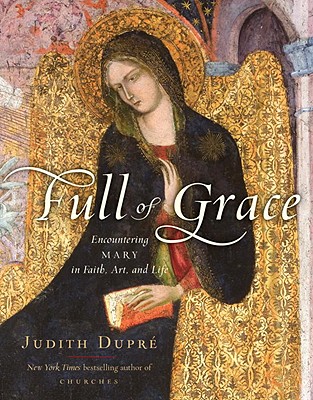 Full of Grace: Encountering Mary in Faith, Art, and Life (Hardcover)
Encountering Mary in Faith, Art, and Life
Random House, 9781400065851, 352pp.
Publication Date: November 2, 2010
* Individual store prices may vary.
or
Not Currently Available for Direct Purchase
Description
Two thousand years ago, a girl from Nazareth was transformed by a simple "yes" into the Mother of God—the subject of sublime devotion, divisive controversy, and extravagant speculation. A mother and a virgin, a saint and a peasant, a woman both tragic and triumphant, Mary has held sway over the human imagination for centuries. Yet she has never felt as relevant to our everyday lives as she does today.
 
In Full of Grace, Judith Dupré, the bestselling author of Churches, offers an intimate exploration of this beloved figure, now and through the ages. In a series of poignant stories and essays, Dupré examines Mary's artistic, cultural, and historical influence, and at the same time shows how Mary's human journey of love, compassion, grief, and humble strength inextricably connects her to our modern lives.

Accompanied by a breathtaking visual feast ranging from classic Renaissance portraits to unexpected contemporary images, Dupré's text offers insights into the Virgin Mary as a mother and as a religious icon. Visits to the great shrines of Marian pilgrimage—Lourdes, Medjugorje, Fatima, and the Basilica of Our Lady of Guadalupe—underscore the author's journey to find Mary's meaning in her own life. In an essay about Mary in the Qur'an, we see how Mary, far from being an exclusively Catholic figure, emerges as one of the central women in Islam. Another piece details the author's travels in the Holy Land, a landscape wracked by religious strife but still overflowing with the spirit of generosity that Mary embodies. From Sudanese refugee camps to the painful reminders of Auschwitz, from the struggle of divorce to the challenges of raising a child with autism, we see how Mary's tenderness, bravery, and grace infuse the story of every mother, young and old. For men and women seeking to better understand their own life journey, this book looks at the many miracles, large and small, along the way.
About the Author
Judith Dupre is the author of several international bestselling books, including "Skyscrapers," "Bridges, Churches, " and "Monuments." Winner of a number of prestigious fellowships, she holds degrees from Brown University and studied at the Open Atelier of Design and Architecture in Manhattan. Currently, she is at Yale Divinity School studying the impact of memory, beauty, and ethics on architecture and community building. She lives with her family outside New York City.
Advertisement