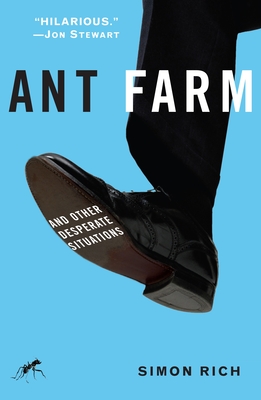 Ant Farm (Paperback)
And Other Desperate Situations
Random House Trade Paperbacks, 9781400065882, 160pp.
Publication Date: April 3, 2007
* Individual store prices may vary.
Description
In Ant Farm, former Harvard Lampoon president Simon Rich finds humor in some very surprising places. Armed with a sharp eye for the absurd and an overwhelming sense of doom, Rich explores the ridiculousness of our everyday lives. The world, he concludes, is a hopelessly terrifying place–with endless comic potential.

–If your girlfriend gives you some "love coupons" and then breaks up with you, are the coupons still valid?

–What kind of performance pressure does an endangered male panda feel when his captors bring the last remaining female panda to his cage?

–If murderers can get into heaven by accepting Jesus, just how awkward is it when they run into their victims?

Join Simon Rich as he explores the extraordinary and hilarious desperation that resides in ordinary life, from cradle to grave.

"Hilarious." –Jon Stewart
About the Author
Simon Rich has written for The New Yorker, GQ, Mad, The Harvard Lampoon, and other magazines. He was part of the writing staff of Saturday Night Live and Pixar. He is the author of a novel, Elliot Allagash, and two humor collections, Free-Range Chickens and Ant Farm, which was a finalist for the 2008 Thurber Prize for American Humor. He lives in Brooklyn.