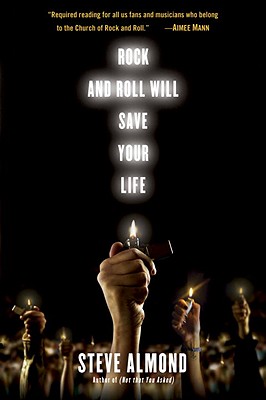 Rock and Roll Will Save Your Life
A Book by and for the Fanatics Among Us
Hardcover

* Individual store prices may vary.
Description
Drooling fanatic, n. 1. One who drools in the presence of beloved rock stars. 2. Any of a genus of rock-and-roll wannabes/geeks who walk around with songs constantly ringing in their ears, own more than 3,000 albums, and fall in love with at least one record per week.
 
With a life that's spanned the phonographic era and the digital age, Steve Almond lives to Rawk. Like you, he's secretly longed to live the life of a rock star, complete with insane talent, famous friends, and hotel rooms to be trashed. Also like you, he's content (sort of) to live the life of a rabid fan, one who has converted his unrequited desires into a (sort of) noble obsession.

    Rock and Roll Will Save Your Life traces Almond's passion from his earliest (and most wretched) rock criticism to his eventual discovery of a music-crazed soul mate and their subsequent production of two little superfans. Along the way, Almond reflects on the delusional power of songs, the awkward mating habits of drooling fanatics, and why Depression Songs actually make us feel so much better. The book also includes:
 
• sometimes drunken interviews with America's finest songwriters
• a recap of the author's terrifying visit to Graceland while stoned
• a vigorous and credibility-shattering endorsement of Styx's Paradise Theater
• recommendations you will often choose to ignore
• a reluctant exegesis of the Toto song "Africa"
• obnoxious lists sure to piss off rock critics
 
But wait, there's more. Readers will also be able to listen to a special free mix designed by the author, available online at www.stevenalmond.com, for the express purpose of eliciting your drool. For those about to rock—we salute you!
Praise For Rock and Roll Will Save Your Life: A Book by and for the Fanatics Among Us…
"For some of us, music is true religion, and Catholic to boot. Steve Almond comes off as devout —and divided—as any altar boy. His strange and funny book should be required reading for all of us fans and musicians who belong to the Church of Rock and Roll." —Aimee Mann 

"Almond deftly straddles the line between intellectual and fan. He veers smoothly between funny, cruel takedowns of rock fatuity while registering its emotional impact ... a hilarious riff on the power of music."—Publishers Weekly
 
"Whether he's writing about the depressing beauty of 'Eleanor Rigby' or stalking a favorite musician in the men's room, there's observational sharpness, unflinching honesty and biting humor. You're compelled to read to see how music and love and life intersect for him. The result is the nonfiction equivalent of Nick Hornby's High Fidelity, a knowing and exhilarating look at how one man dove headfirst into rock music and emerged on the other side intact."—BookPage

"Addictive, impertinent fun …[Almond's] hilarious musings seem to contain elements of both Hornby and David Sedaris, but he's truly a character of his own idiosyncratic making."—Booklist

 
Random House, 9781400066209, 240pp.
Publication Date: April 13, 2010
About the Author
Steve Almond is the author of the essay collection (Not that You Asked), the story collections My Life in Heavy Metal and The Evil B.B. Chow, the nonfiction book "Candyfreak," and the novel "Which Brings Me to You," co-written with Julianna Baggott. He lives outside Boston with his wife and two children, and listens to rock and roll at all hours.
or
Not Currently Available for Direct Purchase