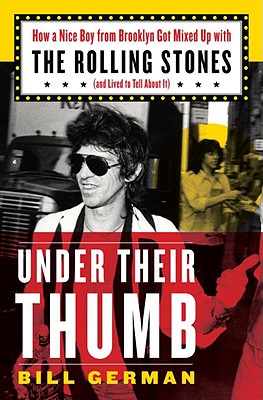 Under Their Thumb: How a Nice Boy from Brooklyn Got Mixed Up with the Rolling Stones (and Lived to Tell about It) (Hardcover)
How a Nice Boy from Brooklyn Got Mixed Up with the Rolling Stones (and Lived to Tell about It)
Villard Books, 9781400066223, 368pp.
Publication Date: February 24, 2009
* Individual store prices may vary.
or
Not Currently Available for Direct Purchase
Description
"German is party to all sort of Stones' doings, many of which are enjoyable, quite a few of which are scandalous. Great rock 'n' roll Babylon stuff."
- Booklist (Starred Review)
"The epic tale of an obsessive teenager who launched a "Rolling Stones "fanzine and spent the next two decades capturing the band's whirlwind metamorphosis from behind the scenes .First-rate, firsthand account of the world's greatest rock n roll band, and a disenchanted chronicle of its increasingly crass commercialization."
- Kirkus Reviews
As a teenager, Bill German knew exactly what he wanted to do with his life: chronicle the career and adventures of his favorite rock band, the Rolling Stones. And in 1978, on his sixteenth birthday, he set out to make his dream a reality. Feverishly typed in his Brooklyn bedroom, and surreptitiously printed in his high school's mimeograph room German's Stones-only newsletter, Beggars Banquet, was born. His teachers discouraged it, his parents dismissed it as a phase, and his disco-loving classmates preferred the Bee Gees, but, for German, this primitive, pre-Internet fanzine was a labor of love. And a fateful encounter with his idols on the streets of New York soon proved his efforts weren t in vain.
Impressed with Beggars Banquet, the Stones gave the zine instant cred on the rock scene by singing its praises and by inviting German to hang with the band. At first a fish out of water in the company of rock royalty, German found himself spilling orange juice on a priceless rug in Mick Jagger's house and getting pegged as a narc by pals of Keith Richards and Ron Wood. But before long he became a familiar fixture in the inner sanctum, not just reporting Stones stories but living them. He was a player in the Mick-versus-Keith feud and was an eyewitness to Keith's midlife crisis and Ron's overindulgences. He even had a reluctant role in covering up Mick's peccadilloes. In the span of a few months, German recalls, I d gone from wanting to know everything about my favorite rock stars to knowing too much.
In this warts-and-all book, which includes many never-before-seen photographs, German takes us to the Stones homes, recording sessions, and concerts around the world. He charts the band's rocky path from the unthinkable depths of a near breakup to the obscenely lucrative heights of their blockbuster tours. And ultimately, German reveals why his childhood dream come true became a passion he finally had to part with.
Under Their Thumb" "is an up-close and extremely personal dispatch from the amazing, exclusive world of the Rolling Stones, by someone who was lucky enough to live it and sober enough to remember it all.
About the Author
Bill German was born in Brooklyn, New York, in 1962. His life turned upside down when, at age ten, he first heard the Rolling Stones Get Yer Ya-Ya s Out album. By age sixteen, he was chronicling the Stones activities in Beggars Banquet, the fanzine he launched from his bedroom. The band took note and eventually declared Beggars Banquet their official newsletter. German traveled the world with the Stones and was welcomed into their homes. He co-authored The Works with guitarist Ron Wood, and wrote about the group for Rolling Stone and Spin. He s been profiled on MTV and VH1, and has reported on the Stones for various radio stations across the United States, such as WZLX in Boston, KLOS in Los Angeles, WCSX in Detroit, and both WNEW and K-Rock in New York. German majored in journalism at New York University until he dropped out to follow the Stones. He lives in New York City, where he refers to his Manhattan studio apartment as the House the Stones Built.

www.billgerman.com"
Praise For Under Their Thumb: How a Nice Boy from Brooklyn Got Mixed Up with the Rolling Stones (and Lived to Tell about It)…
From Rolling Stone
"The hilarious and sometimes heartbreaking tale of a fan who got too close to his heroes."
 
From the Newark Star-Ledger
"[German's] proximity to the action makes this an essential Stones book, while his casually engaging writing style will appeal to non-fanatics as well."
 
From the Montreal Gazette
"Impossible to put down. ... Under Their Thumb is filled with priceless, often laugh-out-loud anecdotes. ... [Here's] what makes the book so compelling: German is one of us. ... We identify with his every small victory ... and feel some kind of personal rejection over his setbacks. ... Under Their Thumb is a cautionary tale, but a hugely entertaining one."
 
From the New York Times
"Under Their Thumb offers some memorable details from the [Stones'] inner sanctum. … In 1978, the 16-year-old German started sneaking into the mimeograph room at his high school to print the first copies of Beggars Banquet, a newsletter devoted to the Stones. He published it for the next 17 years before finally letting go - or at least letting go enough to gain perspective and write this affable account of chasing the world's biggest rock band. … Miraculously, German retained his innocence [around the Stones] and he never once went near any of the easily available cocaine. ... Under Their Thumb is a story of retaining faith, of keeping a flame burning through bad records and band squabbles and even through discovering that your heroes aren't Golden Gods."
 
From Booklist (starred review)
"German is party to all sorts of Stones' doings, many of which are enjoyable, quite a few of which are scandalous. Great rock 'n' roll Babylon stuff."
 
From the Pittsburgh Tribune-Review
"German's anecdotes are often priceless - whether it's spilling orange juice on Mick Jagger's rug and watching the singer clean it up, or recalling when Richards stopped his limousine after a concert to give a limping fan a ride home.  But there was also a price to be paid. ... Under Their Thumb is a cautionary tale about life on the edges of rock 'n' roll."
 
From the Sunday Times of London
"This [is an] unassuming but highly readable memoir. ... Hypnotized by his idols' 'sexuality, sarcasm, and rebelliousness,' German gives up his education 'to interact with the Stones directly.' He spends the next 17 years following them around the world. ... German is, to a degree, an innocent abroad. ... As a devout non-druggie, he arouses the hostility of the dealers swarming around Ronnie Wood, who suspect him of being an undercover cop. ... This [is a] remarkable tale."
 
From the Greensboro News-Record
"Spanning a 15 year insider/outsider roller coaster ride, and, of course, dishing up great stories and solid journalistic research about the Stones. … This [is] one of the best rock memoirs ever written."


From the Ottawa Citizen
"Under Their Thumb [is] essential reading for any Stones fan. … German lived the story seen in Cameron Crowe's semi-autobiographical film Almost Famous - a teenager who finds himself on the road with rock royalty.  [German's] stories don't have the icky, self-aggrandizing voyeurism of most backstage books. ... He was just the guy behind a tiny mag that grew out of a bedroom. He never pretends to be more."
 
From Kirkus Reviews
"First-rate, firsthand account of the world's greatest rock 'n' roll band, and a disenchanted chronicle of its increasingly crass commercialization."
 
From Andrew Loog Oldham (Sirius-XM Radio; former manager of the Rolling Stones)

"This book is absolutely great. … I think it's possibly the best book I've read about the Rolling Stones ... since [1979's] Up and Down with The Rolling Stones."
 
From Mojo magazine
"An endearing tale ... something we can all relate to. ... German, an A student who discovered the Stones through his sister, wrote a newsletter (typed in his bedroom, printed at school) that showed immense flair. The band definitely thought so, and soon he was spilling orange juice on Mick Jagger's 16th-century Persian rug and sitting in on sessions. He heard how Woody [Ron Wood] shagged Chrissie Hynde but couldn't remember it, and how Bill Wyman was convinced Jagger wanted him out."
 
From Michael Smerconish (CBS Radio)
"I'm lovin' it. It's Under Their Thumb. It is a great book and it's such a departure. I think people will really be taken in by this. My listeners know if I weren't into it, I wouldn't say it. … This is a fun, fun read."
 
From the Grand Rapids Press
"Chockablock with anecdotes. ... Fans of the Stones and their music need this behind-the-scenes look at one of the longest lasting groups in the history of rock and roll."
Advertisement