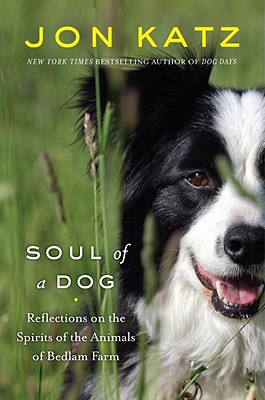 Soul of a Dog: Reflections on the Spirits of the Animals of Bedlam Farm (Hardcover)
Reflections on the Spirits of the Animals of Bedlam Farm
Villard, 9781400066292, 208pp.
Publication Date: August 18, 2009
* Individual store prices may vary.
or
Not Currently Available for Direct Purchase
Description
Do animals have souls? Some of our greatest thinkers–Aristotle, Plato, Thomas Aquinas–and countless animal lovers have been obsessed with this question for thousands of years. Now New York Times bestselling author Jon Katz looks for an answer and finds even more questions as he recounts the lives and stories of the residents of his celebrated Bedlam Farm: Rose, his beloved workaholic sheepdog who runs the farm, and an array of gentle donkeys, industrious chickens, docile sheep, obnoxious goats, and a murderous yet loving barn cat.

Do these remarkable creatures have consciences? Do they possess free will and reason? Do they have a sense of self, or an existence in the spirit world? Do they shape their own lives? Or are we projecting onto them traits we want and need them to have, allowing ourselves to be manipulated into trading food and shelter for what we see as unconditional love?

With his signature wisdom, humor, and clarity, Katz relates the stories of the animals he lives with and finds remarkable kinships at every turn. Whether it is Rose's brilliant and methodical herding ability, Mother the cat's keen mousing instincts, or Izzy's canine compassion toward hospice patients, Katz is mesmerized to see in them individual personas and sparks of self-awareness. He marvels, too, at the distinctions between the species–our desire to change and our ability to edit and censor ourselves, and their capacity to live in the now. And yet the differences never keep Katz from fully enjoying, loving, and cherishing his unusual cast of Bedlam Farm characters. Katz's reflections on this eternal debate will resonate with anyone who loves dogs, cats, or other animals–and who wonders about the spirits that animate them and the deepening hold they have on our emotional lives.

"If no two dogs are alike," Katz says, "neither is there a universal relationship with them." Such an observation helps to shine a light on the powerful interspecies connection that is redefining the human-animal bond in our time.
About the Author
Jon Katz has written eighteen books-six novels and twelve works of nonfiction-including Izzy & Lenore, Dog Days, A Good Dog, A Dog Year, The Dogs of Bedlam Farm, The New Work of Dogs, and Katz on Dogs. A two-time finalist for the National Magazine Award, he writes columns about dogs and rural life for the online magazine "Slate, "and has written for "The New York Times, The Wall Street Journal, Rolling Stone, GQ, " and the "AKC Gazette." Katz is also a photographer, a member of the Association of Pet Dog Trainers, and co-host of the radio show "Dog Talk "on Northeast Public Radio. He lives on Bedlam Farm in upstate New York with his dogs, sheep, steers and cow, donkeys, barn cat, irritable rooster Winston, and three hens.
Praise For Soul of a Dog: Reflections on the Spirits of the Animals of Bedlam Farm…
"A lyrical yet unsentimental memoir about the bond between people and animals."
—Chicago Tribune

Advertisement