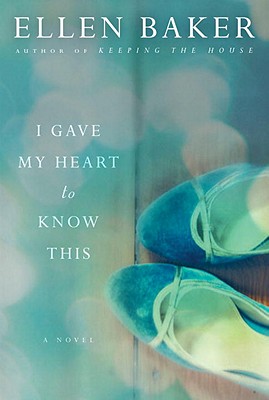 I Gave My Heart to Know This
Hardcover

* Individual store prices may vary.
Other Editions of This Title:
Hardcover, Large Print (12/2/2011)
Description
Ellen Baker is beloved for crafting intimate domestic stories that resonate deeply with readers. In I Gave My Heart to Know This, the award-winning author returns with a sweeping multigenerational saga of the searing power of war, memory, friendship, and family.
In January 1944, Grace Anderson, Lena Maki, and Lena's mother, Violet, have joined the growing ranks of women working for the war effort. Though they find satisfaction in their jobs at a Wisconsin shipyard, it isn t enough to distract them from the anxieties of wartime, or their fears for the men they love: Lena's twin brother, Derrick, and Grace's high school sweetheart, Alex. When shattering news arrives from the front, the lives of the three women are pitched into turmoil. As one is pushed to the brink of madness, the others are forced into choices they couldn t have imagined and their lives will never be the same.
More than five decades later, Violet's great-granddaughter, Julia, returns to the small farmhouse where Violet and Lena once lived. Listless from her own recent tragedy, Julia begins to uncover the dark secrets that shattered her family, eventually learning that redemption and love can be found in the most unexpected places.
Beautifully written and profoundly moving, I Gave My Heart to Know This is a riveting story of loyalties held and sacred bonds broken; crushing loss and enduring dreams; and what it takes and what it means to find the way home.
Praise For I Gave My Heart to Know This…
Advance praise for I Gave My Heart to Know This

"Ellen Baker's novel is large in the best sense: large in its generous spirit, and in its gallery of vivid, memorable characters. It possesses, as well, an abundance of intelligence, and great shrewdness in its pure story-telling appeal. This novel has a naturalness and finesse that are truly rare."—Richard Ford

"What a rich offering this is! Ellen Baker gives us characters who are so real, so recognizable, so likable, in spite of (or perhaps because of) their problems and secrets and frustrations and missteps, and she presents them against a story line that is epic in scope. We move from you-are-there scenes of watching young women work in the shipyards during World War II, to the unraveling of long-held mysteries in the present day. I really loved reading this powerful and poignant book, which, though it acknowledges pain, regret and remorse, ultimately is a celebration of life."—Elizabeth Berg, author of Once Upon a Time, There Was You and Open House
 
"A great big rich and romantic slice of World War II history that chronicles the lives of three Wisconsin women left behind on the home front to carry on without the men they love. It is a loving tribute to their courage, the sacrifices they made, and their tremendous contributions to the American war effort."—Fannie Flagg, author of I Still Dream About You
 
"Give your heart to Ellen Baker's beautifully made new novel about stern people and the stern toll of urgent words never said. From the hard-bitten bluffs of Lake Superior to the coast of California, from World War II to the present day, the mothers and daughters of two Midwestern families of immigrant stock race against time and history to break down a wall of lies, before it is too late."—Jacquelyn Mitchard, author of The Deep End of the Ocean
 
"I adored this luscious novel. Its authentic details immersed me in the world of women at work during World War II, but the layered story immersed me even deeper in the secrets that get buried in generations of family history.  I ached with regret for the characters, wept at their redemption, and savored every surprising turn."—Katrina Kittle, author of The Kindness of Strangers and The Blessings of the Animals
 
"Ellen Baker is a brilliant writer, and I Gave My Heart to Know This is a marvelous novel. Moving between past and present, the book weaves Baker's themes of secrecy, betrayal, and forgiveness into a powerful, unforgettable story.  I loved the characters so completely I began to think of them as my own family and friends."—Bev Marshall, author of Walking Through Shadows
 
Praise for Ellen Baker's Keeping the House, winner of the 2008 Great Lakes Book Award for fiction and was one of the Chicago Tribune's Best Books of the Year
 
"A great big juicy family saga, a romantic page-turner with genuine characters written with a perfect sense of history, time, and place."—Fannie Flagg
 
"An author who knows how to keep us turning the pages."—Chicago Tribune
 
"American fiction just doesn't get any better than this."—The Buffalo News
 
"Fascinating . . . a fun and fast read."—The Stanford Daily
 
"A crackerjack debut."—Fredericksburg Free Lance–Star
 
"A majestic, vibrant multigenerational saga."—Booklist
Random House, 9781400066360, 324pp.
Publication Date: August 2, 2011
About the Author
Ellen Baker is author of Keeping the House, which won the 2008 Great Lakes Book Award. She has worked as a bookseller and event coordinator at an independent bookstore. She lives in Minnesota.
or
Not Currently Available for Direct Purchase