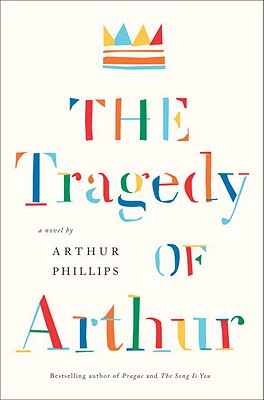 The Tragedy of Arthur (Hardcover)
Random House, 9781400066476, 368pp.
Publication Date: April 19, 2011
* Individual store prices may vary.
Description
The Tragedy of Arthur is an emotional and elaborately constructed tour de force from bestselling and critically acclaimed novelist Arthur Phillips, "one of the best writers in America" (The Washington Post).

Its doomed hero is Arthur Phillips, a young man struggling with a larger-than-life father, a con artist who works wonders of deception but is a most unreliable parent. Arthur is raised in an enchanted world of smoke and mirrors where the only unshifting truth is his father's and his beloved twin sister's deep and abiding love for the works of William Shakespeare—a love so pervasive that Arthur becomes a writer in a misguided bid for their approval and affection.

Years later, Arthur's father, imprisoned for decades and nearing the end of his life, shares with Arthur a treasure he's kept secret for half a century: a previously unknown play by Shakespeare, titled The Tragedy of Arthur. But Arthur and his sister also inherit their father's mission: to see the play published and acknowledged as the Bard's last great gift to humanity. . . .

Unless it's their father's last great con.

By turns hilarious and haunting, this virtuosic novel—which includes Shakespeare's (?) lost King Arthur play in its five-act entirety—captures the very essence of romantic and familial love and betrayal. The Tragedy of Arthur explores the tension between storytelling and truth-telling, the thirst for originality in all our lives, and the act of literary mythmaking, both now and four centuries ago, as the two Arthurs—Arthur the novelist and Arthur the ancient king—play out their individual but strangely intertwined fates.

A New York Times Notable Book • A New Yorker Reviewers' Favorite of the Year • A Wall Street Journal Best Novel of the Year • A San Francisco Chronicle Best Book of the Year • A Chicago Tribune Favorite Book of the Year • A Library Journal Top Ten Book of the Year • A Kirkus Reviews Best Book of the Year • One of Salon's five best novels of the year
About the Author
Arthur Phillips is the internationally bestselling author of "The Song Is You, " which was a "New York Times" Notable Book and named one of the best novels of the year by "The Washington Post; Angelica; The Egyptologist; "and "Prague," which was also a "New York Times "Notable Book and the winner of the" Los Angeles Times" Art Seidenbaum Award for First Fiction. He lives in New York with his wife and two sons.
Praise For The Tragedy of Arthur…
"[Balances] a moving story of familial and romantic love on a deliberately unsteady fictional edifice . . . [an] exuberant chimera of a novel."—The New Yorker
 
"Splendidly devious."—The New York Times Book Review

"Wily and witty . . . an engrossing family saga [with] sparkling and imaginative prose. Shakespeare would applaud a man who does him so proud."—The Boston Globe
 
"Arthur Phillips has found the perfect vehicle for his cerebral talents: his ingenuity; his bright, elastic prose; and, most notably, his penchant for pastiche—for pouring his copious literary gifts into old vessels and reinventing familiar genres."—The New York Times
 
"Devious and exhilarating . . . an irresistible family drama bundled into an exploration of fraud and authenticity."—The Wall Street Journal
 
"A circus of a novel, full of wit, pathos and irrepressible intelligence."—Minneapolis Star Tribune
 
"The story of a family that is Shakespearean in several senses . . . [The Tragedy of Arthur] contains literary echoes of Nabokov, Stoppard and even . . . Thomas Pynchon."—San Francisco Chronicle
Coverage from NPR
or
Not Currently Available for Direct Purchase