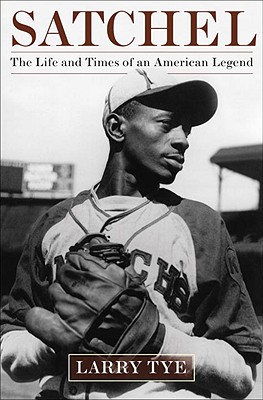 Satchel
The Life and Times of an American Legend
Hardcover

* Individual store prices may vary.
Other Editions of This Title:
Digital Audiobook (6/8/2009)
Paperback (5/4/2010)
Description
He is that rare American icon who has never been captured in a biography worthy of him. Now, at last, here is the superbly researched, spellbindingly told story of athlete, showman, philosopher, and boundary breaker Leroy "Satchel" Paige.

Few reliable records or news reports survive about players in the Negro Leagues. Through dogged detective work, award-winning author and journalist Larry Tye has tracked down the truth about this majestic and enigmatic pitcher, interviewing more than two hundred Negro Leaguers and Major Leaguers, talking to family and friends who had never told their stories before, and retracing Paige's steps across the continent. Here is the stirring account of the child born to an Alabama washerwoman with twelve young mouths to feed, the boy who earned the nickname "Satchel" from his enterprising work as a railroad porter, the young man who took up baseball on the streets and in reform school, inventing his trademark hesitation pitch while throwing bricks at rival gang members.

Tye shows Paige barnstorming across America and growing into the superstar hurler of the Negro Leagues, a marvel who set records so eye-popping they seemed like misprints, spent as much money as he made, and left tickets for "Mrs. Paige" that were picked up by a different woman at each game. In unprecedented detail, Tye reveals how Paige, hurt and angry when Jackie Robinson beat him to the Majors, emerged at the age of forty-two to help propel the Cleveland Indians to the World Series. He threw his last pitch from a big-league mound at an improbable fifty-nine. ("Age is a case of mind over matter," he said. "If you don't mind, it don't matter.")

More than a fascinating account of a baseball odyssey, Satchel rewrites our history of the integration of the sport, with Satchel Paige in a starring role. This is a powerful portrait of an American hero who employed a shuffling stereotype to disarm critics and racists, floated comical legends about himself–including about his own age–to deflect inquiry and remain elusive, and in the process methodically built his own myth. "Don't look back," he famously said. "Something might be gaining on you." Separating the truth from the legend, Satchel is a remarkable accomplishment, as large as this larger-than-life man.
Praise For Satchel: The Life and Times of an American Legend…
"Having known Satchel when I was a young ballplayer, I'm reminded of the man who took over the game with both his superior pitching and his dynamic personality. This book is a must-read that captures the essence of one of the greatest legends in baseball history, Satchel Paige."—Dusty Baker, Manager, Cincinnati Reds

"Knowing Satchel Paige is knowing nobody like him. This is a superb book about an outstanding man."—Yogi Berra

"First, make a list of, say, the five athletes of all time you'd want to invite to the house for a night of beer and nonsense. Second, if you haven't picked Leroy (Satchel) Paige, one of the others has to go. (Good-bye Wilt, Arnie, Whomever.) Third, get up the cash for this book and Satchel's there. Larry Tye delivers him in fine, robust prose, living and breathing, riding the buses and breaking off outrageous curve balls and figuring out the complexities of segregated America. Great stuff."—Leigh Montville, author of The Big Bam, The Life and Times of Babe Ruth, Ted Williams, Biography of An American Hero, and The Mysterious Montague, A True Tale of Hollywood, Gold and Armed Robbery

"Satchel is a wonderful book. Larry Tye, with his deep research and clear writing, does not just baseball fans but all of America a great service by showing us the real Leroy Paige and why he deserves his legendary status on and off the mound.—David Maraniss, author of Clemente and When Pride Still Mattered

"It takes nothing away from Jackie Robinson to note, as Larry Tye does in this important new book, that Satchel Paige—he of a fastball of historic proportions--is an overlooked pioneer in the integration of baseball, and of America itself. This engaging biography sheds light not only on Paige but on the game and the country he helped change forever."—Jon Meacham
Random House, 9781400066513, 416pp.
Publication Date: June 9, 2009
or
Not Currently Available for Direct Purchase