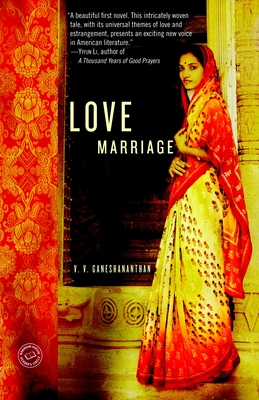 Love Marriage
A Novel
Paperback

* Individual store prices may vary.
Description
In this globe-scattered Sri Lankan family, we speak of only two kinds of marriage. The first is the Arranged Marriage. The second is the Love Marriage. In reality, there is a whole spectrum in between, but most of us spend years running away from the first toward the second. [p. 3]

The daughter of Sri Lankan immigrants who left their collapsing country and married in America, Yalini finds herself caught between the traditions of her ancestors and the lure of her own modern world. But when she is summoned to Toronto to help care for her dying uncle, Kumaran, a former member of the militant Tamil Tigers, Yalini is forced to see that violence is not a relic of the Sri Lankan past, but very much a part of her Western present.

While Kumaran's loved ones gather around him to say goodbye, Yalini traces her family's roots–and the conflicts facing them as ethnic Tamils–through a series of marriages. Now, as Kumaran's death and his daughter's politically motivated nuptials edge closer, Yalini must decide where she stands.

Lyrical and innovative, V. V. Ganeshananthan's novel brilliantly unfolds how generations of struggle both form and fractures families.

Praise for Love Marriage
"A beautiful first novel. This intricately woven tale, with its universal themes of love and estrangement, presents an exciting new voice in American literature."
–Yiyun Li, author of A Thousand Years of Good Prayers

"Complex and moving . . . an impressive debut."
–Daniel Alarcón, author of Lost City Radio   

"V. V. Ganeshananthan has given us a riveting picture of the intersections of love and war that shape us all. A debut of incredible passion and wisdom."
–Rebecca Johns, author of Icebergs

"At its best and simplest, Ganeshananthan can be profoundly moving. She captures the pain of exile poignantly." --The San Francisco Chronicle
"Ganeshananthan has created a slow-burning and beautifully written debut in Love Marriage.  It is an evocative examination of Sri Lankan cultural mores, and the way one family is affected by love and war" — The Financial Times
"Poignant and authentic…. Insight gained into Toronto's Tamil community is a welcome bonus in this gem of a book by a young writer who is sure to present more thought-provoking, entertaining prose in the future." --The Toronto Star
"The book is at times witty and always beautifully written" — The Irish Times

"Innovative….this is an ambitious family drama about an underreported part of the world, filled with well-shaded characters [and] gorgeous flourish…Buy it." -- New York Magazine

"As if she were stringing a necklace of bright beads, the author relates the stories of Yalini's Sri Lankan forebears in lapidary folkloric narratives…What she does here, she does quite affectingly." -- The Boston Globe

"In spare, lyrical prose, V.V. Ganeshananthan's debut novel tells the story of two Sri Lankan Tamil families over four generations who, despite civil war and displacement, are irrevocably joined by marriage and tradition….Powerful." -- Ms. Magazine

Random House Trade Paperbacks, 9781400066698, 320pp.
Publication Date: April 8, 2008
or
Not Currently Available for Direct Purchase