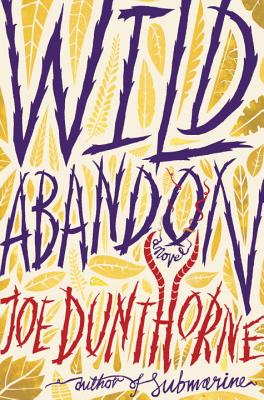 Wild Abandon
Hardcover

* Individual store prices may vary.
Description
At a once vibrant communal-living property in the British countryside, back-to-basics fervor has given way to a vague discontent. A place that once buzzed with activity, from the polytunnels to the pottery shed, now functions with a skeleton crew. Founder Don Riley surveys his domain with the grim focus of someone who knows what's best for everyone—and isn't afraid to let them know. Especially when those people are related to him.

Don's wife, Freya, can't quite decide whether not liking someone anymore is enough reason to end a twenty-year marriage. So she decamps to a mud yurt in the woods to mull it over. Their seventeen-year-old daughter, Kate, enrolls in school for the first time in her life: the exotic new world of fellow teenagers and surprisingly tasty cafeteria food beckons, and she is quickly lured into the arms of a "meathead" classmate. In his sister's absence, eleven-year-old Albert falls under the spell of an outlandish new visitor to the community who fills his head with strange notions of the impending end of the world.

Faced with the task of rescuing his son from apocalyptic fantasies, his daughter from the clutches of suburbia, and his wife from her increasingly apparent desire to leave him, Don convinces himself that the only way to save the world he's created is . . . to throw the biggest party of his life. Will anyone show up?

From the acclaimed young author of Submarine, Wild Abandon is a strange and wonderful look at love—familial and romantic, returned and rebuffed—and the people and places we choose to call home.
Praise For Wild Abandon…
Praise for Wild Abandon
 
"[Contains] one of the funniest, most poignant kids I've run across in fiction…Wild Abandon had me pestering my wife with favorite lines till she promised to read it."  - Ron Charles, The Washington Post

"He's an elegant, accessible, and interesting comic novelist, whose work, I suspect, will provide a great deal of pleasure to a great number of people for many years." – Nick Hornby, The Believer

"[R]ichly plotted and peopled"--Entertainment Weekly

"Populated by flawed, occasionally exasperating, lovable and, above all, thoroughly imagined characters, Wild Abandon is about what happens to children when parents become consumed by their beliefs...A terrific novel." – Nick Hornby, The Guardian, "Best Books of the Year"
"Think Juno or Bottle Rocket, then read [Wild Abandon]… This novel could be charming and silly, but Dunthorne infuses it with a wry, dark humor that builds to a nearly terrifying conclusion… Complicated, realistic, and unsettling" – Library Journal
"With well-developed characters and a dark humor reminiscent of that in his first novel, Submarine (2008), Dunthorne delivers hilarity and heartbreak while redefining the essence of normality in this story about what makes a family and what makes a family dysfunctional."--Booklist
"A fresh perspective on modern culture, peppered with colorful dialogue."--Kirkus
"Manages to be both tender and biting . . . Wild Abandon never lapses into parody, because [Joe] Dunthorne doesn't scrimp on the small moments that make a character light up. . . . Truly laugh-out-loud hilarious."—The Independent on Sunday
 
"Has you wincing on [the protagonist's] behalf, page after page-turning page . . .Dunthorne does himself proud. [He draws] characters with real staying power."—The Evening Standard (London)
 
"Sublimely enjoyable."—Metro
 
"Full of finely nuanced details and a restless comic energy . . . builds to a fine apocalyptic climax."—The Guardian
 
"Wild Abandon is a very funny novel, but it's not quite a comic one. . . . There's a pathos here too. . . . From The Tempest to The Beach, everybody loves the tale of a flawed Utopia. [Wild Abandon] subverts the genre without even seemingly trying to. And it's hilarious. What's not to like?"—The Times
 
"[Dunthorne is] the British Dave Eggers."—GQ
Random House, 9781400066841, 336pp.
Publication Date: January 3, 2012
About the Author
Joe Dunthorne's first novel, "Submarine, "has been translated into ten languages and made into a feature film. His debut poetry collection was published in 2010. He lives in London.
or
Not Currently Available for Direct Purchase