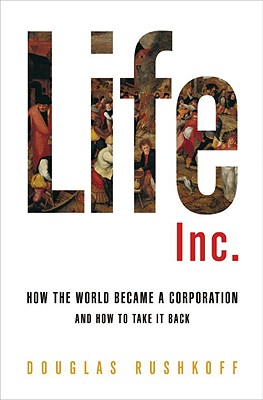 Life Inc.
How the World Became a Corporation and How to Take It Back
Hardcover

* Individual store prices may vary.
Other Editions of This Title:
Digital Audiobook (6/1/2009)
Paperback (1/4/2011)
Paperback (5/1/2010)
Description
This didn't just happen.

In Life Inc., award-winning writer, documentary filmmaker, and scholar Douglas Rushkoff traces how corporations went from being convenient legal fictions to being the dominant fact of contemporary life. Indeed, as Rushkoff shows, most Americans have so willingly adopted the values of corporations that they're no longer even aware of it.

This fascinating journey, from the late Middle Ages to today, reveals the roots of our debacle. From the founding of the first chartered monopoly to the branding of the self; from the invention of central currency to the privatization of banking; from the birth of the modern, self-interested individual to his exploitation through the false ideal of the single-family home; from the Victorian Great Exhibition to the solipsism of MySpace–the corporation has infiltrated all aspects of our daily lives. Life Inc. exposes why we see our homes as investments rather than places to live, our 401(k) plans as the ultimate measure of success, and the Internet as just another place to do business.

Most of all, Life Inc. shows how the current financial crisis is actually an opportunity to reverse this six-hundred-year-old trend and to begin to create, invest, and transact directly rather than outsource all this activity to institutions that exist solely for their own sakes.

Corporatism didn't evolve naturally. The landscape on which we are living–the operating system on which we are now running our social software–was invented by people, sold to us as a better way of life, supported by myths, and ultimately allowed to develop into a self-sustaining reality. It is a map that has replaced the territory.

Rushkoff illuminates both how we've become disconnected from our world and how we can reconnect to our towns, to the value we can create, and, mostly, to one another. As the speculative economy collapses under its own weight, Life Inc. shows us how to build a real and human-scaled society to take its place.
Praise For Life Inc.: How the World Became a Corporation and How to Take It Back…
"Read this book if you want to understand how the current economic meltdown started 400 years ago, how so much of what you consider to be a natural evolution of daily life was carefully designed to profit a few, and how corporatism has so colonized every part of life that most of us don't even recognize how our lives and fortunes are channeled and manipulated by it. I love that Rushkoff isn't afraid to think big—very big."—Howard Rheingold, author of Smart Mobs

"Ever get the feeling that you're trapped on a hamster wheel of predatory "Corporatism"? An unwitting participant in a system that you didn't sign up for in the first place? What happens when the operating system of this corporate Moloch runs amok? Life Inc is a hopeful, timely call to arms to wrest control of our lives, our sanity and our children's futures back from the corporate agenda. Douglas Rushkoff's best book yet."—Richard Metzger, author and TV host

"Hand wringing over the state of the global economy? Think again. Douglas Rushkoff explains why this is a once-in-a-lifetime opportunity to remember what matters, and to rethink our economic system so it reinforces our human values. A profound and important call to action."— Tim O'Reilly, Founder & CEO of O'Reilly Media

"This is a provocative and controversial look at the dark side of corporatist effects on our economy. Douglas Rushkoff explores the various ways, some you may never have considered, that innovation and commerce can be stunted by corporations. Whether or not you agree, you will find this book challenges some of our basic assumptions about how our economy works."—Walter Isaacson, author of Einstein: His Life and Universe

"There are few more important subjects in the West today than the corporatization of public and personal space and few writers as well-suited to the subject as the always insightful and provocative Doug Rushkoff.  A terrific contribution to an urgent debate."—Naomi Wolf, author of Give Me Liberty


Random House, 9781400066896, 304pp.
Publication Date: June 2, 2009
About the Author
Douglas Rushkoff is a widely known media critic and documentarian. He has written ten books, and his documentaries include Frontline's award-winning "The Merchants of Cool" and "The Persuaders." He teaches media studies at the New School, hosts The Media Squat on radio station WFMU, and serves on the board of directors of the Media Ecology Association, the Center for Cognitive Liberty and Ethics, and the National Association for Media Literacy Education. He has won the Marshall McLuhan Award for Outstanding Book in the Field of Media Ecology and was the first winner of the Neil Postman Award for Career Achievement in Public Intellectual Activity.
or
Not Currently Available for Direct Purchase