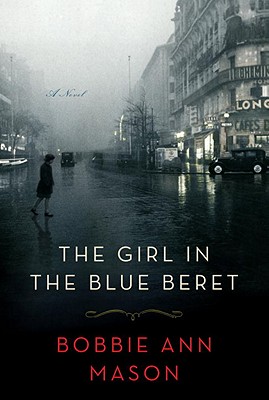 The Girl in the Blue Beret
Hardcover

* Individual store prices may vary.
Other Editions of This Title:
Digital Audiobook (6/30/2011)
Paperback (7/10/2012)
Hardcover, Large Print (9/7/2011)
Compact Disc (7/12/2011)
MP3 CD (7/1/2011)
Compact Disc (7/1/2011)
Description
Inspired by the wartime experiences of her late father-in-law, award-winning author Bobbie Ann Mason has written an unforgettable novel about an American World War II pilot shot down in Occupied Europe.

When Marshall Stone returns to his crash site decades later, he finds himself drawn back in time to the brave people who helped him escape from the Nazis. He especially recalls one intrepid girl guide who risked her life to help him—the girl in the blue beret.

At twenty-three, Marshall Stone was a U.S. flyboy stationed in England. Headstrong and cocksure, he had nine exhilarating bombing raids under his belt when enemy fighters forced his B-17 to crash-land in a Belgian field near the border of France. The memories of what happened next—the frantic moments right after the fiery crash, the guilt of leaving his wounded crewmates and fleeing into the woods to escape German troops, the terror of being alone in a foreign country—all come rushing back when Marshall sets foot on that Belgian field again.

Marshall was saved only by the kindness of ordinary citizens who, as part of the Resistance, moved downed Allied airmen through clandestine, often outrageous routes (over the Pyrenees to Spain) to get them back to their bases in England. Even though Marshall shared a close bond with several of the Resistance members who risked their lives for him, after the war he did not look back. But now he wants to find them again—to thank them and renew their ties. Most of all, Marshall wants to find the courageous woman who guided him through Paris. She was a mere teenager at the time, one link in the underground line to freedom.

Marshall's search becomes a wrenching odyssey of discovery that threatens to break his heart—and also sets him on a new course for the rest of his life. In his journey, he finds astonishing revelations about the people he knew during the war—none more electrifying and inspiring than the story of the girl in the blue beret.

Intimate and haunting, The Girl in the Blue Beret is a beautiful and affecting story of love and courage, war and redemption, and the startling promise of second chances.
Praise For The Girl in the Blue Beret…
Praise for The Girl in the Blue Beret
 
""The new novel from best-selling author Bobbie Ann Mason will send you dashing to the shelves to devour everything else she's ever written — it's that good. … Mason weaves a spellbinding tale of war, love and survival. … The Girl in the Blue Beret is not only a remarkable work of historical fiction, it's also storytelling at its best." – Associated Press
 
"Ushering her readers back and forth across the decades, she perfectly weaves history with fiction.  In many ways the book is a tribute to these unsung civilians whose heroism often was never acknowledged by those they helped. [A] near-perfect war story." – USA Today
"Mason has long been considered one of the finest writers of regional fiction — Kentucky is her home and inspiration — but her affecting new novel takes place in France, and she's just as comfortable and insightful there…once again, Mason has plumbed the moral dimensions of national conflict in the lives of individual participants and produced a deeply moving, relevant novel." –Washington Post
"Mason has given us a portrait of a man from a generation whose members were uncertain about the protocols of letting oneself feel. And she has lovingly captured the tone of bluff assertion still shared by veterans of that war. Marshall's banality has the ring of truth; his awkwardness reveals much….The Girl in the Blue Beret is a work of remarkable empathy." – New York Times Book Review
 
"To Curl Up with: A pilot shot down over France returns years later to search for the jeunne fille who rescued him.  Mason's lovely tale, drawn from her [father-in-law's] wartime experience, will resonate for many." – Good Housekeeping
 
"The Girl in the Blue Beret is an impressive novel. Mason writes with confidence about integrity, memory, love, the war in Europe – and a likeable man. …Recommended for all historical fiction readers." – Historical Novels Review
 
"[An] impressive, impassioned new novel. The unforgettable story, based on the author's father-in-law's wartime experiences, is a gripping tale of redemption." –Miami Herald
 
"A flight through the gripping, war-ravaged past and the discovery of love—Bobbie Ann Mason's moving novel is written with great clarity and insight."—Kim Edwards, author of The Memory Keeper's Daughter and The Lake of Dreams
 
"An elegant and eventually lovely story of war, need and apprehension."—Roy Blount Jr., author of Alphabet Juice and Long Time Leaving
 
"Fascinating and intensely intimate….A touching novel about love, loss, war, and memory….profoundly revealing how the past haunts the present."—Publishers Weekly
 
"An emotionally powerful story of the ruinous effects of war."—Booklist
 
"[A] haunting novel... [with] rich setting, detail, and intimate character nuances….for fans of the award-winning author, World War II fiction, and novels with French settings. Highly recommended."—Library Journal


Praise for Bobbie Ann Mason
 
"Bobbie Ann Mason is one of those rare writers who, by concentrating their attention on a few square miles of native turf, are able to open up new and surprisingly wide worlds for the delighted reader."—The New York Review of Books, about Shiloh and Other Stories
 
"Brilliant and moving . . . a moral tale that entwines public history with private anguish."—Los Angeles Times Book Review, about In Country
 
"A dramatic triumph . . . Synopsis cannot begin to do justice to the complexity, drama, and ultimate benevolence of Mason's vision."—Chicago Tribune, about Feather Crowns
 
"Sitting down with one of these stories may well be the next best thing to going home again."—The Wall Street Journal, about Zigzagging Down a Wild Trail


Random House, 9781400067183, 384pp.
Publication Date: June 28, 2011
About the Author
Bobbie Ann Mason is the author of "In Country," "Shiloh and Other Stories," "An Atomic Romance," "Nancy Culpepper," and a memoir, "Clear Springs." She is the winner of the PEN/Hemingway Award, two Southern Book Awards, and numerous other prizes, including the O. Henry and the Pushcart. She was a finalist for the National Book Critics Circle Award, the American Book Award, the PEN/Faulkner Award, and the Pulitzer Prize. She is writer-in-residence at the University of Kentucky.
or
Not Currently Available for Direct Purchase