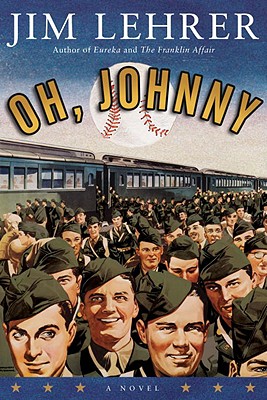 Oh, Johnny (Hardcover)
Random House, 9781400067626, 240pp.
Publication Date: March 24, 2009
Other Editions of This Title:
Paperback (4/20/2010)
Hardcover, Large Print, Large Print (6/1/2009)
* Individual store prices may vary.
Description
"Call me Johnny. Oh Johnny Oh. That's what my mom calls me. You can call me anything. But mainly call me a ballplayer. A center fielder. I'm good, and I'm going to be even better."[pgs. 36,37]


A talented athlete, Johnny Wrigley firmly believes that someday he will play major league baseball. But on the way to his dreams, Johnny finds his life unexpectedly taking a detour. In April 1944, Johnny is a newly minted marine on a troop train heading west for California, where he will be shipped overseas to fight in the Pacific Theater.

At a brief stop in Wichita, Johnny gets off the train and falls in love. She's giving apples and cigarettes to the marines, and she is the most beautiful girl Johnny has ever seen. In a storeroom at the station, they share an intimacy that Johnny will treasure for the next two years at war—and beyond.

As a flamethrower operator on the suicide squad in Peleliu, Johnny sees the worst of battle. Scores of his fellow soldiers are killed around him, but memories of Betsy Luck (the private name Johnny has given his Kansas love) keep him safe. Yet nothing prepares Johnny for the combat in Okinawa—and the terrible events that will haunt him forever.

Two years later, Johnny is back in Wichita, searching for the girl he wants to marry. But fate has different plans for Johnny, his long-dreamed-of baseball career, and the girl whose memory helped him survive.

Full of rich and vivid descriptions of Johnny's experiences both as a marine and as a ballplayer, Oh, Johnny is a compelling, emotionally complex story of one man's remarkable coming-of-age—and Jim Lehrer at his best.
or
Not Currently Available for Direct Purchase