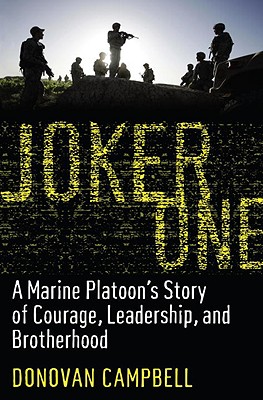 Joker One
A Marine Platoon's Story of Courage, Leadership, and Brotherhood
Hardcover

* Individual store prices may vary.
Other Editions of This Title:
Digital Audiobook (3/30/2009)
Compact Disc (3/1/2009)
Paperback (1/12/2010)
MP3 CD (3/31/2009)
Compact Disc (3/31/2009)
Compact Disc (3/1/2009)
MP3 CD (3/1/2009)
Description
After graduating from Princeton, Donovan Campbell, motivated by his unwavering patriotism and commitment, decided to join the service, realizing that becoming a Marine officer would allow him to give back to his country, engage in the world, and learn to lead. In this immediate, thrilling, and inspiring memoir, Campbell recounts a timeless and transcendent tale of brotherhood, courage, and sacrifice.

As commander of a forty-man infantry platoon called Joker One, Campbell had just months to train and transform a ragtag group of brand-new Marines into a first-rate cohesive fighting unit, men who would become his family: Sergeant Leza, the house intellectual who read Che Guevara; Sergeant Mariano Noriel, the "Filipino ball of fire" who would become Campbell's closest confidant and friend; Lance Corporal William Feldmeir, a narcoleptic who fell asleep during battle; and a lieutenant known simply as "the Ox," whose stubborn aggressiveness would be more curse than blessing.

Campbell and his men were assigned to Ramadi, that capital of the Sunni-dominated Anbar province that was an explosion just waiting to happen. And when it did happen–with the chilling cries of "Jihad, Jihad, Jihad!" echoing from minaret to minaret–Campbell and company were there to protect the innocent, battle the insurgents, and pick up the pieces. After seven months of day-to-day, house-to-house combat, nearly half of Campbell's platoon had been wounded, a casualty rate that went beyond that of any Marine or Army unit since Vietnam. Yet unlike Fallujah, Ramadi never fell to the enemy.

Told by the man who led the unit of hard-pressed Marines, Joker One is a gripping tale of a leadership, loyalty, faith, and camaraderie throughout the best and worst of times.
Praise For Joker One: A Marine Platoon's Story of Courage, Leadership, and Brotherhood…
"[A] beautiful and harrowing debut….Campbell unspools blow-by-blow accounts of his unit's patrols from street level. The fuzzy radio transmissions, the roadside bombs laid by faceless enemies, the dust-filled, hand-trembling confusion – it all comes dizzyingly alive…..By the time the platoon finally returns home, exhausted, scarred, and with fewer men than they set out with, Campbell's admiration for his men has become contagious. It's only then that you realize that Joker One isn't as much a story of war as it is a story of love. A" --Entertainment Weekly

"Donovan Campbell, first as a Marine and then as a writer, shows us that the dominant emotion in war isn't hatred or anger or fear. It's love. His story stands as a poignant tribute to his men–their courage, their dedication, their skill, and their love for one another, even unto death. This is a deeply moving book."
–Nathaniel Fick, author of One Bullet Away: The Making of a Marine Officer

"The arrangement known as embedding–the almost complete immersion in the movements and life of a military unit….is seldom available to nonjournalists. But [Joker One] is its literary equivalent….[Joker One] should be read by all those who have ever wondered what conclusions they would have drawn about the Iraq war if they had been dropped into the middle of the conflict." --James Glanz, The New York Times Book Review

"Nobody but a soldier knows what war is really like, but the next best thing may be reading Donovan Campbell's Joker One."--Star-Telegram (Ft. Worth)

"Takes you into the heart of combat and into the soul of a young Marine lieutenant….Beyond the colorfully described chaotic battle scenes, beyond the noble warriors who populate the book, what sets Joker One apart is its unsparing honesty."
--Journal-Sentinel (Milwaukee)

"Joker One is the real goods, what Hemingway called 'the true gen.' The classic military story: one platoon leader, the men of his platoon, and the impossibility and urgency of the assignment. The book will sharply take its place in ranks beside Black Hawk Down and Jarhead. If you want to know what American fighting will look like in this century, you need to read Campbell. Like the best stories, military and nonmilitary, it's a story about love, community, and a brotherhood."
–David Lipsky, author of Absolutely American: Four Years at West Point

"A gritty, down-on-the-street account of hard, house-to-house fighting against a foe that could disappear to attack another day….Through it all, Campbell shows that the men of Joker Company lost neither their humanity nor their humor….Highly recommended."
--Library Journal

"Joker One is the finest small-unit description of a platoon at war in Iraq. Hang on and cheer them on."
–Bing West, author of The Strongest Tribe

"Donovan Campbell was a platoon commander in the 2nd Battalion, 4th Marine Regiment in Anbar in 2004–the unit that had my flank. In Joker One, he tells the story of that hard fight from the ground level better than I thought possible. This is how it was in Ramadi in 2004, before the Surge, before the Awakening, when Iraq fell apart. And this is what it is like to lead men in battle. Read this book if you are going to war, or if you have gone to war, or if you want to know what war is."
–Lieutenant Colonel John A. Nagl (Ret.), "Centurion 3," author of Learning to Eat Soup with a Knife

"So many "soldier books" emerge from America's wars.  Many are overstated; this one is not.  It is an honest down-in-the-dust-and-rubble look at young Marines." –Stu Weber,author of the bestselling Tender Warrior

"Joker One hits you right in the gut.  This book is boils years of politics and debate down into an extremely harrowing and human story about what it means to be a grunt.  Joker One is heartfelt, thoughtful and exciting depiction of modern warfare that will surely stand the test of time.  Campbell's story is more than about war; it is about service, family, dedication and leadership.  His voice is powerful, compelling and clear. In Joker One, this young writer emerges as a voice for the millions of us who have served in America's defense since 9-11. Campbell speaks about what is most important in life, and America should be listening.
–Paul Rieckhoff, Founder and Executive Director of Iraq & Afghanistan Veterans of America, and author of Chasing Ghosts

"Donovan demonstrates, in a very engaging way, truly authentic values based leadership; inspired by faith, anchored in discipline and lived out in true love for his men." –Steve Reinemund, Chairman and CEO, Retired - PepsiCo, Dean of Business and Professor of Leadership and Strategy, Wake Forest University
Random House, 9781400067732, 336pp.
Publication Date: March 10, 2009
or
Not Currently Available for Direct Purchase