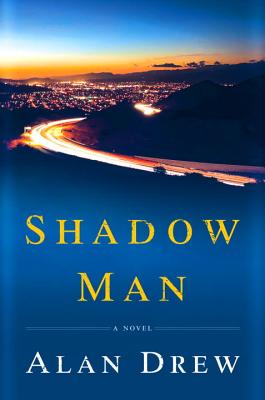 Shadow Man (Hardcover)
Random House, 9781400067800, 368pp.
Publication Date: May 23, 2017
Description
A novel of psychological suspense about an idyllic community rocked by a serial killer--and a dark secret. Detective Ben Wade has returned to his hometown of Rancho Santa Elena in search of a quieter life and to try to save his marriage. Suddenly the community, with its peaceful streets and excellent public schools, finds itself at the mercy of a serial killer who slips through windows and screen doors at night, shattering illusions of safety. As Ben and forensic specialist Natasha Betencourt struggle to stay one step ahead of the killer--and deal with painful episodes in the past--Ben's own world is rocked again by violence. He must decide how far he is willing to go, and Natasha how much she is willing to risk, to protect their friendship and themselves to rescue the town from a psychotic murderer and a long-buried secret. With fine, chilling prose, acclaimed author Alan Drew weaves richly imagined characters into the first of several thrilling novels of suspense featuring the California world of Ben Wade and Natasha Betencourt. Shadow Man reveals the treacherous underbelly of suburban life, as a man, a woman, a family, and a community are confronted with the heart of human darkness. Praise for Shadow Man "Excellent, atmospheric . . . a] superb police procedural . . . Ben Wade] is but one of many sharply etched characters who help make Shadow Man a stellar achievement, a book that unspools like a dark-toned movie in the reader's mind."--The Wall Street Journal "The crime part of this novel is superbly done: Wade, along with forensic expert Natasha Betencourt, are both indelible characters, and the passages from the criminal's perspective are chilling. Yet there is also a lot of complex emotion--a lot of novel, if you will--going on here, especially in the excavation of Wade's past and in the tension between the remaining wildness and the parcels of civilization carved out of the valley."--Literary Hub " Alan] Drew's debut psychological thriller succeeds admirably. There are three hearts of human darkness within, and it is for the reader to decide which character is the true 'shadow man' . . . The Steinbeck-like passages about the vanishing cowboy landscape contribute to the novel's power."--Booklist (starred review) "Drew's engrossing novel works equally well as psychological study and cop thriller, literary novel and genre piece."--Kirkus Reviews (starred review)
About the Author
Alan Drew is the author of the critically acclaimed debut novel Gardens of Water. He is a graduate of the Iowa Writers' Workshop. An associate professor of English at Villanova University, where he directs the creative writing program, he lives near Philadelphia with his wife and two children.
Advertisement