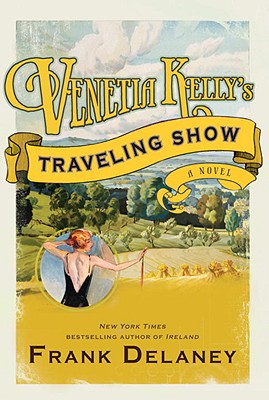 Venetia Kelly's Traveling Show: A Novel of Ireland (Hardcover)
A Novel of Ireland
Random House, 9781400067831, 448pp.
Publication Date: February 23, 2010
* Individual store prices may vary.
or
Not Currently Available for Direct Purchase
Description
"She sprang from the womb and waved to the crowd. Then smiled and took a bow." And so we first meet Venetia Kelly, the beguiling actress at the center of this new, spellbinding, and epic novel by Frank Delaney, the bestselling author of Ireland and Shannon.

January 1932: While Ireland roils in the run-up to the most important national election in the Republic's short history, Ben MacCarthy and his father watch a vagabond variety revue making a stop in the Irish countryside. After a two-hour kaleidoscope of low comedy, Shakespearean recitations, juggling, tumbling, and other entertainments, Ben's father, mesmerized by Venetia Kelly, the troupe's magnetic headliner, makes a fateful decision: to abandon his family and set off on the road with Miss Kelly and her caravan. Ben's mother, shattered by the desertion, exhorts, "Find him and bring him back," thereby sending the boy on a Homeric voyage into manhood, a quest that traverses the churning currents of Ireland's fractious society and splinters the MacCarthy family.

Interweaving historical figures including W. B. Yeats, and a host of unforgettable creations—"King" Kelly, Venetia's violent, Mephistophelean grandfather; Sarah Kelly, Venetia's mysterious, amoral mother; and even a truth-telling ventriloquist's dummy named Blarney—Frank Delaney unfurls a splendid narrative that spans half the world and a tumultuous, eventful decade.
 
Teeming with intrigue, pathos, and humor, Venetia Kelly's Traveling Show explores two of Ireland's great national passions: theater and politics. Writing with his signature mastery and lyrical prose, Frank Delaney once again delivers an unforgettable story as big and boisterous as the people and events it chronicles.
 
About the Author
Frank Delaney is the author of the" New York Times" bestselling novel "Ireland, " as well as Tipperary, Shannon, and Simple Courage: A True Story of Peril on the Sea. A former judge for the Man Booker Prize, Delaney enjoyed a prominent career in BBC broadcasting before becoming a full-time writer. Born in Tipperary, Ireland, he now lives in New York City and Connecticut.
Praise For Venetia Kelly's Traveling Show: A Novel of Ireland…
"Weaving Irish vaudeville and politics of the 1930s into a mix both delightful and astonishing, Frank Delaney devises an engaging saga that will captivate listeners. … The account is magically intimate and emotionally real. Delight in Delaney's feast of hilarious, improbable details; side-story digression taken to a new art form; and memorable characters." — AudioFile Magazine

"Delaney pulls out all the stops as he tips his hat to two great and all but indistinguishable Irish traditions:
the theater and politics. Readers will be enchanted as the author spins a tale so glib, so charming, and so
amusing that—begorrah—you can almost imagine him slyly winking as he kisses the Blarney Stone. Set in
Ireland in the politically tumultuous 1930s, this rollicking tale, chockfull of Irish wit, superstition, and
sentiment, features a larger-than-life cast of suitably eccentric characters. When 18-year-old Ben
McCarthy, is dispatched by his mother to fetch home his wayward father, he embarks on an odyssey so
wonderfully strange, all-encompassing, and ultimately tragic that it will effectually define his entire life.
After Papa McCarthy, a staid and gentlemanly soul, does something as wildly out of character as fall for a
beautiful and charming young actress, Ben, too, is irresistibly drawn into the giddy orbit of Venetia Kelly
and her Traveling Show. Ben's bittersweet story plays out against a backdrop of political corruption,
personal greed, and high unexpected romance. Expect high demand for this ideal book club selection."— Margaret Flanagan


"Set against the backdrop of the political and social turmoil of 1932 Ireland, Delaney's latest novel opens with young Ben McCarthy's father abandoning the farm to join a traveling theater troupe. Devastated, Ben's mother sends him off to bring his father home. He finds the troupe and falls in love with the same young actress who seduced his father. Venetia is a stunning young woman, the child of a famous actress and a villainous political opportunist named King Kelly. Furious that his daughter's affairs with common farm folk might tarnish his political aspirations, Kelly plots revenge against the McCarthys. In the manner of Greek tragedy, he steals their farm, has them set upon by political mobsters, destroys the troupe, and robs himself of the love of his life. VERDICT Delaney (Shannon ) is a master storyteller, and this expansive tale of politics, tragedy, and revenge is Irish storytelling at its best. Full of vibrant, well-crafted characters and satisfyingly high drama, it will appeal to fans of sweeping Irish sagas."—Library Journal

Advertisement