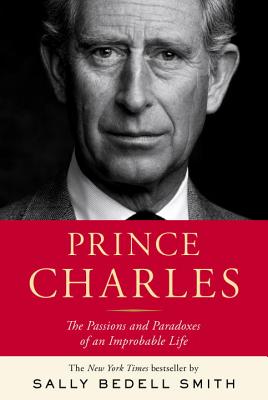 Prince Charles (Hardcover)
The Passions and Paradoxes of an Improbable Life
Random House, 9781400067909, 624pp.
Publication Date: April 4, 2017
Other Editions of This Title:
Digital Audiobook (4/3/2017)
Paperback, Large Print (12/5/2017)
Hardcover, Large Print (4/5/2017)
Paperback (11/21/2017)
CD-Audio (4/4/2017)
* Individual store prices may vary.
Description
NEW YORK TIMES BESTSELLER • The life and loves of Prince Charles are illuminated in a major new biography from the New York Times bestselling author of Elizabeth the Queen—perfect for fans of The Crown.

Sally Bedell Smith returns once again to the British royal family to give us a new look at Prince Charles, the oldest heir to the throne in more than three hundred years. This vivid, eye-opening biography—the product of four years of research and hundreds of interviews with palace officials, former girlfriends, spiritual gurus, and more, some speaking on the record for the first time—is the first authoritative treatment of Charles's life that sheds light on the death of Diana, his marriage to Camilla, and his preparations to take the throne one day.

Prince Charles brings to life the real man, with all of his ambitions, insecurities, and convictions. It begins with his lonely childhood, in which he struggled to live up to his father's expectations and sought companionship from the Queen Mother and his great-uncle Lord Mountbatten. It follows him through difficult years at school, his early love affairs, his intellectual quests, his entrepreneurial pursuits, and his intense search for spiritual meaning. It tells of the tragedy of his marriage to Diana; his eventual reunion with his true love, Camilla; and his relationships with William, Kate, Harry, and his grandchildren.

Ranging from his glamorous palaces to his country homes, from his globe-trotting travels to his local initiatives, Smith shows how Prince Charles possesses a fiercely independent spirit and yet has spent more than six decades waiting for his destined role, living a life dictated by protocols he often struggles to obey. With keen insight and the discovery of unexpected new details, Smith lays bare the contradictions of a man who is more complicated, tragic, and compelling than we knew, until now.

Praise for Prince Charles

"[Smith] understands the British upper classes and aristocracy (including the royals) very well indeed. . . . [She] makes many telling, shrewd points in pursuit of realigning the popular image of Prince Charles."—William Boyd, The New York Times Book Review

"[A] masterly account."—The Wall Street Journal

"Thoroughly researched and insightful . . . In this profile, it is clear [Smith] got inside the circular barriers that protect the man and his position. The Charles that emerges is, as the subtitle suggests, both a paradox and a creature of his passions."—The Washington Times

"[A] compellingly juicy bio . . . Windsor-philes will be mesmerized."—People

"Prince Charles paints an affectingly human portrait. . . . Smith writes about [Charles's life] with a skill and sympathy she perfected in her 2012 biography of Charles's mother."—The Christian Science Monitor

"Comprehensive and admirably fair . . . Until his accession to the throne, Smith's portrait will stand as the definitive study."—Booklist (starred review)

"[A] fascinating book that is not just about a man who would be king, but also about the duties that come with privilege."—Walter Isaacson

"Sally Bedell Smith has given us a complete and compelling portrait of the man in the shadow of the throne. It's all here, from the back stairs of the palaces to the front pages of the tabs."—Tom Brokaw
About the Author
Sally Bedell Smith is the author of bestselling biographies of Queen Elizabeth II; William S. Paley; Pamela Harriman; Diana, Princess of Wales; John and Jacqueline Kennedy; and Bill and Hillary Clinton. A contributing editor at Vanity Fair since 1996, she previously worked at Time and The New York Times, where she was a cultural news reporter. In 2012, Smith was the recipient of the Washington Irving Medal for Literary Excellence. She is the mother of three children and lives in Washington, D.C., with her husband, Stephen G. Smith.
Praise For Prince Charles: The Passions and Paradoxes of an Improbable Life…
"[Sally Bedell Smith] understands the British upper classes and aristocracy (including the royals) very well indeed. . . . Smith makes many telling, shrewd points in pursuit of realigning the popular image of Prince Charles."—William Boyd, The New York Times Book Review

"[A] masterly account."—The Wall Street Journal
  
"Thoroughly researched and insightful . . . In this profile, it is clear [Smith] got inside the circular barriers that protect the man and his position. The Charles that emerges is, as the subtitle suggests, both a paradox and a creature of his passions."—The Washington Times
  
"[A] compellingly juicy bio . . . Windsor-philes will be mesmerized."—People
 
"Prince Charles paints an affectingly human portrait. . . . Smith writes about [Charles's life] with a skill and sympathy she perfected in her 2012 biography of Charles's mother."—The Christian Science Monitor
  
"A multidimensional portrait of a complex, sensitive, and often visionary man (his ideas about sustainable living were once considered eccentric), who has carved out a dynamic public role as he waits his turn to govern. Intimate but not gossipy, this highly accessible and thoroughly researched volume would do well in all collections."—Library Journal

"Comprehensive and admirably fair . . . Until his accession to the throne, Smith's portrait will stand as the definitive study."—Booklist (starred review)
 
"Astute . . . a sympathetic psychological study . . . [Smith's] portrait is enormously touching and supported by wide-ranging interviews and research. . . . A thorough, timely biography."—Kirkus Reviews

"Prince Charles is an eighteenth-century gentleman with a twenty-first-century mission. His love of tradition combines with an outlook that can be bracingly avant garde. Sally Bedell Smith captures his contradictions and his convictions in this fascinating book that is not just about a man who would be king, but also about the duties that come with privilege."—Walter Isaacson
 
"For all we know about Prince Charles, there is so much we didn't know—until now. Sally Bedell Smith has given us a complete and compelling portrait of the man in the shadow of the throne. It's all here, from the back stairs of the palaces to the front pages of the tabs. Read all about it!"—Tom Brokaw
 
"No one writes about life at the top with more panache than Sally Bedell Smith. Her Prince Charles is a delicious blend of glamour and grandeur, jealousy and rivalry, greatness and human foible. Smith writes with wisdom and sympathy—and a sharp and knowing eye—about the struggles and maturation of the man who would be King."—Evan Thomas
 
"This great biography is an indispensable guide for anyone eager to understand Prince Charles and the British monarchy in the twentieth and twenty-first centuries. What an achievement—what work went into it, and all of it presented with such ease. It is so fair, while suggesting so much."—Peggy Noonan
or
Not Currently Available for Direct Purchase