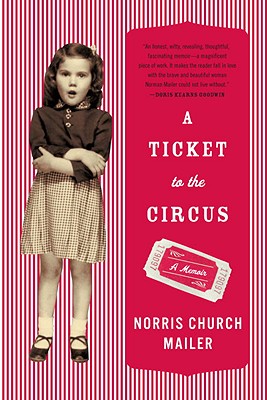 A Ticket to the Circus
A Memoir
Hardcover

* Individual store prices may vary.
Other Editions of This Title:
Paperback (3/8/2011)
Description
A great American love story, this warm, funny, revealing memoir introduces the world to Norman Mailer's greatest inspiration, his wife of more than thirty years. Like Zelda Fitzgerald before her, Norris Church Mailer has led a life as large and as colorful as her husband's—and every bit as engaging.

Growing up a strict Free Will Baptist in the South of the 1950s, Norris Church, christened Barbara Jean Davis, was crowned "Little Miss Little Rock" at the age of three and always knew that life had more to offer her than the comforts of small-town Arkansas. But she could never have guessed that in her early twenties she would date future president Bill Clinton (and predict his national victory even after he lost his first run for Congress), or that the following year she would meet Norman Mailer, who was passing through town giving a lecture at the local college. They fell in love in one night—and their marriage lasted thirty-three years.

Despite her enduring love for the man, Norris found life with the writer full of challenges—from carving out her own niche in the wake of five ex-wives and numerous former girlfriends, to easing her way into the hearts of her seven stepchildren, to negotiating the ferocious world of Mailer's fame, friends, and literary life. The couple's New York parties were legendary, and their social circle included such luminaries as Muhammad Ali, Jacqueline Kennedy, Truman Capote, Gore Vidal, and Imelda Marcos.

Their decades-long obsession with each other, as seen in the intimate letters that Norris reveals here for the first time, was not without tests and infidelities; theirs was a marriage full of friendship, betrayal, doubts, understanding, and deep, complicated, lifelong passion.

With southern charm and wit, Norris Church Mailer depicts the full evolution of her life, from her childhood all the way through her intense marriage with Norman and his heartbreaking death. This unforgettable memoir will enchant readers with its honesty and insight into how we grow up and how we love.
Praise For A Ticket to the Circus: A Memoir…
"In this blazingly alive memoir of her 32 years with the late Norman Mailer,
sixth wife Norris Church Mailer proves herself every bit as fascinating as her illustrious mate.
Her narrative glitters with famous faces and events, from Bob Dylan and Bill Clinton (whom she dated) to the 1975 Ali fight in the Philippines…. 'I'll never write about you. Nobody would believe it,' Norris often told him. You'll be glad she did."—People Magazine, four stars

"Norris Church Mailer's reminiscence, A Ticket to the Circus, still manages to add a fat new sheaf to the public dossier on her late husband, Norman Mailer, and tells an involving coming-of-age story to boot… She shows exactly what type of woman could tolerate and at least partly subdue such a king-size corkscrew of a man. The book will be of interest to anyone who works in a university marriage lab. It also shows that Norman wasn't the only talented raconteur in the family."—New York Times Book Review

"Entertaining…A Ticket to the Circus is not a tell-all memoir; it's a tell-enough memoir.
It's Ms. Mailer's own plucky and sometimes sentimental autobiography….
[A] gracious memoir."— New York Times

"A Ticket to the Circus is one wild ride….in her entertaining, well-composed memoir,
she reveals what it was like for a smart, gutsy woman to subsume herself to a legendary jerk who was as incorrigible and irresistible in life as he was in his art…Lovely and inspiring."—Miami Herald

"A memoir that's candid and poignant, filled with joy and humor, sex and heartbreak."—USA Today

"Norris Church Mailer's surprisingly honest, graceful and forthright memoir of life with Norman as his sixth and final wife."—Washington Times

"A Ticket to the Circus is a remarkable memoir--blunt, funny, extraordinarily candid and self-aware; deeply moving, as it is wonderfully entertaining; above all, a memorable double portrait of two very unusual people, a couple for whom the term meant for each other is wholly appropriate."—Joyce Carol Oates

 "A Ticket to the Circus is a brave memoir. Norris Church Mailer writes with grace, clarity, and verve. She achieves what a good memoirist must: believability. Norman Mailer would be proud."— Douglas Brinkley

 "A Ticket to the Circus is an honest, witty, revealing, thoughtful, fascinating memoir – a magnificent piece of work. It makes the reader fall in love with the brave and beautiful woman Norman Mailer could not live without. We recall Norman Mailer as a literary lion, but now with this book Norris Church Mailer, too, will be remembered for many years to come." —Doris Kearns Goodwin
Random House, 9781400067947, 432pp.
Publication Date: April 6, 2010
About the Author
Norris Church Mailer is the author of two novels, "Windchill Summer" and "Cheap Diamonds." Raised in Arkansas, she now lives in Brooklyn, New York. She is the mother of two sons, two stepsons, and five stepdaughters, as well as grandmother to two and step-grandmother to nine.
Coverage from NPR
or
Not Currently Available for Direct Purchase